Since the Magnolia Awards, a series of awards given as recognition of the contributions foreigners in Shanghai have made to the city, was established in 1989, 42 foreigners recommended by the Huangpu District have won this award.
In order to commemorate the thirtieth anniversary of the Shanghai Magnolia Awards, Huangpu District plans to hold a celebration activity in November.
Eastday has therefore especially launched a series of exclusive interviews to review these award winners stories in Huangpu District and Shanghai.
A Frenchman engaging in China's shipbuilding industry
The bright sunshine sprinkles on the wide river's surface, and from time to time comes the sound of waves from the wake of cargo ships. In an office by the Huangpu River,Claude Maillot, CEO of Bureau Veritas Marine & Offshore in North Asia and China,has an interview with Eastday.
Maillot visited Shanghai 30 years ago, and in 2012 he was dispatched to work here. Since then, he has devoted all of his enthusiasm to the city. In his words, besides France, China has been an indispensable part of his life and Chinese genes can even be found in his DNA.
A hundred-year origin of helping China develop ship industry
The relationship between Bureau Veritas and China's shipping industry can date back to 100 years ago when Bureau Veritas established its representative office in the Bund. After the tumultuous period that followed, the Chinese shipbuilding industry began developing at a fast pace after 1978, when the country began its reform and opening up, and Bureau Veritas resumed its business relationship in China in 1993. Today, with 130 offices and laboratories and over 17,000 employees across China, Bureau Veritas treats China as its largest operation center and its second "hometown" as well.
As a global leader in ship classification, inspection and certification services, Bureau Veritas has not only witnessed the rise of China's shipbuilding and shipping industry in the past few decades, but also participated in this process by creating several firsts, such as the world's first liquified natural gas carrier (LNGC), the world's largest asphalt carrier, China's first floating natural liquefied gas vessel (FLNG), floating storage regasification units (FSRUs) and China's first passenger liner. Its regulations and standards cover the whole life-cycle of ships from design and construction to dismantling. Under the leadership of Maillot, who himself is an engineer, Bureau Veritas has always been putting quality and safety first, and therefore maintains a good reputation in the global industry and has been attracting foreign shipping companies to place orders in China.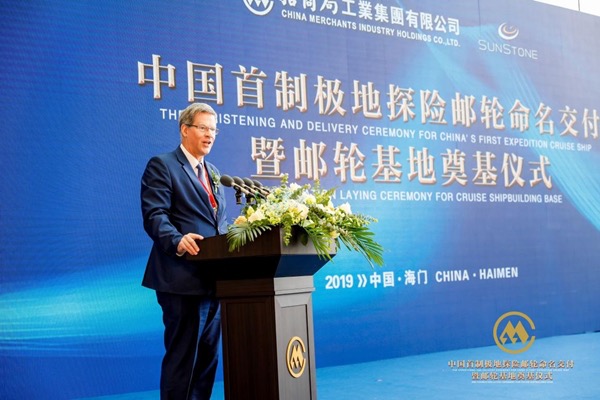 Maillot addresses the christening and delivery ceremony for China's first expedition cruise ship on Sep.9, 2019. [Photo provided to Eastday]

A partner promoting the establishment of the Shanghai International Ship Center
Considering himself as a member of this city, Maillot has responded to the call of China's government to make Shanghai an international center of economy, finance, commerce, shipping and technical innovation. At his urging, Bureau Veritas not only signed strategic cooperation agreements with a number of shipbuilding companies but also set up a free website and app, which has improved maritime safety while saving time and cost for ship operators, designers and owners. Maillot also strived for the intelligent manufacturing in shipbuilding by promoting technical exchanges and sharing the latest ideas, for instance, he put forward his own views on green shipping at the TradeWinds for Shipping China 2018 conference.
As a representative of foreign marine and offshore companies and the only foreign expert invited by the Maritime Safety Administration, Maillot attended the seminar hosted by the Shanghai International Shipping Institute entitled "Relevant Shipping Policies in the Free Trade Zone" at the beginning of 2019. And under his guidance, Bureau Veritas established a center for sustainable shipping and the Bureau Veritas Technical Consulting (Shanghai) Company to ensure the improvement of shipbuilding technology and being able to offer better customer services.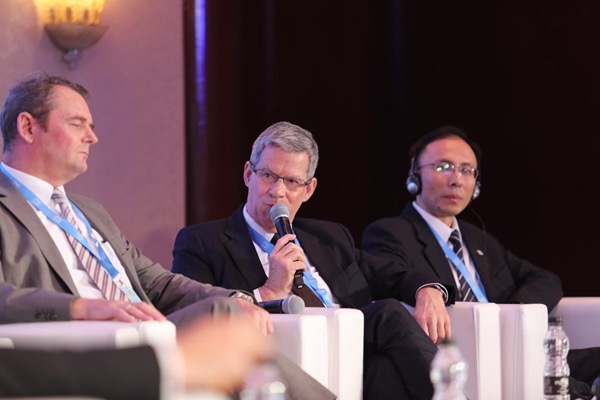 Maillot (middle) speaks at TradeWinds for Shipping China on Sep.19, 2018. [Photo provided to Eastday]

A mentor cultivating the next generation of ship-builders
Maillot believes that it is the good business environment, positive business policies, simplified administrative process and governmental information publicity of Huangpu District that has supported Bureau Veritas's development and helped it embrace a bright future. Accordingly, Bureau Veritas also keeps contributing to society in return.
In order to train the next generation of ship-builders, Bureau Veritas provides the top students of China's ship engineering colleges with scholarship and internship opportunities. Furthermore, he holds the post of counselor in Shanghai Jiao Tong University and Shanghai Maritime University and regularly conducts academic exchanges with the teachers and students.
Maillot also commits himself to inviting foreign experts to visit China and creating opportunities for Chinese engineers to study abroad. Every year his enterprise sends a great many Chinese engineers to its French headquarters to exchange their experience. The symposiums held there have attracted shipbuilding talents from all over the world to gather.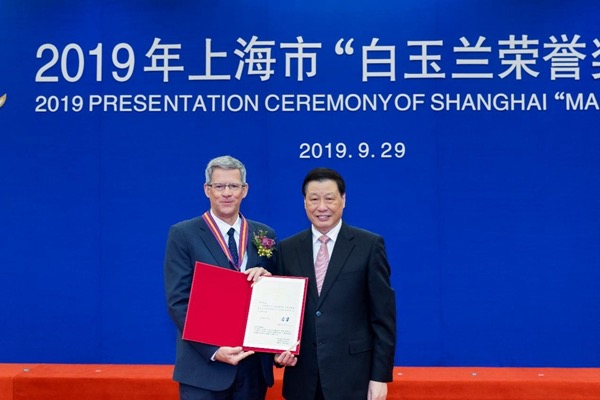 Maillot accepts 2019 "Magnolia Gold Award" from Shanghai Mayor Ying Yong. [Photo provided to Eastday]

For his outstanding contribution, Maillot was honored with a "Magnolia Silver Award " in 2016 and a "Magnolia Gold Award" in 2019, becoming one of the nine expats nominated by Huangpu District to obtain such a laurel since its inception in 1989.
In his words, "enjoying the feeling of working to make a contribution to the society and humanity," is the only reason why he has been working in this business for 36 years and keeps pushing himself to make progress in technology. He modestly attributed these awards to his team, and to all the staff of Bureau Veritas.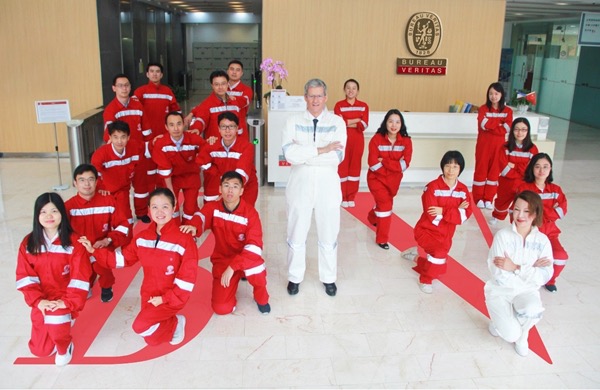 The Bureau veritas team pose for a photo. Its slogan for the upcoming celebration activity is "As a journey of one thousand miles begins with safety, Bureau Veritas puts quality first. "[Photo provided to Eastday]
(Story by Zheng Qian
Translated by Shi Yue)