As the one-year anniversary of the Sci-tech Innovation Board's opening approaches, the Shanghai Stock Exchange released a new set of statistics just last night. 132 companies, including industry giants, have reached a total net worth of 2,538.8 billion yuan, leading the revaluation of China's science and technology innovation industry.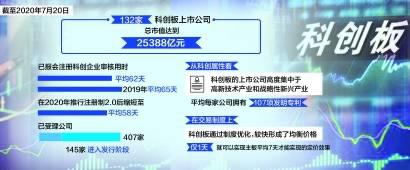 With the help of a shortened authorization period for science and technology companies, the industry has been able to expand rapidly. Currently, the Sci-tech Innovation Board is dealing with 407 companies, 145 of which are undergoing share issuing periods.
While some companies are proven performers, the Sci-tech Innovation Board also constitutes those intending to develop after hitting the market. Within these companies, 55 do not have any criteria for profit, 23 have been in deficit for consecutive quarters and ten have not yet generated anyrevenue. There are alsomany unique types of companies under the
Companies listed on the Sci-tech Innovation Board are highly concentrated in high technology and strategic emerging industries, with an average of 107 patented inventions per company.
Since listing, 132 companies have achieved a stable mean daily salesof 18.2 billion yuan, fully interacting in the second-tier market, with a gradually decreasing turnover rate.
From a transaction perspective, the Sci-tech Innovation Board has achieved a balanced price within one day compared with the average seven days on the main board.