Kentaro Fujiwara, president of Shiseido China, is one of the 50 winners of the Shanghai Magnolia Silver Award this year. Over the past 5 years, he has felt the openness, innovation and inclusiveness of this city everyday, which has deeply attracted him. In his words, Shanghai is the city where he has realized his dreams.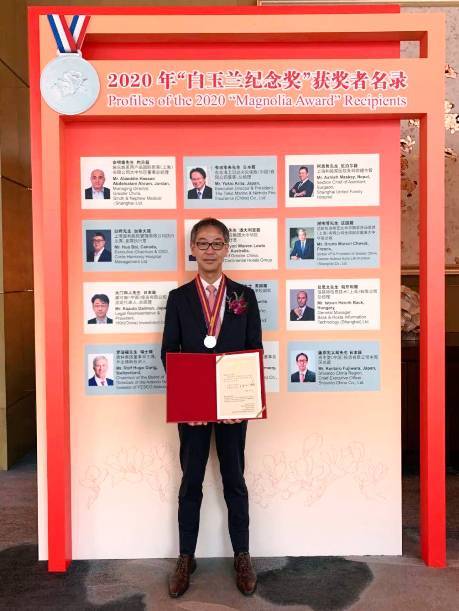 (Kentaro Fujiwara at the awards ceremony.)
Lucky to work in China
Fujiwara joined Shiseido in 1991 and had been working in Germany and South Korea for many years before coming to China. He has not only outstanding management skills, but also rich overseas work experience.
Since Mr. Fujiwara became the general manager of Shiseido China Investment Company in 2015, he has been actively promoting business reforms, making the company regain a competitive advantage in the rapidly changing Chinese cosmetics market. In 2017, Fujiwara became the chief representative of Shiseido China and since then China has become the largest overseas market of this Japanese company.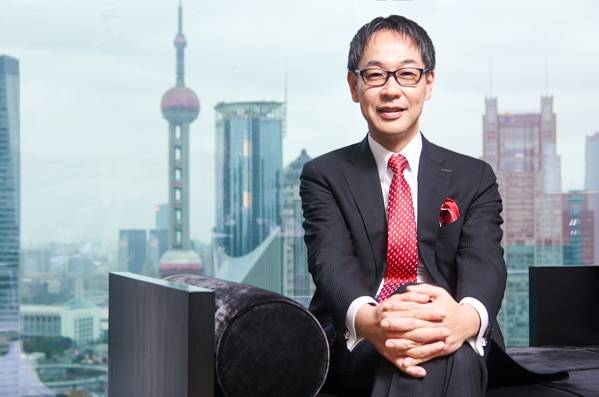 (Fujiwara has an interview with Eastday.)
Fujiwara believes that he has a deep bond with China, since the name "Shiseido" in Chinese comes from the Chinese classic "I Ching"(The Book of Changes)."I have worked and lived in many parts of Europe and Asia, so my career, like my company, integrates East and West."
"I'm interested in the culture and history of every country I have been to. I think I am very lucky to come to China."
Fighting against virus in Shanghai
Fujiwara has been in Shanghai since the coronavirus pandemic outbreak. He said that the reason to stay here during this time is to ensure the business operation and staff members' health. Under his leadership, an anti-epidemic emergency response committee was established, undertaking tasks such as dispatching disinfectants and masks from the Japanese head office.
To help the Chinese, Shiseido has been conducting a series of public welfare activities. For example, a "Relay of Love" fund was established in February which donated 11 million RMB at the first time. Charitable activities like free hair cutting and collective weddings for the Shanghai Medical Team aiding Hubei were also sponsored. More recently and upcoming are more charitable events, like donating hand care products to female teachers in mountainous areas and guiding female university graduates in career planning and professional attire, which will cover wider areas of China including Chengdu, Guiyang, Beijing, Xi'an and Shenzhen.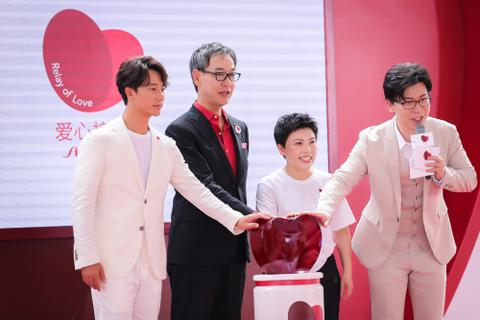 (A relay of love activity)
Fujiwara said that in the short term, the epidemic has indeed had a serious impact on the company's global business. In the Chinese market, sales have declined since late January, but almost all retail stores had resumed operations by the end of March.
Data even shows that in the first half of the year, Shiseido's sales in China reached 6.49 billion yuan, ranking first among all overseas markets; profit in the Chinese market amounted to about 500 million yuan, being the first among all the group's regional branches. The Chinese market has thus become the fastest recovering one among all regions.
Regarding life difficulties admist the pandemic, Fujiwara said the anti-epidemic measures taken by the Shanghai government have comforted him a lot."Even at the worst time of virus spread, people around me were friendly to me. Being a foreigner, I didn't feel lonely in Shanghai due to their friendliness."
Shanghai is where I realized my dream
"I came to work in Shanghai in 2015. In 2017, China became Shiseido's largest overseas market," said Fujiwara, who is ambitious to spread the innovation of Shanghai to the world.
Boosted by Fujiwara, more and more investments haves been made in China. In 2017, Shiseido established a Chinese headquarters, forming a comprehensive structure integrating production, marketing, and R&D; in 2019, the China Business Innovation and Investment Representative Office was established. In January this year, the company established a "Beauty Innovation Hub" in cooperation with WeWork and in March it entered the Shanghai Oriental Beauty Valley, an industrial park of health and beauty companies in Shanghai's Fengxian district, becoming the first beauty company to settle there.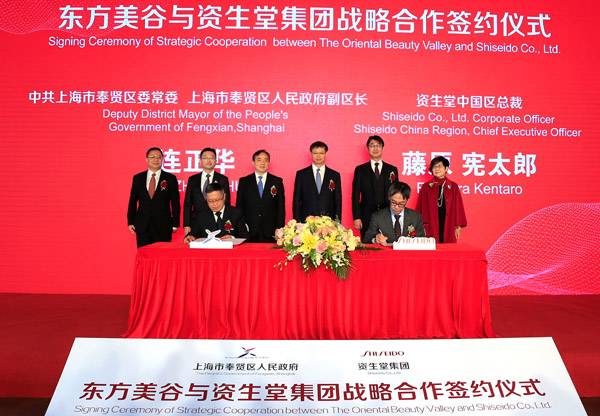 (Shiseido signed a contract with the Shanghai Oriental Beauty Valley.)
Due to its outstanding business performance, the company has been honored as one of Shanghai's top 100 enterprises for economic contribution and an excellent contributor in the modern service industry.
Fujiwara has also worked for the Shanghai Association of Foreign Investment Enterprises, the Pudong Association of Foreign Investment Enterprises as well as the Pudong Business Federation, where he has promoted Shanghai's advantages in infrastructure, administrative efficiency, and business environment to foreign-funded enterprises.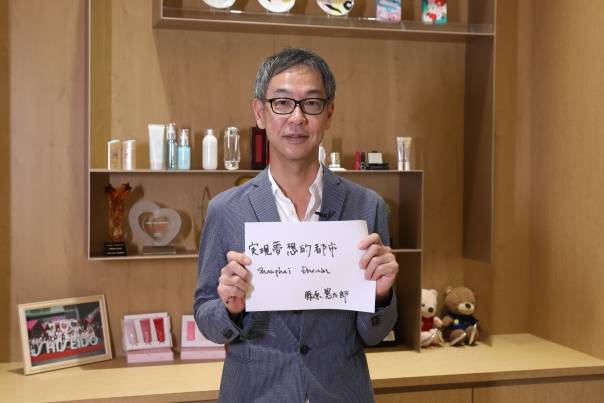 (Fujiwara and his message to Shanghai.)
In his spare time, he has also visited lots of places in Shanghai and learned about the city's history."Shanghai is at the top of the world city rankings. By actively accepting and integrating new cultures, Shanghai keeps nurturing innovation and leading the trend. In this inclusive city, I can live comfortably as a foreigner, and also witness the development here. Shanghai is a city that allows me to realize my dreams!"
Story/ Fan Yicheng
Translation/ Zheng Qian