As a TCM physician at Minhang Hospital of Traditional Chinese Medicine, Dr. Wonsook Hong receives patients from Monday to Saturday except Wednesday. Using the four basic methods of TCM diagnosis, wàng, wén, wèn, qiè (namely observation, auscultation and olfaction, inquiry and palpation), she deals with each patient with much patience and tries her best to cure their ailments.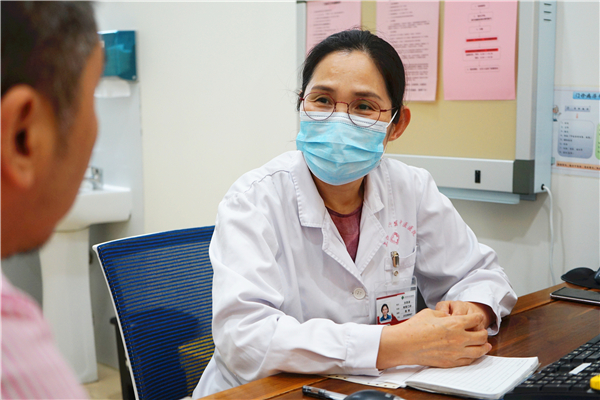 Over the past decade, she has been devoted to her job as a TCM physician in Shanghai. As she said, she will stick to her post in the simplest way, working like a modern Dae Jang Geum, who was Korea's first female royal physician.
Anti-epidemic stories from SARS to COVID-19
Dr. Wonsook Hong has been in Shanghai for 27 years.
As a doctor, she has fought against SARS and H7N9 in China.
Prior to becoming a graduate student at Shanghai University of Traditional Chinese Medicine, she was recognized in 2002 as a certified TCM practitioner. In 2003, when SARS broke out, other international students were returning to their home country. Not knowing what she should do, Wonsook Hong made a phone call to her mother back in South Korea. "You are a doctor. You have to shoulder the responsibility. This is what you should do. We would not complain if you sacrificed your life for it," said her mother. So she stayed in Shanghai and fought against the epidemic at Longhua Hospital.
In 2009, while working at Shuguang Hospital, H7N9 hit China. This time, she did not hesitate. She knew she would stay in Shanghai to fulfill her duty as a doctor. In total, she worked for 9 months successively in the emergency and fever clinic departments.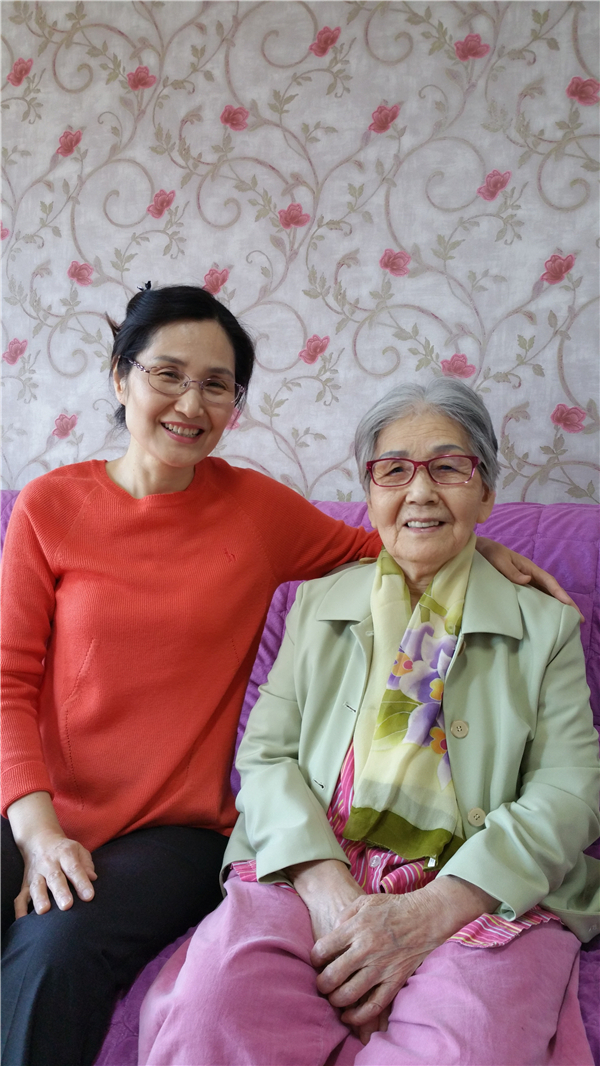 (Wonsook Hong and her mother)
This year, during the Spring Festival holiday, Wonsook Hong flew back to South Korea to see her mother. The outbreak of COVID-19 in China worried her a lot. She was anxious as she felt she could offer little help to her medical colleagues back in Shanghai. At last, with the help of her relatives, friends and some coordinators, she managed to donate 6,000 KF94 protective masks to Shanghai's medical workers.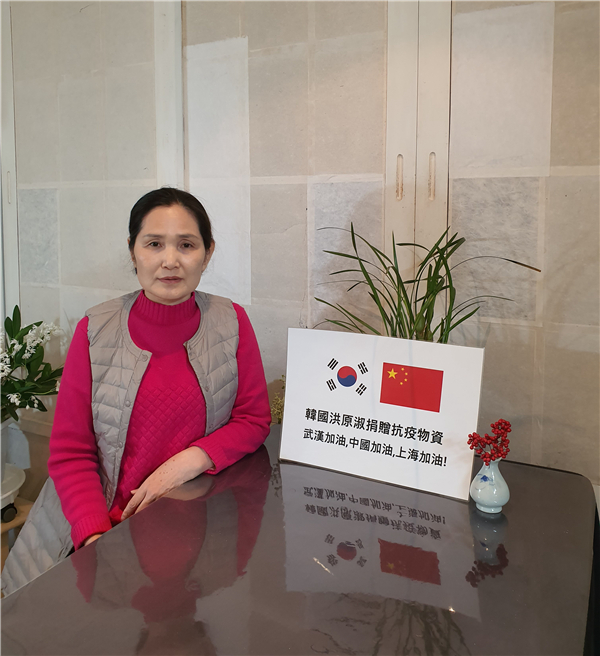 (Hong donated 6,000 masks to Shanghai)
A bridge between China and South Korea
Hong came to Shanghai to study TCM in 1993. At the Shanghai University of Traditional Chinese Medicine, she studied very hard. Although she had learnt some Chinese before going to China, she had to spend more time than Chinese students on reading TCM books. Finally, she obtained her PhD degree in 2007. After recognizing the effectiveness of TCM in treating intractable miscellaneous diseases, she decided to continue her TCM career.
Looking back on the past years, Hong said she has the biggest gratitude for three of her mentors: Prof. Ma Guitong, who taught her TCM knowledge at university; Prof. Zhao Guangfu, who treated her like a family member; and Chen Kaixian, an academician of the Chinese Academy of Sciences, who inspired her to become a "bridge" between China and South Korea in traditional medicine.
With an interest in TCM, Hong learnt from Menghe School about two decades ago. Now she is apprentice to Ding Yi'e, great-grandson of Ding Ganren. She is bent on grasping the essence of Ding's medicine.
As Hong said, different from traditional South Korean medicine, TCM physicians can treat patients using modern medicine techniques such as ECG and gastroscope.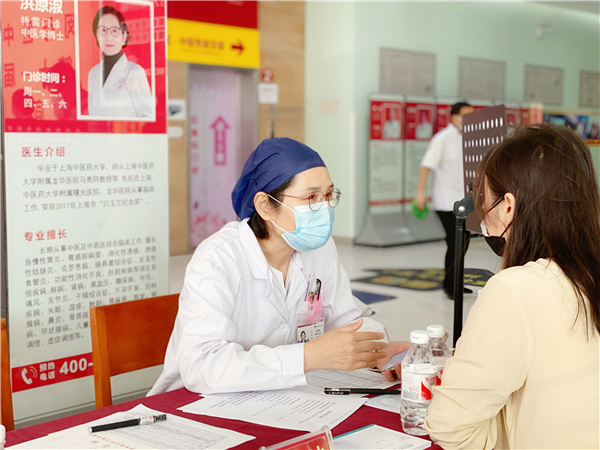 (Hong sees a patient at the Gaofang Festival at Minhang Hospital of TCM)
As a messenger of TCM culture, she is always ready to aid the development of traditional Chinese medicine in China and South Korea, such as promoting exchanges between universities and hospitals, introducing TCM through TV programs and attending various medical forums. In 2019, invited by a Korean Medicine Hospital of Kyung-hee University, she delivered a speech on TCM's treatment of functional dyspepsia at an academic forum. "It was such an honor as the only Korean TCM physician to speak on that occasion," she added.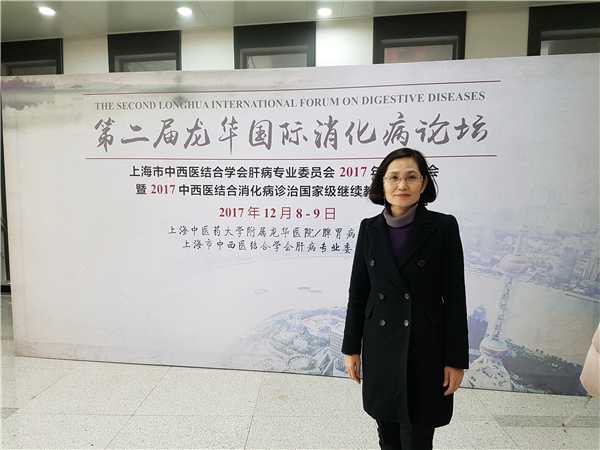 (Hong at the 2nd Longhua International Forum on Digestive Diseases)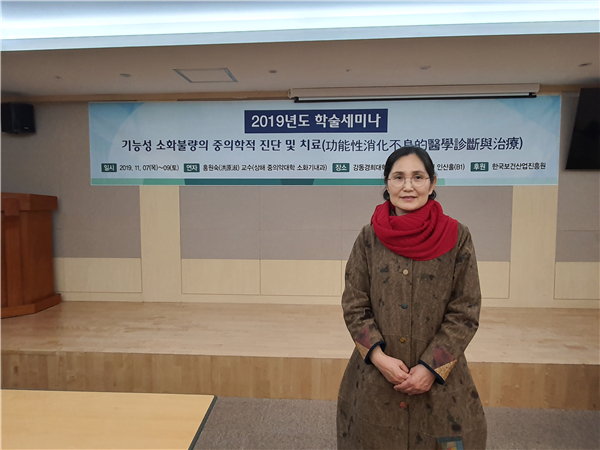 (Hong at an academic forum held by the Korean Medicine Hospital of Kyung-hee University)

Recently, at the 2020 International Pre-conference Forum & Conference on DONGUIBOGAM, Hong was invited to deliver a keynote speech through video, introducing the Chinese Clinical Guidance for COVID-19 Pneumonia Diagnosis and Treatment, especially TCM treatment.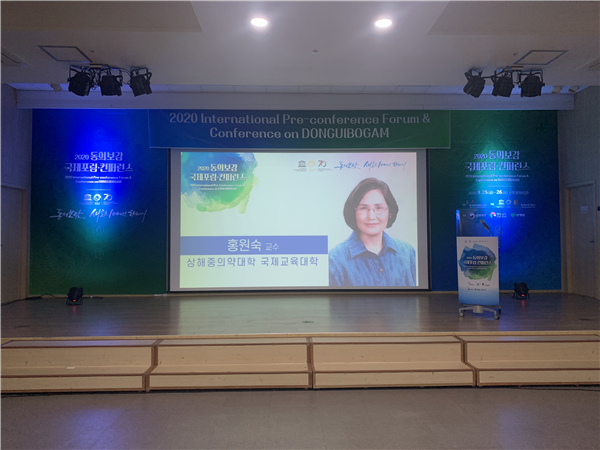 (Hong is invited to deliver a speech at the 2020 International Pre-conference Forum & Conference on DONGUIBOGAM)
South Korea is willing to communicate with China in the field of TCM, as Hong said. "Centuries ago, the essence of TCM spread to South Korea. But it has evolved as time goes by, and the updates should also be spread to South Korea."
(The School of Korean Medicine of Pusan National University paid a visit to the Shanghai University of Traditional Chinese Medicine and its affiliated hospitals in April 2018, thanks to Hong's efforts.)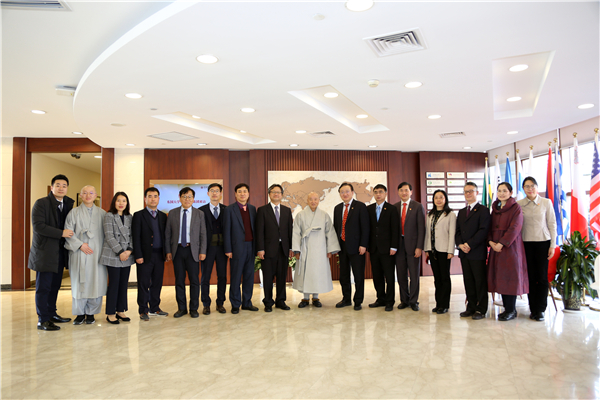 (The Dongguk University visited the Shanghai University of Traditional Chinese Medicine in Jan. 2020 thanks to Hong's efforts and the two sides signed an MOU.)
Being part of Shanghai
"An international metropolis, Shanghai is convenient for foreigners to live in, and the policies are open [to expats]," said Hong. She became Shanghai's first foreign practitioner of TCM in 2002. With that certification, she easily got a job and settled down in Shanghai.
In her spare time, Hong, a tea lover, likes to walk around the tea market. She also cooks South Korean dishes and shares them with her friends. Though life is simple, it is full of peace and happiness.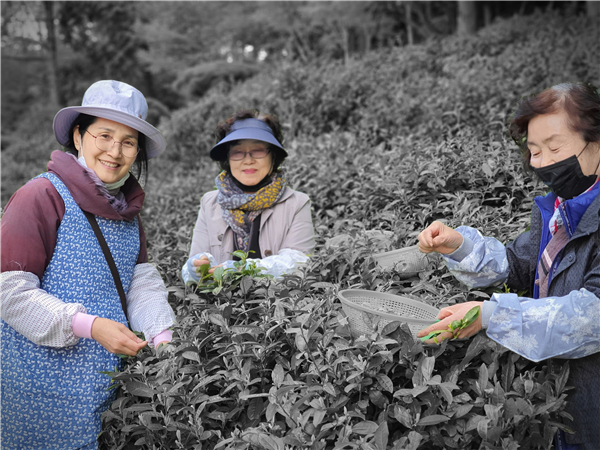 (Hong at a tea garden back in her hometown in South Korea)
In 2017, Hong was awarded Shanghai's Magnolia Silver Award. Two years later, she was presented with a permanent resident permit. "I am part of Shanghai," said Hong. In September 2020, she was awarded Shanghai's Magnolia Gold Award. Speaking of her future plans, she said, "I have been in Shanghai for 27 years. I have already fallen in love with the city and done my bit for its development. I have a deep attachment to this land and will keep living here."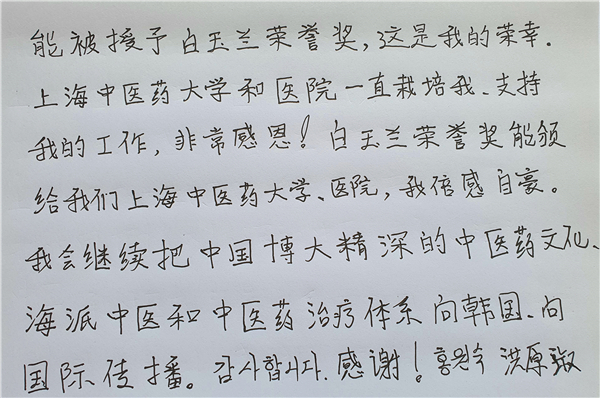 (Hong's message after winning the Magnolia Gold Award: It is an honor to be awarded the Magnolia Gold Award. I am deeply grateful for the Shanghai University of TCM and its affiliated hospitals. They have nurtured me and supported my work. I'm proud that the honor is awarded to them. I will continue to spread China's profound medicine culture, Shanghai-style TCM and the treatment system to Korea and the world. Thank you!)