Jun Hirasawa's connection with Shanghai started in 1986, when he came here for a project specializing in house rental for foreigners under the Marubeni Corporation. Over the past four decades, he has been involved in several projects in China and witnessed the country's development. He began to work in Shanghai in 2014 until March 2020. Now he is back in Japan, serving as Managing Executive Officer and CEO of Life Industrial Group, Marubeni Corporation, and is the top manager of Marubeni China. Thus, despite being back in Japan, his attachment to China still goes on.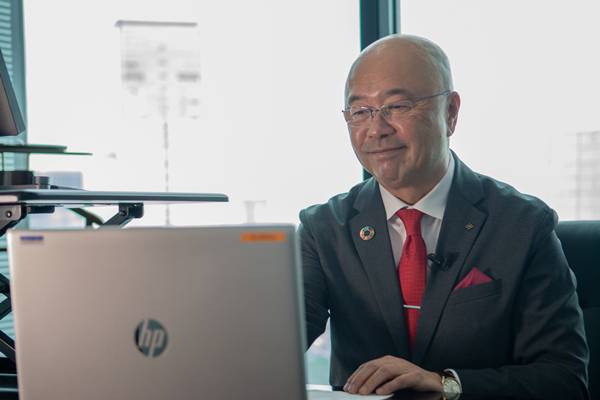 Building Marubeni's biggest flagship company outside Japan
Hirasawa's first projects in China were about residential development. From Hongqiao Villa to Shanghai House (a real estate company jointly established by Marubeni and Shanghai Tailu Industrial Development), the projects laid a solid foundation for his understanding of the Chinese market and friendship with Chinese partners. "Have you heard of Luming Garden, where the TV series 'Ode to Joy' was filmed? It is the first well-decorated apartment developed by Marubeni in Shanghai," said Hirasawa with pride. "For this project, board director Xue Xiaotong went to Japan and communicated with me several times. We became good friends during that period. He is our partner, but I have got much support and help from him over the past years in all aspects. He is a close and pragmatic friend, just like my family."
In 2014, Hirasawa began to be based in Shanghai, and was responsible for the implementation of some major projects. He has also promoted the participation of Japanese companies in the China International Import Expo (CIIE). Thanks to his efforts, Marubeni headquarters decided to make two strategic investments. First was the establishment of Fobeni Healthcom Pharmaceutical, a joint venture between Marubeni and Fosun. The other was that, together with G7, Marubeni formed a joint venture specializing in cold chain trailer services, to meet China's increasing cold chain demand.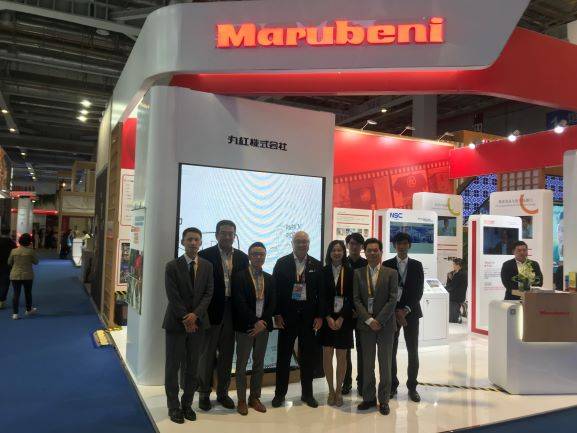 Shanghai is the operations center of these two projects.Marubeni has been a two-time participant of CIIE. During the second CIIE in 2019, it showcased the latest technology of turning indecomposable plastic into oxidative decomposable plastic. This year, as Hirasawa said, lifestyle services and products will also be on display, like childcare services for preschool education, children's shoes, and beef. According to him, CIIE is a strong signal of China's greater openness to the world. As a participant, he has also made extensive communication with people from Shandong, Hubei, and Jilin provinces. He believes that CIIE is an important place for communication.
Under Hirasawa's leadership, Marubeni China today is Marubeni's biggest flagship company outside Japan.
Standing with China against COVID-19
In early 2020, right after the COVID-19 outbreak in Wuhan, Hirasawa received a letter seeking assistance from Zall, a partner of Marubeni. Zall wanted them to deploy emergency supplies from Japan and transport them to Wuhan by air. The cargo was originally planned to be exported to the USA. Marubeni managed to deliver them to the Narita Airport Warehouse. With the help of the Tokyo headquarters, nearly 90,000 sets of the best protective suits were sent to Wuhan and other epidemic-stricken areas in Hubei, China.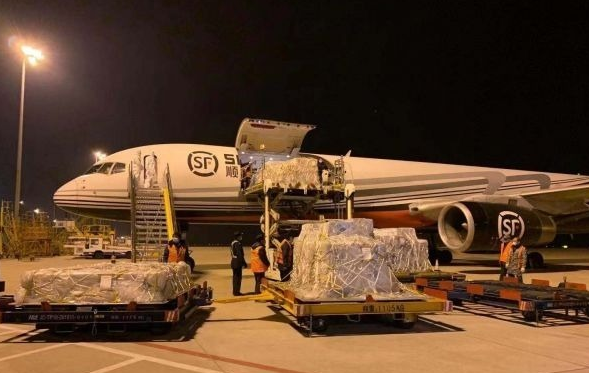 After that, under Hirasawa's instruction, Marubeni's sales team mobilized global resources to try to donate supplies to Wuhan. In March, 2020, through its partner Fosun Pharma, Marubeni donated two artificial ventilators worth 300,000 yuan to a Wuhan hospital.
For Marubeni, a company with a worldwide presence, the impact of COVID-19 has been huge. As Hirasawa admitted, the reinforced anti-epidemic measures, border restrictions and travel limits have led to a state of stagnation. Consumption shrank, transportation was reduced and sales volumes also plummeted. The rupture of the supply chain also caused difficulties in the manufacturing industry. Under such circumstances, the Shanghai government has taken heed of foreign-funded companies and introduced various supporting policies, to improve the investment environment for foreign capital. "The government visited our company in March, explaining the city's 28 measures to steady businesses during the novel coronavirus outbreak. The Lujiazui Administration under SHFTZ (China Shanghai Pilot Free Trade Zone) also paid a visit to us to show its support. As a foreign company, we felt strong support from the government, and we are also trying to minimize the epidemic's damage," added Hirasawa.
Due to Shanghai's policies to resume work and production, consumption recovered quickly and sales volumes are up. "Shanghai's stimulus for consumption at an early stage has positively boosted our performance."
Aiming for 'double cycle' in third countries
Despite the volatile world economy and the possibility of a second wave of COVID-19 in some countries, Hirasawa still holds a positive view on the Chinese market.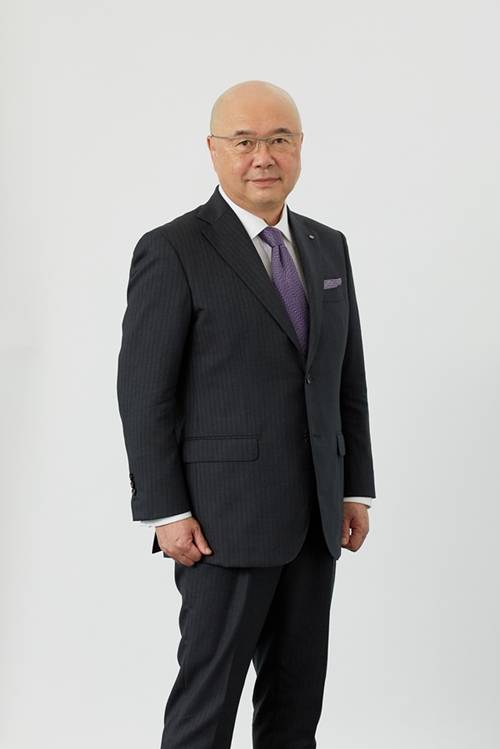 Looking into the future, he believes that Marubeni has lots of opportunities in many areas, especially in lifestyle, agriculture, environmental protection, energy, and third-country business.
First, as people's lifestyle improves, consumption changes from quantity to quality, and people need better products; secondly, agriculture is in a period of transformation, and efficient agricultural development will be the trend, with Marubeni having rich experience in this aspect. In terms of environmental protection and energy, Marubeni also has experience in deplasticization, garbage disposal, contaminated soil improvement, and the use of new energy. In addition, Marubeni's overseas (supply chain) network can also facilitate the development of third-country businesses, in combination with the technology and business models of Chinese companies, so as to realize a "double cycle" in third countries.
Hirasawa is glad to share his cooperation with Chinese companies when talking about third-country businesses. He said, "We formed Fobeni Healthcom Pharmaceutical with Fosun, which can provide medicine and services in other countries. We were also invited to set up a plant with Sinopec in Kazakhstan and the construction is about to be completed. With China's solar panel manufacturers, we're also preparing to engage in solar power generation projects in the Middle East."
As he believes, Marubeni has a lot to learn from Shanghai, one of the most economically active cities in China, the world's second largest economy. China launched its reform and opening-up policy 41 years ago. In the first three decades of the transformation, it learned a lot from Japan. But over the past years, Japan has had a lot to learn from China, especially Shanghai.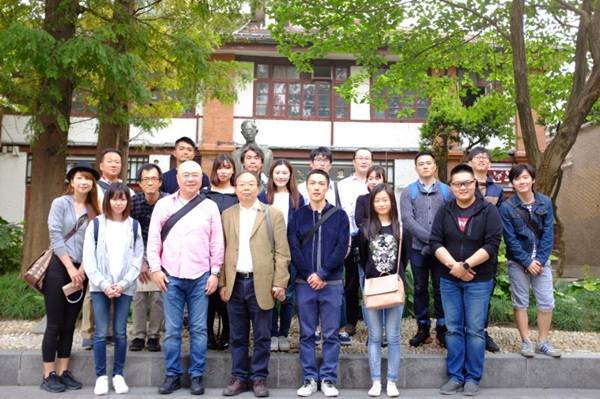 In his eyes, Shanghai is an important place for Sino-Japanese economic and cultural exchanges. "Each year, we attend CJIFF. We also help Chinese students have a home-stay experience in Marubeni employees' homes in Japan. When I was in Shanghai, I also organized young Japanese residents and our employees in Shanghai to walk around the streets of Shanghai, learn about the history of the city, and provide a platform for communication between young people in China and Japan."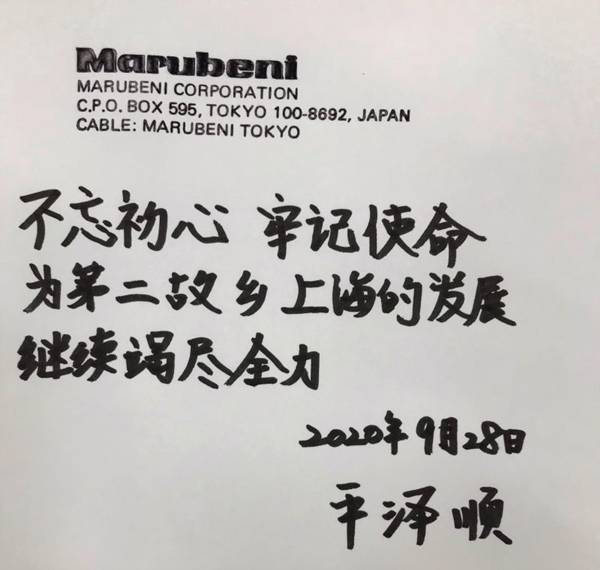 Having returned to Japan, Marubeni misses Shanghai's xiaolongbao, scallion noodles and stewed meat balls. On weekends, he would spend some time in The House of Roosevelt overlooking the Bund and Pudong. As he said, Shanghai is a city where he has made lots of contributions and he himself has gained a lot from Shanghai. In 2014, he was presented with a foreign expert certificate. In 2016, he was honored with the Shanghai Magnolia Silver Award and in 2017 he got a permanent residence permit, the first one in Lujiazui. This year, he was bestowed with the Shanghai Magnolia Gold Award. As he said, Shanghai is where his progress has been nurtured. He will stay true to his original aspiration and work with added energy for the further development of Shanghai, his second home.
Story/Cao Jun
Translation/Wu Qiong