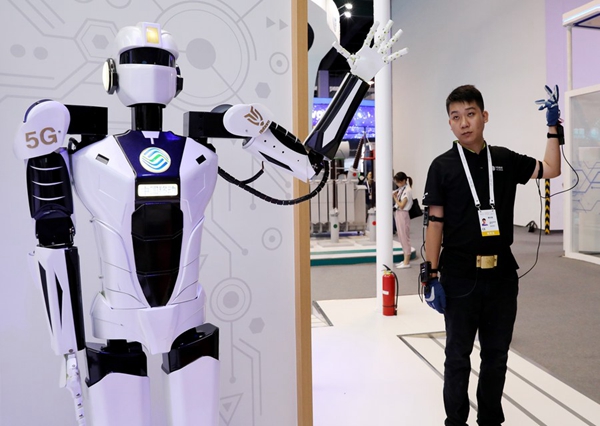 A staff member demonstrates 5G-based remote control of a robot during the 2019 World Artificial Intelligence Conference (WAIC) in east China's Shanghai, Aug. 29, 2019.(Xinhua/Fang Zhe)
SHANGHAI, Jan. 24 (Xinhua)-- Shanghai will build 8,000 5G outdoor base stations in 2021 as part of efforts to accelerate the construction of new infrastructure in the digital era, local authorities said Sunday.
Shanghai will focus on advancing digital transformation and accelerate the construction of a digital hub of global repute, said the city's mayor Gong Zheng, in the government work report delivered at the ongoing fifth session of the 15th Shanghai Municipal People's Congress.
Gong added that Shanghai will advance the digital economy in 2021 by focusing on key areas such as smart factories, industrial Internet, and e-commerce platforms.
By the end of October last year, Shanghai had built a total of 31,400 5G outdoor base stations and 49,800 indoor 5G small stations, achieving continuous 5G coverage in the city proper and key suburban areas.
According to the city's draft 14th Five-Year Plan (2021-2025), Shanghai will promote the construction of 5G standalone (SA) networks and achieve full 5G coverage in the city by 2025. The average download speed of the 5G network will reach 500Mbps in Shanghai.■