The Asian small-clawed otter named Youtiao in the Shanghai Wild Animal Park received a pennant from Beijing, after cleverly picking up a fallen cell phone from the water.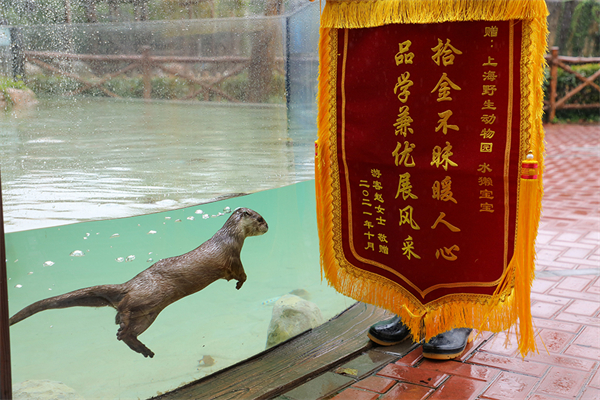 The pennant was from a tourist surnamed Zhao from Beijing. She visited the park on October 7 and accidently dropped her cell phone into the pool when taking photos. After seeing this, four-year-old Youtiao rescued the phone.
The incident has made the otter famous. Some netizens said the park should give more food to the lovely otter. For their health, otters' daily diet has to follow a regimen, but Youtiao's breeder gave an extra fish to him as a reward.
On October 11, the park received the thank-you pennant from the Beijing tourist, making Youtiao the first animal to get a pennant in the park.
After reading the news, netizens were excited again. Some commented:"Awesome. Youtiao is the Lei Feng of otters.""Good otters will be rewarded.""Handsome and kind-hearted."