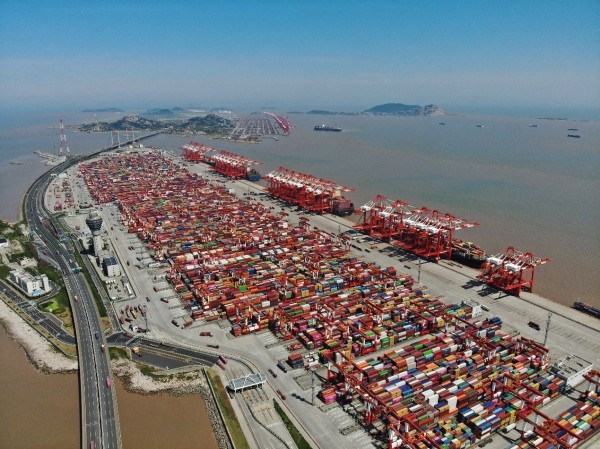 Aerial view of the Yangshan Port
At the 5th China International Import Expo currently being held in Shanghai, there are a dazzling array of exhibits from various countries, and most of them arrived at Yangshan Deep-Water Port by container vessels.
As the largest container port in China, Yangshan Port is the first stop for many foreign container vessels to arrive in this country.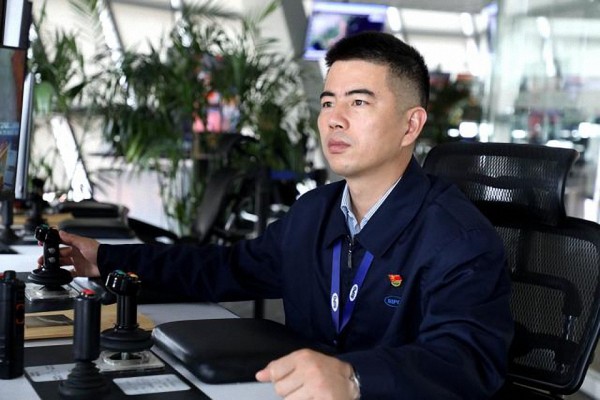 Hua Huang at his workstation
On November 8, Hua Huang, the chief remote bridge crane operator of the Yangshan Phase IV Automated Terminal, introduced the vast changes that have taken place in the port overthe past 5 years since the opening of the terminal.
Huang hoisted the first container on December 10, 2017, when the terminal opened for trial operation.
He was also there on September 30, 2022, when the 20 millionth TEU was unloaded on the dock - this time by one of his apprentices.
"I came to the workstation very early that day," Huang said."I was very proud to watch my apprentice lift the container steadily, because it's a kind of inheritance of skills."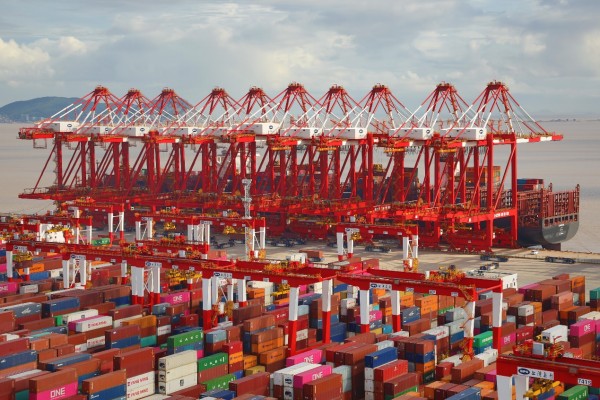 Ten bridge cranes working simultaneously
From the first container to the 20 millionth, a lot has changed in 5 years.
When the terminal was first put into use, the dock was empty and there were few vessels. Today, large vessels are lined up and moored at the front of the dock; rows of bridge cranes are arranged in an orderly manner, loading and unloading containers quickly and stably.
This is the largest single-unit automated container terminal in the world with the highest degree of comprehensive intelligence. The highest output per machine hour of a quay crane is 57.4 units; the day and night throughput reaches 20,823 standard containers; the production operations have achieved intrinsic safety and 0 direct emissions; and the labor productivity is 213% that of the traditional terminals.
Moreover, the terminal has achieved a historic leap in terms of "quality", which is supported by the key role of a fully automated Intelligent Terminal Operation System (ITOS). This "Made in China" system has not only broken the monopoly of foreign technology, but also realized higher efficiency.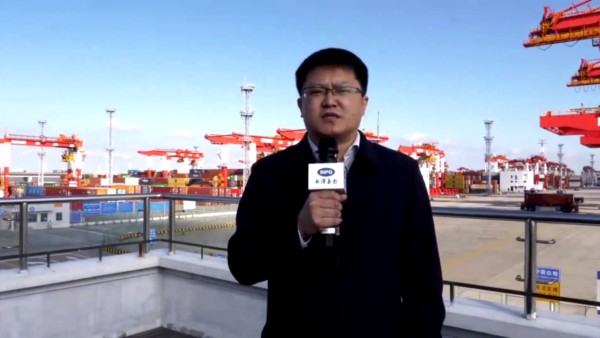 Chuanjie Zhang, the assistant general manager of Nezha Technology, SIPG
According to Chuanjie Zhang, the assistant general manager of Nezha Technology, SIPG, the ITOS is the brain of the terminal. This system enables port machinery to conduct loading and unloading operations simultaneously.
The robotic system collects and sorts out all the information and inputs it into a computer, where it is turned into operation instructions and sent to the operational equipment.
Thus, the unmanned operational equipment achieves efficient automated operation.
"From last year, we have successively implemented new technologies such as the ultra-remote intelligent command and control center, and the intelligent identification system for container damage," Zhang said.
"We have to improve constantly, and innovate constantly. Only then can we continue to maintain leadership in scale, efficiency and technology," he added.