Since 1989, a series of Magnolia Awards have been given as recognition of the contributions foreigners in Shanghai have made to the city, and 42 foreigners recommended by the Huangpu District have won this award.
In order to commemorate the thirtieth anniversary of the Shanghai Magnolia Awards, Huangpu District plans to hold a celebration activity in November.
Eastday has therefore especially launched a series of exclusive interviews to review these award winners' stories in Huangpu District and Shanghai.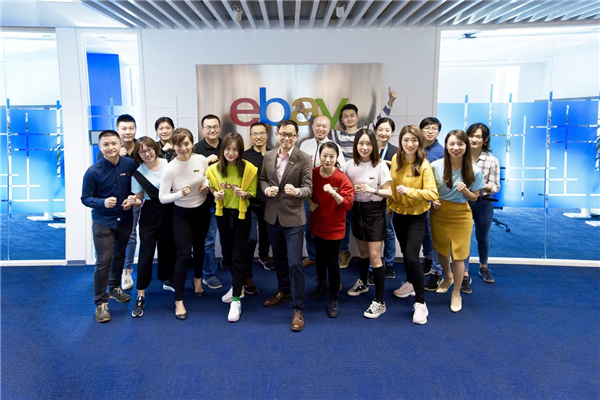 (Team eBay poses for a photo. Its slogan for the upcoming celebration activity is "eBay speed ahead".)
CEO of eBay Greater China helps Chinese products go global
Situated in downtown Shanghai, Raffles City in Huangpu is undoubtedly one of the most bustling places in the city. Its advantageous location and popularity also make it an office building favored by many foreign businesses, one of which is the international e-commerce platform eBay. As one of the first companies who settled into the place in 2004, eBay has been in Huangpu for 15 years and is now a leading company in China's cross-border e-commerce industry. Its leader, John Lin, has been working on cross-border e-commerce and promoting the export of cross-border e-commerce in Shanghai and China for many years.
In 2014, John Lin won the Shanghai Magnolia Silver Award. Four years later, he was honored with the Gold Award for his contribution to the upgrading and transformation of China's traditional export-based industries. However, the honor is not only recognition of himself, according to Lin, but also of the overall development of eBay.
In the future, Lin hopes to work with his team to create a perfect working and living environment in Huangpu and continue to promote the development of the e-commerce industry.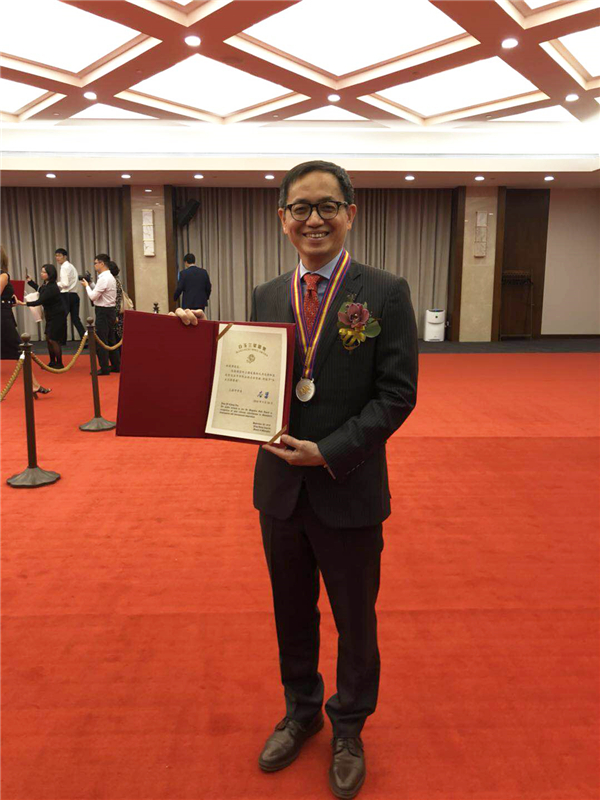 (John Lin, a winner of the 2018 Shanghai Magnolia Gold Award)
Before joining eBay, Lin had an eye-catching resume, having worked in many international cities such as Houston, Frankfurt, and Geneva. But in his eyes, Shanghai is the best place.
Lin came to Shanghai in 2006. In 2017, he was promoted to the position of Executive President of eBay Global Cross-border Trade. As a path paver of China's cross-border export e-commerce, he has not only played an active role in leading his team to achieve steady growth in performance, but also helped Chinese brands go global, making Shanghai a leading city for China's cross-border export e-commerce.
Since 2012, Lin has been CEO of eBay Greater China. Under his leadership, the company built a cross-border e-commerce ecosystem and guided traditional merchants to subvert the existing supply chain and adopt overseas warehouses, automation, and interventional logistics to enhance industrial development, contributing to the transformation of cross-border export e-commerce. Instead of light and small pieces of processed goods, the exported goods are now large pieces with high value and high value added. In 2016, Lin started to promote the overseas branding of China's cross-border export e-commerce enterprises. The next year, eBay launched a program to help Chinese merchants explore the international market along the Belt & Road routes. So far, at least 1,000 Chinese brands have been involved in the program.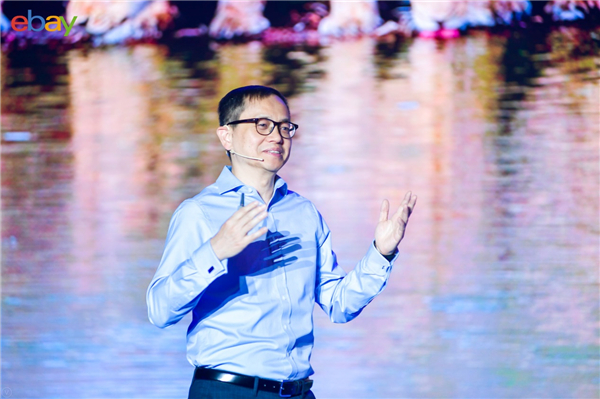 (John Lin delivers a speech at the 2019 eBay Summit.)
Speaking of the development of his company, Lin said that the Huangpu government has offered them a lot of support in terms of taxation, trade and talent. Also, the company has enjoyed various preferential policies as a foreign-invested enterprise in Shanghai.
On October 30, eBay and Huangpu District signed a memorandum of cooperation. Leveraging its advantage in supply chain and market channels, eBay will rely on the new M2C seller incubation project and work with the Huangpu District government to build a cross-border export e-commerce and high-quality commodity import and distribution center for the Yangtze River Delta. The center will be connected to the permanent exhibition and trading platform of the annual China International Import Expo, so as to boost cross-border e-commerce.
eBay and the district government will also establish a talent training base and centers for innovation, entrepreneurship and R&D.
Since moving from Switzerland to Shanghai in 2006, Lin has been here for 13 years. In his eyes, Shanghai is a vibrant and diversified city where people can experience the old Shanghai style and the modern urban atmosphere. "There are colorful cultural performances and so many kinds of food, and the climate is very good, with distinct seasons." He thinks Shanghai has its unique charm. "Working and living in Shanghai for so many years, I feel the development here is fast, not only in infrastructure construction, but also in the development of culture. Shanghai overall is very vibrant and it is becoming more and more civilized."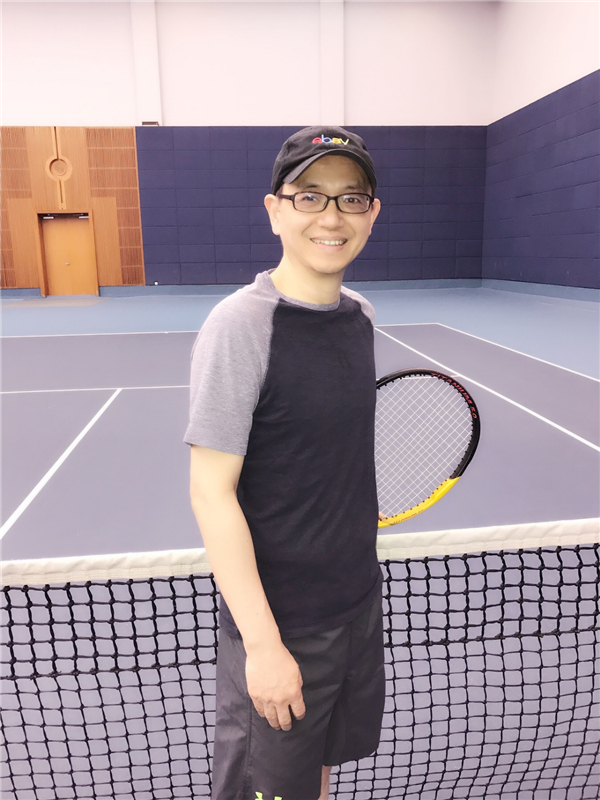 (Lin likes playing tennis in his spare time.)
Lin's biggest hobby is playing tennis, which he plays several times a week. Because he has worked in Switzerland, he admires Roger Federer. He said, "The Rolex Shanghai Masters is held in Shanghai every year, so Federer often comes to Shanghai. When he comes, he practices at Jing'an Gymnasium. That is the place where I usually play. When he leaves, my friends and I will go there immediately. Even though we can't meet him, we can feel his vibe there."
Story by Fan Yicheng
Translated by Wu Qiong