Since 1989, a series of Magnolia Awards have been given as recognition of the contributions foreigners in Shanghai have made to the city, and 42 foreigners recommended by the Huangpu District have won this award.
In order to commemorate the thirtieth anniversary of the Shanghai Magnolia Awards, Huangpu District plans to hold a celebration activity in November.
Eastday has therefore especially launched a series of exclusive interviews to review these award winners' stories in Huangpu District and Shanghai.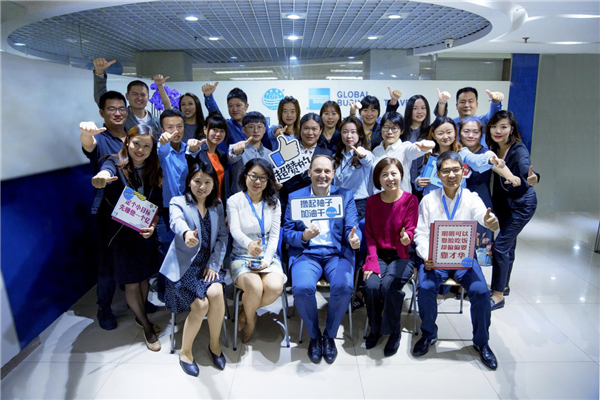 (Team CITS GBT pose for a photo. Their slogan for the upcoming celebration activity is: "Go ahead! CITS GBT! We are the best!")
An Italian's beautiful vision for Shanghai
Marco Pellizzer, vice president and general manager of CITS American Express Global Business Travel (CITS GBT) Mainland China and Hong Kong, shares the same first name as Marco Polo, an Italian explorer who travelled through Asia along the Silk Road. Coincidentally, Mr. Pellizzer's work has much to do with travelling like the ancient adventurer. In 2007, he came to Shanghai because of his longing for visiting China. He said when he set foot in Shanghai, it was like landing on a different planet. In his opinion, people here are enterprising, daring, full of vigor and energy, and are unafraid of failure. Looking back on his past 12 years in the city, he said Shanghai has been changing every day, and even small changes have left him with many memorable moments.
Opening a window to Shanghai
CITS GBT is a joint venture by American Express Global Business Travel and China International Travel Service (CITS) started in 2002 when travel management was new to the Chinese market. The company has been pushing forward the development of China's business travel management industry. Now, China has surpassed the USA to be the biggest business travel market.
As the country's first business travel management company, CITS GBT provides customers with professional, efficient, compliant and convenient services.
"If you want me to put a label on our company, I would say that the service we provide is Travel-Connect-Prosper. That means, we help our customers connect to the world through reasonable and quality business travel, expose them to more business opportunities and promote the prosperity of client companies and even the whole industry," said Marco.
Setting the trend of China's business travel management market, CITS GBT has hosted 15 CBTFs (China Business Travel Forum) since 2005. According to Marco, CBTF is nowadays a platform for sharing ideas, concepts and trends, where industry practitioners from around the world share their practices, learn from each other, and investigate the product and service innovations that business travelers need. "Communication is a crucial part of CBTF." Through the event, CITS GBT wants to bring more travelers to Shanghai and open a window of business opportunities to Shanghai and China. "We have never stopped our commitment to this industry and to this city," said Marco proudly.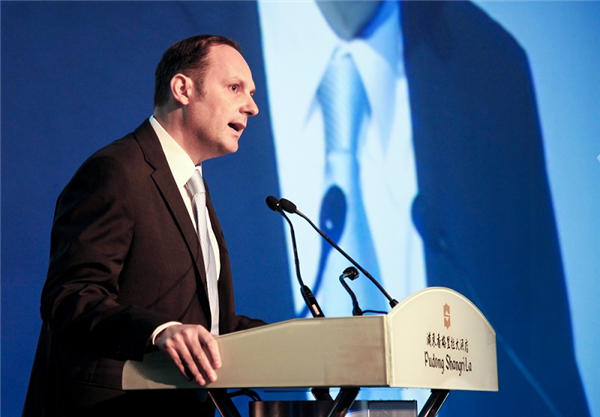 (Marco Pellizzer delivers a speech at a CBTF meeting)
Lending a hand to the needy
In Marco's eyes, corporate social responsibility (CSR) is of great significance to a company. Since 2010, he has called for his staff to engage in charity work. In the Sunshine Disabled Home in Laoximen, Huangpu District, he and his employees do what they can to help the handicapped children. "While helping others, we harvest happiness and emotional connections. I think the most important thing in doing a charity project is perseverance. We need to carry on and persist in doing this, day in and day out."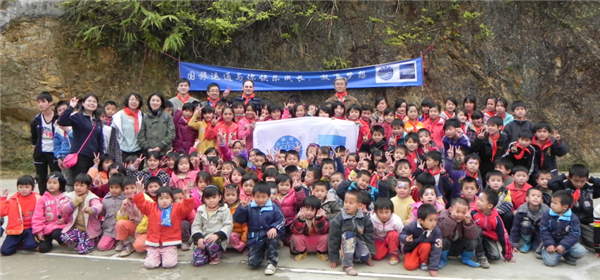 (Marco Pellizzer poses for a group photo with students at a Hope Primary School in Guangzhou)
In his spare time, Marco enriches his life by learning. In 2015, he signed up for a Doctor of Business Administration program. Also he is learning Chinese. "Chinese is so profound that many characters have their particular origins and meanings. Language is a window to thoroughly understand a country's culture."
With gratitude to the city and the opportunity he has got from China, Marco confided that he has a strong sense of belonging to China and Shanghai. "Whenever I return to my hometown in Italy, I cannot stop talking about what I see in Shanghai. My friends ask me why? I think, even if one day I leave China to work and live anywhere else, I will take with me the inspiration and thoughts that I have obtained in Shanghai."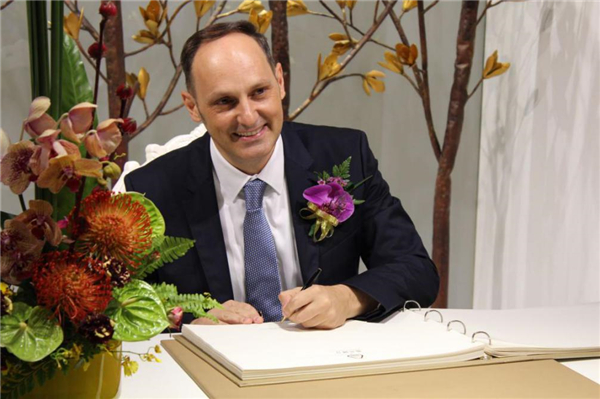 (Marco Pellizzer was a winner of the 2016 Shanghai Magnolia Gold Award.)
In 2014, Marco Pellizzer was honored with the Shanghai Magnolia Silver Award. Two years later, he won the Gold Award. But he is very modest about what he has done for the city of Shanghai. He said, "If I have any achievement, I must attribute it to my team." For him, working with his Shanghai colleagues is a wonderful experience, which plays a major part in his integration into the city.
Story by Zhao Chunyuan
Translated by Wu Qiong