Since 1989, a series of Magnolia Awards have been given as recognition of the contributions foreigners in Shanghai have made to the city, and 42 foreigners recommended by the Huangpu District have won this award.
In order to commemorate the thirtieth anniversary of the Shanghai Magnolia Awards, Huangpu District plans to hold a celebration activity in November.
Eastday has therefore especially launched a series of exclusive interviews to review these award winners' stories in Huangpu District and Shanghai.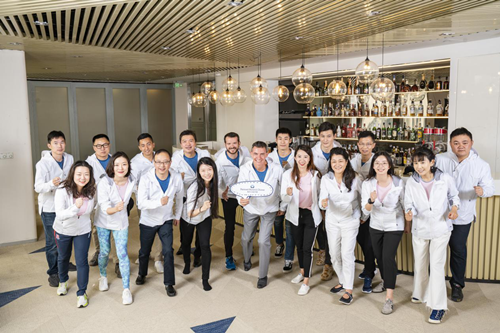 (Team Pernod Ricard poses for a photo. Its slogan for the upcoming celebration activity is "Always right".)
A French man's affinity with Shanghai
Other than France, few countries have exerted such an influence on the development of the modern wine industry. Wine is like a key to French culture: after just a sip of it, people can feel the charm of that land. Since Jean Etienne Gourgues from France took over the position of Pernod Ricard China's CEO in 2014, he has brought wine and enjoyment to more people's lives, while letting them know more about rational drinking.
Promoting rational drinking as a responsibility
Created in 1975 by the merger of Ricard and Pernod, Pernod Ricard began its journey to explore the global market. In 2004, the headquarters of Pernod Ricard China settled down in Xintiandi, Huangpu District.
As one of the first companies in the industry to promote the concept of "rational drinking", Pernod Ricard has committed itself to social responsibility.
In 2015, Jean Etienne Gourgues initiated the establishment of the China Alcohol and Social Aspects Organization (China SAO), of which Pernod Ricard is a rotating president. For four consecutive years, the organization has held the National Rational Drinking Week each October. As Mr. Gourgues said, this year, his company promoted the concept of "No drinks under 18" via the China International Alcoholic Drinks Expo and sent out thousands of warning table tents to the buyers to display prominently.
In addition, Pernod Ricard has worked with Shanghai's traffic authorities and ride-hailing platform Didi to promote rational drinking and the designated driving service.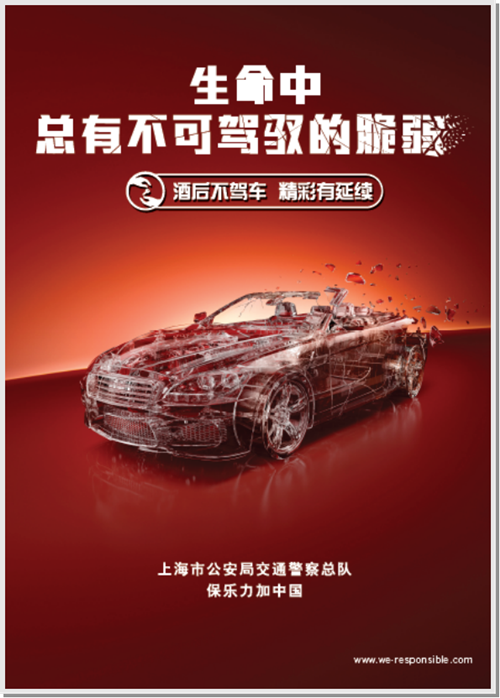 (Since 2015, Pernod Ricard China has run a campaign called "Say no to drunk driving.")
Cultural exchanges along the Belt and Road
To promote the cultural exchange of different wines and spirits, Pernod Ricard initiated the Belt and Road International Wine & Spirits Alliance. Speaking of the alliance's creation in 2017, Mr Gourgues said it was to promote the exchanges between Chinese wine and imported spirits companies, and provide a platform for cultural exchanges. Through the alliance, Pernod Ricard has explored a new area in cocktail culture, and some new possibilities for liquors in cocktails. For example, China's Wuliangye can also be used as a base wine to make cocktails. "This is a very bold innovation," he added.
Doing business is not the sole goal of Pernod Ricard in China. Supporting cultural causes has been a tradition of this company. In Shanghai, it has sponsored many cultural events, like the China Shanghai International Arts Festival, Masterpieces from the Centre Pompidou, West Bund Art & Design, Shanghai French Week, and French Petanque Tour.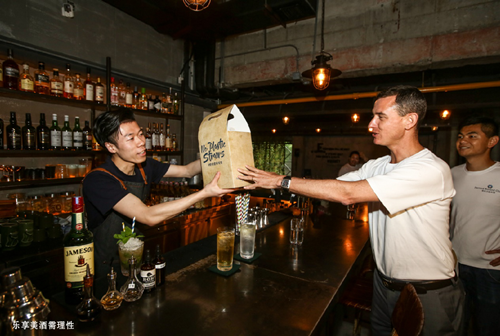 (On Pernod Ricard's Responsib'ALL Day, Mr Gourgues promotes environmental ideas to business partners.)
A love for Shanghai
Mr Gourgues enjoys living in Shanghai, a city that is becoming more modern and resident-friendly. Located in the center of Shanghai, Huangpu District in his eyes has a historical heritage and grandeur, and at the same time it is very modern and open-minded. He thinks Huangpu has done a good job in terms of both the historical preservation of architecture and cultural heritage. In the meantime, it is open to modernity.
As he said, it's very convenient to live in Huangpu. There are many fine shops and the food in some bars, restaurants and cafes is also very delicate and delicious. The plane trees lining the road and the fashionable and cosmopolitan urban atmosphere of Shanghai often reminds him of his hometown, "there's a feeling of being at home."
And he is making his own endeavor to show his love for the city. He calls for his company to take part in various philanthropy and poverty-alleviation campaigns, not only in Shanghai, but also in Yunnan, a province Shanghai is partnered with in poverty relief.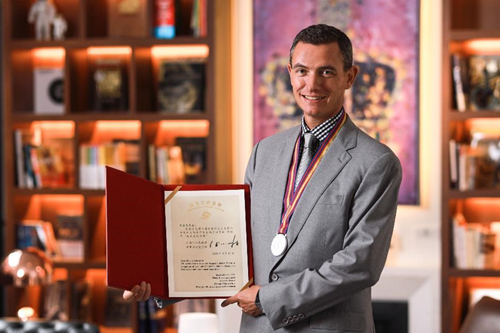 (Jean Etienne Gourgues is a winner of the 2018 Shanghai Magnolia Silver Award.)
In 2018, Jean Etienne Gourgues was honored with the Shanghai Magnolia Silver Award. He said he owed this to his company and his team members. "Pernod Ricard China is a very dedicated and diversified team. I am very impressed by my Chinese colleagues' efficiency and concentration in work."