One day in the fall of 1989, Maurice Greenberg, godfather of international insurance, and Henry Kissinger, former U.S. Secretary of State, had a meeting with then Shanghai mayor Zhu Rongji in a hotel in Shanghai's Puxi area. Looking outside the window, Zhu Rongji pointed to Pudong, which was a field at that time, and told his foreign guests: I feel in maybe two or three years, there will be a city here. "I thought he was kidding," said Mr. Greenberg, who realized later that Zhu was right. "With the right leadership and a lot of vision, changes came very quickly."
The same year, Mr. Greenberg was invited by Zhu Rongji to serve as chairman of the International Business Leaders Advisory Council for the Mayor of Shanghai (IBLAC). Today, 29 years later, at the headquarters of C.V. Starr & Co., Inc. in Manhattan, Mr. Greenberg recalled his Shanghai stories. In his nineties, the veteran who participated in the Normandy landing is still full of spirit.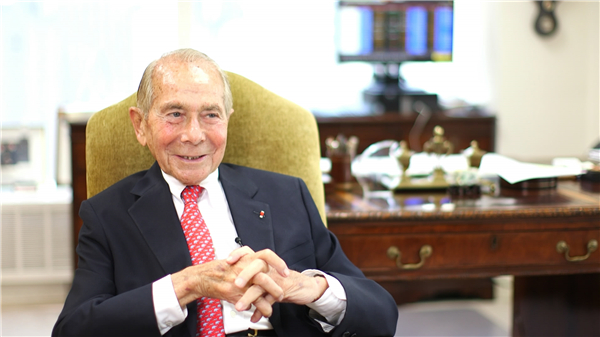 (As former Chairman of AIG, Mr. Greenberg currently sits as Chairman and CEO of C.V. Starr & Co., Inc.)
Contributions to IBLAC
On October 9, 1989, the first IBLAC (also known as the preparatory meeting) was held at the Xijiao State Guest Hotel in Shanghai. At that time, Shanghai was at the initial level of economic development. Under the pressure of building a world-class city, it was faced with challenges from both domestic and international markets. A lot of reforms needed to be carried out and there was no international precedent for IBLAC. But Shanghai has always been a trail blazer. Following the advice of Jing Shuping, chairman of China International Economic Consultants, Zhu Rongji, then mayor of Shanghai, managed to invite 12 internationally renowned business executives to serve as consultants for Shanghai's future development. Aside from Mr. Greenberg, representatives from Fiat and Continental Grain Company were also on the guest list.