"It's been more than 30 years since I came to work and live in mainland China. It's like a natural connection," said Albert Kong Ping Ng, EY's China Chairman and Greater China Managing Partner. Hours before his interview with us, he flew back to Shanghai from Haikou. Just the day before, EY's 27th branch in Greater China was opened in Haikou. Sitting in his office on the 50th floor of the Shanghai World Financial Center, the city's second tallest skyscraper, Albert is a witness to the speed and level of Shanghai's development since the reform and opening up.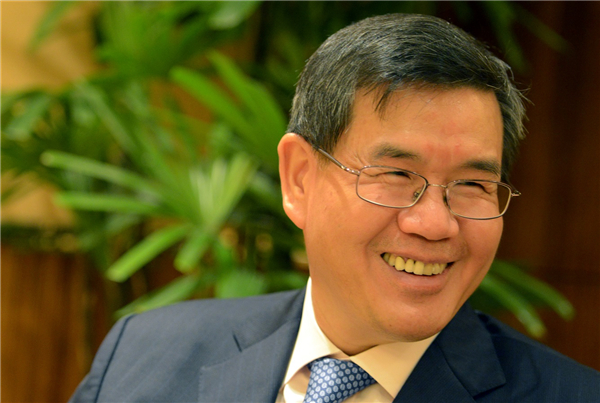 (Albert Kong Ping Ng, EY's China Chairman and Greater China Managing Partner. Photo provided by EY)
Shanghai in the 1980s
Born and raised in Hong Kong, Albert had never been to the Mainland before he graduated from college. "In the 1970s and 1980s, due to insufficient information exchange, people knew little about the Mainland. In my school years, everyone thought of the Mainland as a mystery." After graduation, Albert was finally given a chance to go to the Mainland, as his boss wanted him to go to Guangzhou on a business trip.
Later in 1986, Albert came to Shanghai on a business trip. The memory was still fresh in his mind. "When I got off the plane, it was 8 at night. I wanted to go somewhere for dinner. But the entire city was dark, and all the shops were closed." The city which used to sleep so early became a frequent destination of his business trips in the next few years.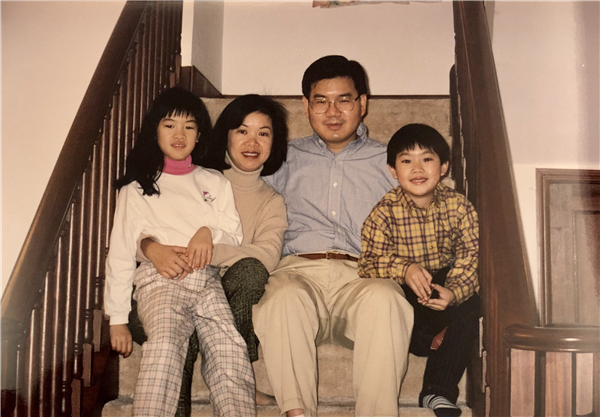 Albert Ng and his family. Photo provided by Albert Ng

In 1994, Albert shifted his focus to Shanghai. Thanks to this, he witnessed Shanghai's takeoff since the reform and opening up. The elevated roads, buildings in Lujiazui, Pudong International Airport; many things over the years began to flash through his mind. "People nowadays complain about traffic jams, but did you know when the Inner Ring was being built in the early 1990s, the traffic was far worse than now?" He raised his hand and made a phone-call posture, "When we went to Hongqiao Airport to pick up our clients, we had to take with us a Dageda (China's first-generation mobile phone), because we were afraid of getting there late due to the poor traffic."

Urban development will definitely bring about short-term pains, but Albert has never doubted his decision to settle in Shanghai. "The government's reform and opening up is forward-looking and a right decision." Having travelled to so many cities, he always believes Shanghai's infrastructure is top-ranking in the world. "Now in Shanghai, the subway network covers almost everywhere. The numerous commercial facilities have made Shanghai a city that never sleeps. Even in the middle of the night, convenience stores are in operation. Gone are the days when I found nowhere to eat after getting off the plane," said Albert smilingly.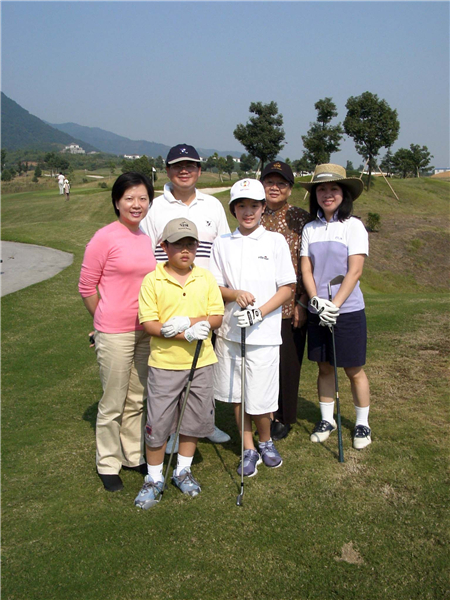 Albert Ng and his family. Photo provided by Albert Ng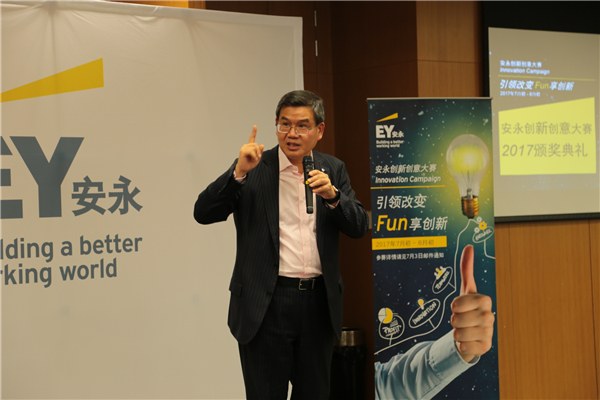 (Albert Ng speaks at the award ceremony of the 2017 EY Innovation Campaign. Photo provided by EY)
EY's history in Shanghai
In 2010, EY's Shanghai office officially settled in China's tallest building at that time — the Shanghai World Financial Center in Lujiazui, Pudong. The reception desk is on the 28th floor and staff are located between the 43rd and 51st floors, with each floor covering 3,000 square meters. Standing in the office, you get a panoramic view of Shanghai. It might be unimaginable for some young employees that it was still a dream for multinational company three decades ago to find a suitable place to house all staff.
In the early 1990s, foreign companies could only do business in Shanghai in the form of representative offices. "A reception desk, and two or three offices, were all we had. Our offices were not even on the same floor, so we had to go to different floors every day." Starting up a business was not easy. At that time, only a few apartments in Shanghai could be rented by foreigners. Having nowhere to stay, Albert lived in a nearby hotel for half a year. It was not until four or five years later that he settled down and asked his family to relocate to Shanghai.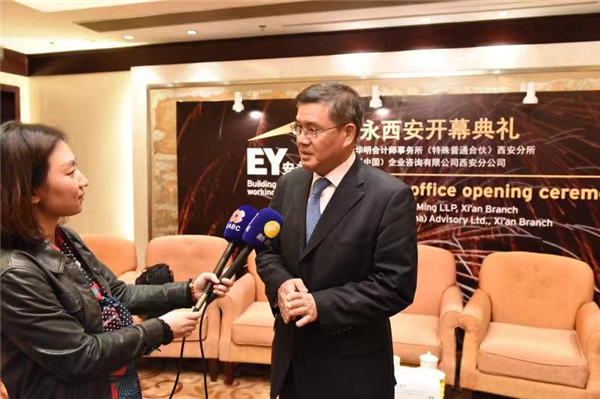 (Albert Ng receives a media interview at the opening ceremony for EY's Xi'an branch office. Photo provided by EY)
Owing to Shanghai's business-friendly environment, EY has made rapid expansion in China's booming economy. Now, in Shanghai alone, there are nearly 5,000 people working at EY. "I attended the inauguration of our 27th branch in Haikou yesterday. You have to know that there were only 50 employees in the early years of EY in China." He is excited about the history of his company in China. "I came here because of work, but I'm fortunate to have witnessed the wave of China's reform and opening up. That is the best decision I've ever made."
Albert knows many young people who are willing to pursue their careers in China. He always encourages them, "There is an old saying, 'When in Rome, do as the Romans do.' When you come to China, you must identify with Chinese culture, understand China's history, and integrate into Chinese society."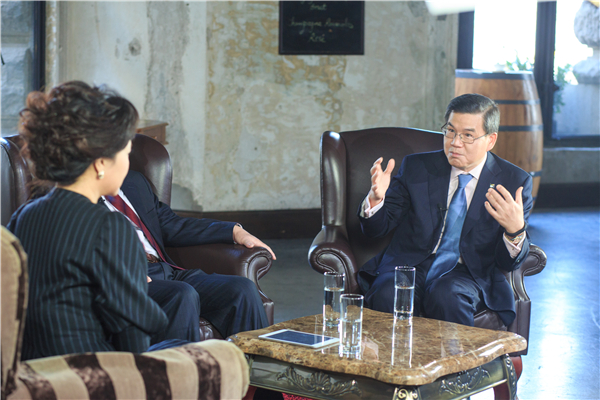 (Albert Ng receives a TV interview with Yicai. Photo provided by EY)
Chinese enterprises go global
As a professional services provider, when EY's member firms were founded in China, its clients were mostly multinational companies. "I used to travel a lot to Beijing to negotiate with the Chinese government and enterprises on behalf of foreign investors," recalled Albert.
The transition occurred between the end of 1991 and the beginning of 1992: as the Shanghai Stock Exchange began to list and trade B shares, more and more Chinese companies conducted capital activities in accordance with international accounting standards and international practices. As a result, EY's service targets in China gradually changed to Chinese companies. "Now, Chinese companies account for 70% of our clients."
With China adhering to its reform and opening up, the country has attracted many foreign companies. Meanwhile, Chinese companies are accelerating their pace of going global. In Albert's eyes, especially over the past 10 years, Chinese companies have been increasing their investments in foreign countries. "The first companies that went global were mostly energy and mining companies. Later, manufacturers began to invest abroad. Now, many modern services companies are making investments abroad."
The investment direction of Chinese companies has also changed. In recent years, the news of Chinese companies investing in foreign TMT (Technology, Media, and Telecommunications) and financial industries have made many headlines. From Albert's point of view, Chinese companies should look beyond the Chinese market so as to become international. He said, "Our mission is to help Chinese companies in areas including due diligence and risk management, and to resolve the challenges of 'going global' such as cultural differences, and policy and legal risks, so as to push forward their internationalization process and make them world-class companies."
In early November 2018, the first China International Import Expo (CIIE) was successfully held. Albert has more than once expressed his support for it: "The CIIE is a significant move for China to expand its opening up and strengthen economic and trade cooperation in all areas. It also reflects China's commitment to share the benefits of its economic reform with the world." According to him, EY is the first organization to sign up for both this and next year's expo. "The trade exhibition platform provided by the CIIE will bring about many historic opportunities for investment and development, and we are honored to participate in it."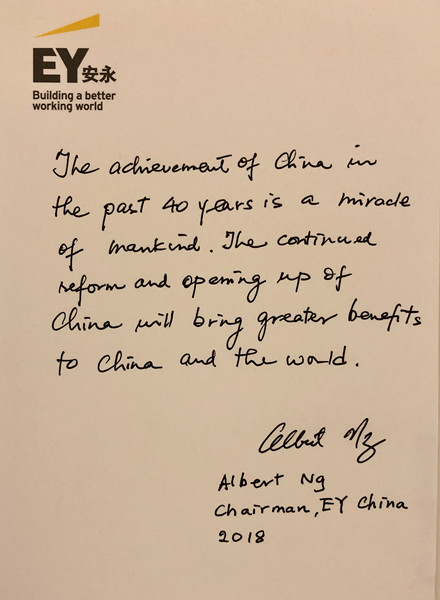 (Albert Ng's wishes for China's further reform and opening up)
Story by Bai Kelin
Translated by Wu Qiong
Cameraman: Liu Hao