Shanghai Mayor Gong Zheng conferred on Yasuteru Hirai the title of 2020 Honorary Citizen of Shanghai and honored ten other expats each with a Magnolia Gold Award at the city hall on Sept. 28, in recognition of their outstanding contributions to the city's social and economic development as well as international cooperation.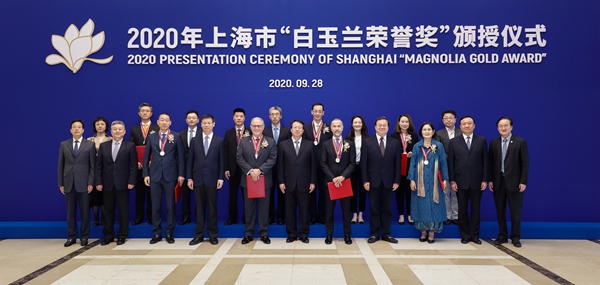 The ten laureates of the Magnolia Gold Award come from Spain, Japan, Canada, Korea, Brazil, the United States, the UK and France, and are engaged in fields including economics & trade, finance, services, science & technology, culture and pharmaceuticals industries.
Francisco Javier Gimeno Alcala, senior vice president and CEO Asia Pacific, Saint-Gobain Group, has spent the last ten years in Shanghai with his wife and their two children. "Since our arrival in the fall of 2010, we have witnessed the amazing escalation and transformation of the city. Definitely, we all feel Shanghainese. We are part of this place. Accordingly, there's nothing more natural than working hard for the city that we love."
"Our trust in China has been boosted all through the COVID-19 pandemic," he said, expressing his gratitude to the Chinese and Shanghai governments for their rapid response and extraordinary measures to defeat the coronavirus, which he thinks should be learned by the rest of the world.
"To our best capacity, we will continue to work vibrantly, hand in hand with you, to make greater contributions to the success of the city and the happiness of its nationals."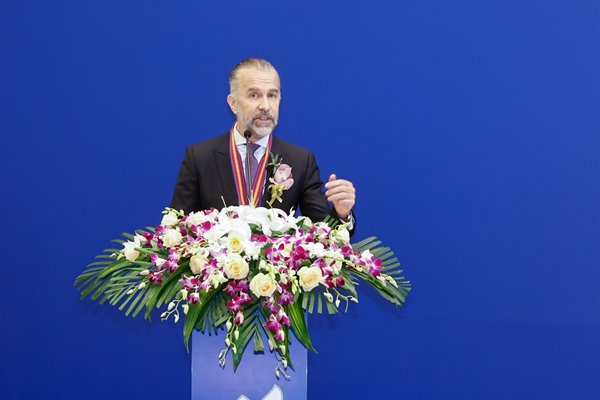 Francisco Javier Gimeno Alcala delivered a speech on behalf of the Magnolia Gold Award winners.
"I've been living in Shanghai for 27 years and have a deep feeling for the city," said Wonsook Hong from Korea, a T.C.M physician with Shanghai Minhang T.C.M Hospital and a visiting associate professor with Shanghai University of Traditional Chinese Medicine, who donated facial masks in support of the city's battle against the outbreak.
Hong hopes to exert herself in spreading Traditional Chinese Medicine knowledge and the combination of Chinese and Western therapies to Korea and the world at large, which she believes are very effective in the diagnosis and treatment of immune system diseases as well as difficult and miscellaneous diseases.
The title of 2020 Honorary Citizen of Shanghai went to Yasuteru Hirai from Japan, who is Chairman of Mitsubishi Corporation China Co., Ltd. Coincidentally, the day of the presentation ceremony happened to be his birthday. Hirai felt that it was an encouragement to him as he obtained a Magnolia Silver Award in 2014, and then an affirmation for winning a Magnolia Gold Award in 2017. Now it was the "most memorable moment of his life" that he was granted the top title as "Honorary Citizen" on his birthday.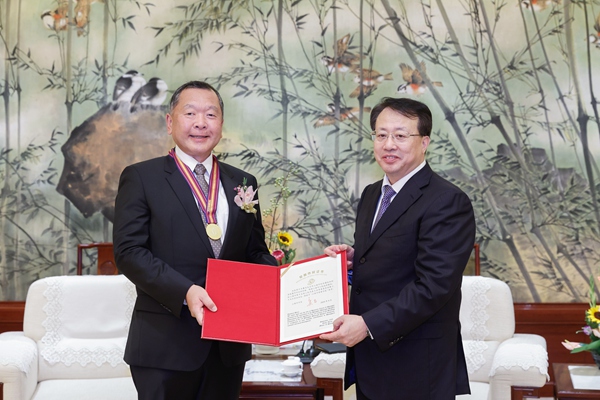 Shanghai Mayor Gong Zheng and Yasuteru Hirai (Left)
Over the years, Hirai has been actively involved in economic, cultural and social exchanges in Shanghai, making his efforts towards the sustainable progress of the city. He said that Sino-Japan relations cannot be fragile in any situation or in any field, and that it is incumbent to promote the economic and trade development between the two countries.
When the COVID-19 epidemic broke out in China, Hirai quickly mobilized all resources and gave full play to Mitsubishi's advantages of a global supply chain trading platform, so as to complete the overseas dispatching of tens of thousands of medical masks, to help the city fight against the outbreak.

Meanwhile, Hirai returned to Shanghai to push on the opening of the Mitsubishi Chemical R&D center in Fengxian District. He said that it was an honor for him to spend a "14-day quarantine life" in Shanghai. He spoke highly of the city's anti-pandemic achievements by sharing his experiences with more Japanese people.
In 1989, the Shanghai Municipal People's Government set up the Magnolia Silver and Gold Awards in the name of the city flower, with the title of Honorary Citizen of Shanghai being brought into the series in 1997. As of now, a total of 342 foreigners have won the Magnolia Gold Award.
2020 Shanghai "Magnolia Gold Award" Recipients
1. Mr. Fernando Arenzana Seisdedos, Spain.
Scientific Co-Director,
Institute Pasteur of Shanghai, Chinese Academy of Sciences
2. Mr. Francisco Javier Gimeno Alcala, Spain.
Senior Vice President and CEO Asia Pacific,
Saint-Gobain Group
3. Mr. Jun Hirasawa, Japan.
Chairman & CEO,
Marubeni (China) Co., Ltd.
4. Mr. Kwok Wai Andy Ho, Canada.
Greater China President,
Royal Philips
5. Ms. Wonsook Hong, Korea.
T.C.M Physician,
Shanghai Minhang T.C.M Hospital
6. Mr. Huang Haicheng, Brazil.
Legal Representative & General Manager,
Shanghai Cheng Zhi Ran Jewelry Co., Ltd.
7. Mr. Jiade Jay Lu, USA.
Executive Vice President,
Shanghai Proton and Heavy Ion Center
8. Mr. Michael Ross, UK.
Vice Chairman,
Charoen Pokphand Group
9. Mr. Haofeng Jean-Francois Wang, France.
President,
bioMerieux Greater China
10. Ms. Belinda Ching Ying Wong, Canada.
Chairman & CEO,
Starbucks (China) Co., Ltd.
Story by Wang Jiaye
Photos by James Pan