The third CIIE has, for the first time ever, allowed for the participation of insurance companies. As Japan's No.1 property insurance carrier, Mitsui Sumitomo Insurance (MSI) took part in the event as an insurance company, showcasing its latest innovations. The company, which has been embedded in the Chinese market for decades, hopes to transform people's impression of insurance companies and facilitate smooth cross-border trade, said Yukitaka Ito, chairman of MSI China.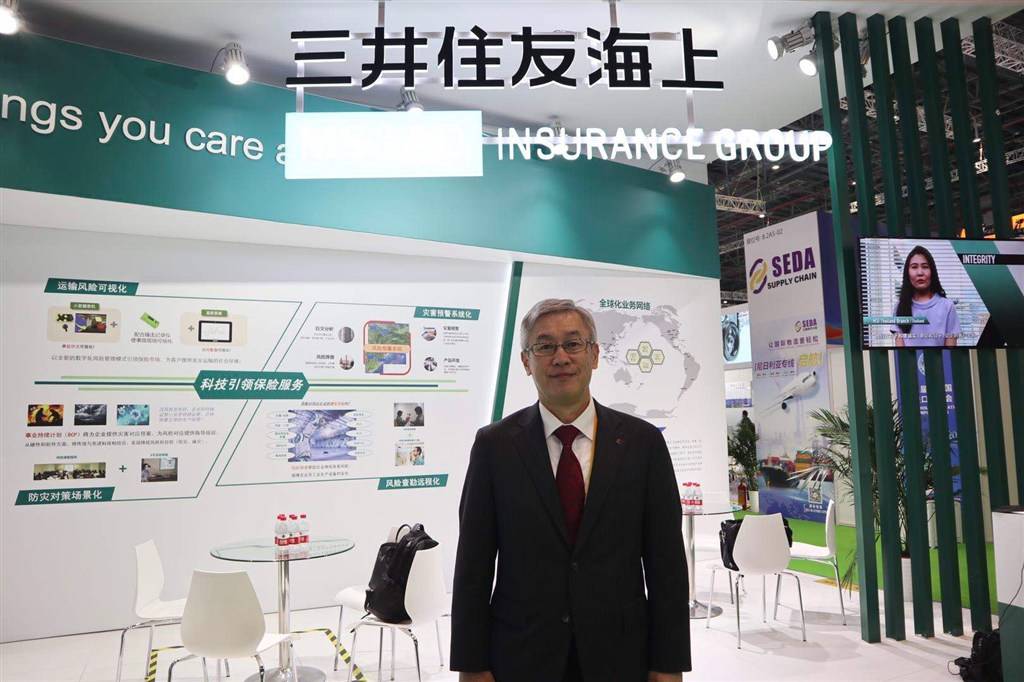 (Yukitaka Ito, chairman of MSI China)
One-stop solution for trade insurance
For the international event, MSI has brought its intelligent cross-border insurance platform to display at the booth. According to Mr Ito, the platform is the result of joint efforts of several insurance companies and organizations, including the Shanghai International Trade Single Window (Easipass), the Shanghai Insurance Exchange, People's Insurance Company of China, China Pacific Insurance, and Ping An Insurance. It has realized the secure cross-industry sharing of trade and insurance, and the involved parties will release relevant achievements after the CIIE.
China is the world's largest trading country in terms of trade volume, but the penetration rate of its import and export trade insurance still lags behind that of major trading countries. After some market research, MSI China found the reasons behind this: the insurance process is too complicated and the product service is too limited. To resolve the problem, the company used the latest technologies such as blockchain to realize secure "one-stop" data sharing of cross-border trade information. In this way, the insurance efficiency and service quality can be improved, as underwriting, bill issuance and other functions can be done intelligently. Insurance companies can serve cross-border trading companies faster and safer and help to elevate the scale of cross-border trade, thereby creating a "multi-win" pattern.
As Mr Ito explained, the platform, which has so far been updated to the 3.0 version, aims to promote smooth trade by improving the service efficiency and customer satisfaction in the financial industry, because apart from offering insurance services, it can also make claims and issue reports in case of incidents.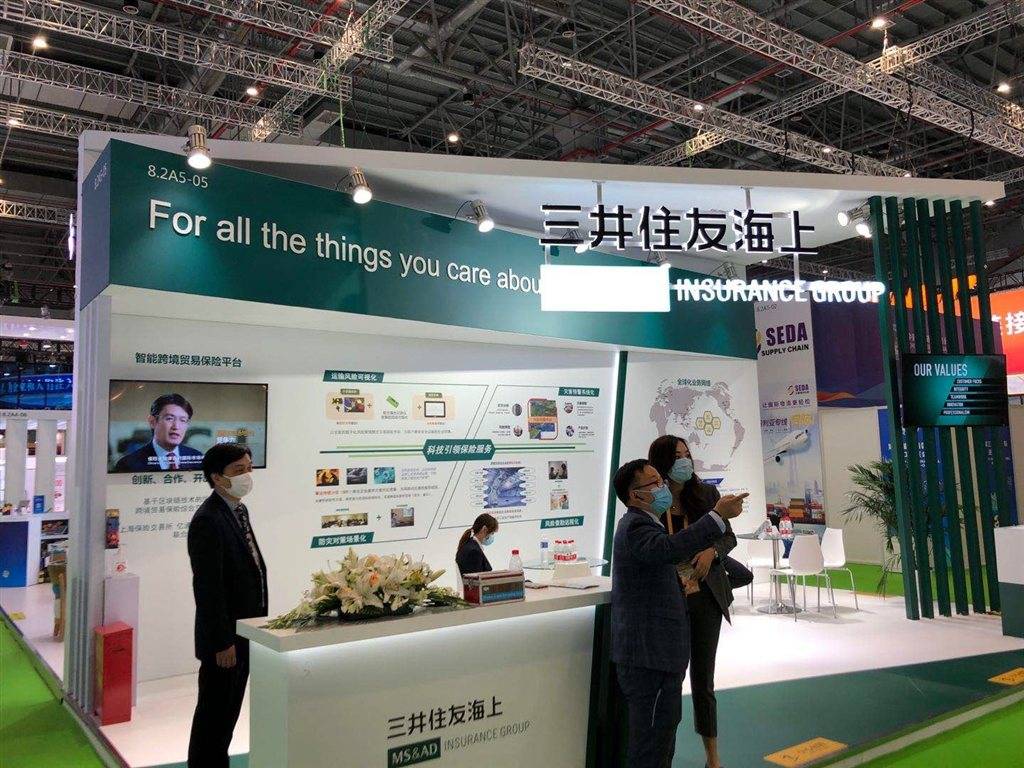 (The booth of MSI China at CIIE 2020)
The company is also displaying its comprehensive risk solutions for Chinese projects under the BRI (Belt and Road Initiative) deploying AR, long-distance risk detection, risk mapping and alert system, as well as visualization tools for transportation.
We're here to transform people's impression of insurance companies and stress our services in risk prevention, control and management, said Mr. Ito, so as to improve customers' awareness of risk management and help them establish business sustainability plans, bringing the value of insurance fully into play.
China imports more to promote domestic economic growth
The CIIE 2020 is running as scheduled, with restrictions due to coronavirus containment measures being in place.
In the view of Mr. Ito, this reflects the Chinese government's strong capabilities of organization and coordination and its continual opening to the world. The trade fair implements the country's "dual circulation" plan (which requires a balance of domestic and external demand) as it can promote China's domestic economic growth by importing foreign goods. He said, "China is contributing to the recovery of the global society and economy. The 'dual circulation' pattern, in my opinion, is an attitude, declaration and guideline announced by the Chinese government."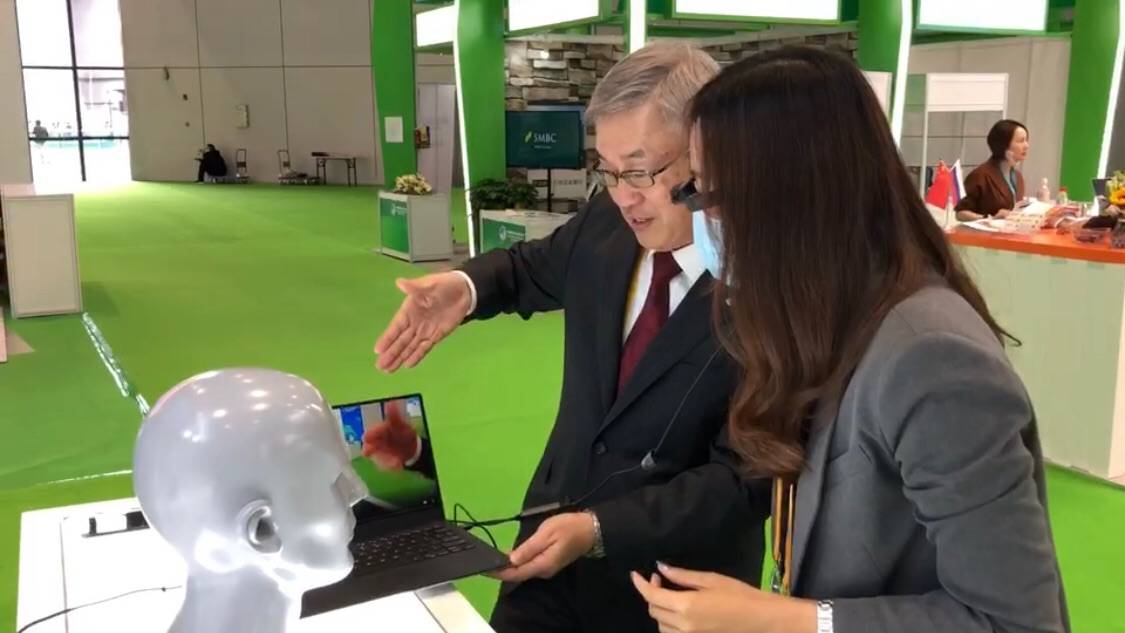 (Yukitaka Ito explains an AR-powered insurance technology)
Last September, Yukitaka Ito was honored with the Shanghai Magnolia Gold Award. Prior to that, he won the Magnolia Silver Award in 2017. He regarded the awards as recognition of himself and his company. In return, he said he will continue to make contributions to Shanghai and China at large.
Quoting Chinese president Xi Jinping's opening remarks at the CIIE, he said Xi's speech gave him confidence and direction. Looking into the future, he said MSI China will stay committed to openness, cooperation, and unity for win-win results, and work with partners to build MSI's intelligent cross-border insurance platform into the world's best platform, dedicating the insurance company into Shanghai and China's development.
Story/Cao Jun
Translation/Wu Qiong