Michelin, the French multinational tyre manufacturer, participating in the China International Import Expo (CIIE) for the first time this year, is displaying its image as a "leader in the sustainable travel industry".

Conveying a "sustainable future" at CIIE
Themed around "sharing a sustainable future", the company's booth located in the smart travel section in the auto exhibition area has attracted lots of attention.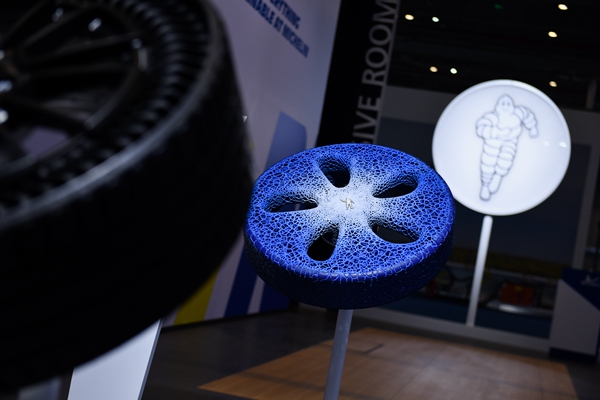 A blue VISION innovative concept tire is being exhibited, which represents Michelin's vision for future product development: everything is sustainable. Kamran Vossoughi, president and CEO of Michelin China, said that the concept tire will be released in 2024 and is inflation-free, interconnected, 3D printable, and 100% recyclable.
At the booth, an UPTIS (Unique Puncture-Proof Tire System) tire is making its Chinese as well as Asian debut. Mr. Vossoughi said that in the process of developing the concept tire, the unique wheel assembly was developed, which eliminates the risk of a blow-out.
Over the past 15 years, Michelin has been focusing on hydrogen energy travel and has developed its hydrogen energy fuel cell technology. At this exhibition, it showcased the hydrogen energy travel solution in China for the first time with a hydrogen fuel cell stack package.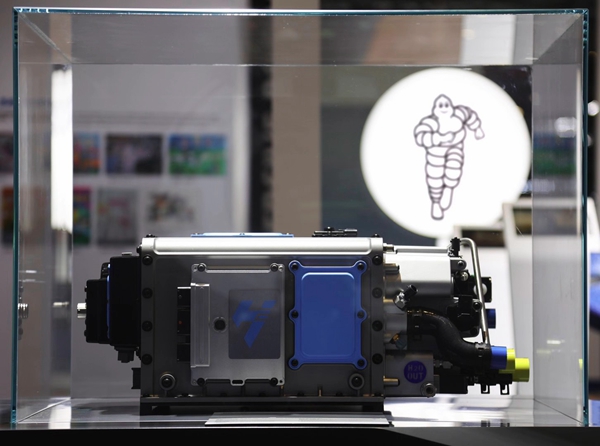 Via an interactive device on the floor, visitors also learned the history and culture of Michelin, with regard to its tires and its relationship to fine dining.
"Michelin not only focuses on the journey destination, but also the travel experience. Whether it is the Michelin Guide issued in 1900, or Tablet which recently joined Michelin, they can bring a more enjoyable travel experience. Michelin's participation in the CIIE is not for selling tires, but to convey the message to exhibitors all over the world: through safer, smarter, greener and more enjoyable travel, Michelin shares a sustainable future with everyone," said Mr. Vossoughi.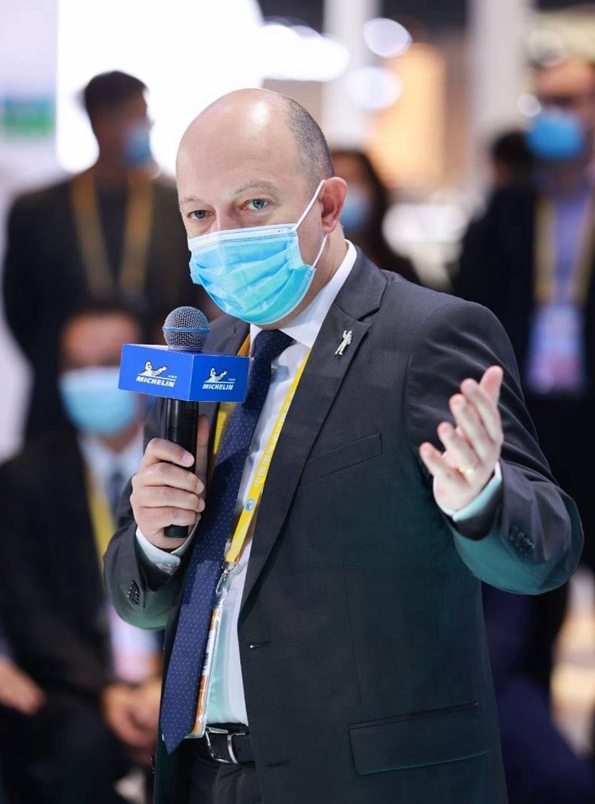 Embrace future with China
"Michelin's participation in the CIIE in China is also a commitment to a high-quality China. As Chinese President Xi Jinping said at the opening ceremony of the CIIE, China's future development will be based on high-quality development. Michelin's development philosophy is consistent with this Chinese value."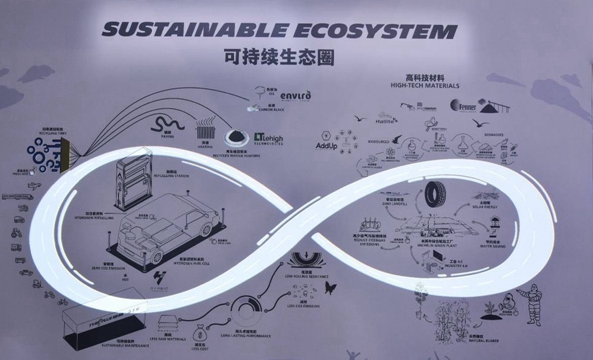 In his view, the third CIIE, held as scheduled amid the pandemic, has sent three strong signals to the world, that is, China has made remarkable achievements in epidemic control, companies have found a good opportunity for recovery, and people are confident about the future.
"The coronavirus has brought many side effects: panic, doubt and despair. But at the CIIE, we saw people embracing their future, and we firmly believe that the world will move towards a sustainable direction."
Mr. Vossoughi is confident about the Chinese market where Michelin has made a lot of investment over the past 30 years. He said that China's economic recovery is accelerating, as is that of the auto market in general. With the further recovery of China's auto market in the second half of the year, Michelin's business will move into a faster lane.
He praised the Chinese government's help and economic support and said that nowadays, Chinese cities have successively introduced specific stimulus measures. For example Shanghai has increased the supply of license plates, and some other cities have promoted the replacement of old cars and are subsidizing new energy vehicles.
"In order to further encourage mass consumption, more measures can be introduced to help stabilize the momentum of economic recovery, such as tax cuts and fee reductions for enterprises and individuals."
Mr. Vossoughi emphasized that in China, sustainable development has become a common goal of the government, enterprises and individuals. Michelin's goal is to provide more sustainable solutions through its expertise in smart travel and green travel. Michelin is looking forward to establishing a closer connection with the Chinese market and consumers at the CIIE, so as to achieve a mutual win with China.
"Our newly established innovation center in Shanghai will enhance Michelin's capabilities in smart travel."