改革开放让中国和哥伦比亚越来越近
说到哥伦比亚,你会想到什么?对很多上海人来讲,第一反应可能是绿地申花外援兼队长莫雷诺。这个以足球、咖啡、祖母绿闻名,几乎与中国隔了一整个地球的南美国家,正因双方不断拓宽和加深的交往合作,与中国越来越亲近。
Speaking of Colombia, what would you think of? For many Shanghai people, Giovanni Moreno, a Colombian footballer who plays for and captains Chinese Super League club Shanghai Greenland Shenhua maybe the first one that comes to their mind.
Known for soccer, coffee and emerald, Colombia, the South American country on the other side of the world is getting closer and closer to China thanks to the widening and deepening exchanges and cooperation between the two nations.
时值中国农历新春,同时也是中哥建交38周年,哥伦比亚驻沪总领事露丝·海伦娜·艾彻维丽(Luz Helena Echeverry)接受了东方网"改革开放40周年"新春专访。
On the occasion of the Chinese Lunar New Year and also the 38th anniversary of the diplomatic relations between China and Colombia, the Consul General of Colombia in Shanghai Luz Helena Echeverry accepted the exclusive interview with Eastday.com themed as "40 Years of Reform and Opening up".
时尚的85后、自称"微信的超级粉丝"、被西语杂志评价为"有一颗中国心"……眼前的这位总领事再次刷新我们对哥伦比亚的认识。改革开放后中哥交往那些事,且听她一一道来。
At the age of early-thirties, "a super fan of WeChat" and described as "a Colombian with China heart" by a Spanish-language magazine...all these features of the consul general refreshed our impressions of Colombia. During the interview, she talked about the China-Colombia exchanges and cooperation after the launch of China's reform and opening up policy in 1978.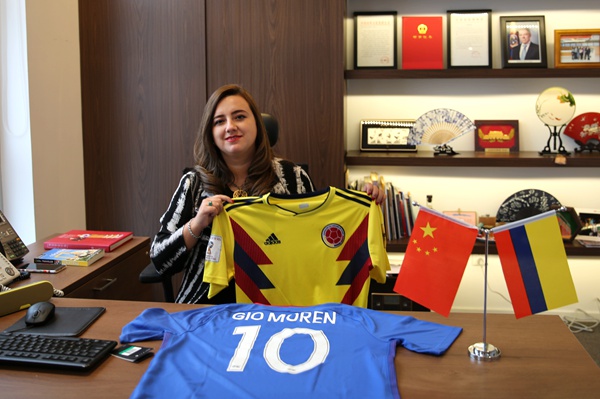 哥伦比亚驻沪总领事露丝·海伦娜·艾彻维丽展示哥伦比亚球员莫雷诺赠送她的上海绿地申花足球队球衣及哥伦比亚国家队球衣(图片来源:东方网)
The Colombian Consul General in Shanghai Luz Helena Echeverry shows the football shirts presented by Giovanni Moreno, respectively of the Colombia national team and the Shanghai Greenland Shenhua FC. (Photo by Eastday)
改革开放让中国融入全球并成为未来
"China is the Future"
在总领事看来,改革开放令人惊叹,它让中国进入了国际体系,"我想,中国是未来"。
The consul general views that China's reform and opening up is amazing, driving the country entering the international system. "I think that China is the future."
中国是哥伦比亚在全球的第二大贸易伙伴。总领事说,"如今,中国有'一带一路'倡议,习近平主席阁下也很关注拉丁美洲。哥伦比亚正努力抓住由此带来的各种机遇。今年11月,中国国际进口博览会将在上海举办,这对我们来说是推介哥伦比亚产品一个非常重要的平台。"
China is the second-largest commercial partner of Colombia in the world. The consul general said that, "now you have the new policy 'Belt and Road' Initiative and his Excellency President Xi Jinping is looking to Latin America. We are trying to catch these opportunities. I think it's a really important platform for Colombia to promote our products in the China International Import Expo this November in Shanghai."
总领事表示,哥伦比亚的港口、机场期待获得更多来自中国的投资,"中国企业很有经验,也很高效。"
The consul general noted that they want to catch more investment from China for the ports and airports in Colombia. "Chinese companies have experiences and efficiency."
此外,总领事访问了华为、阿里巴巴等一批中国知名互联网科技企业,她对中国电子商务的发展尤其赞赏,"哥伦比亚也需要马云,也需要微信。"
Besides, the consul general visited many well-known Chinese internet technology companies, such as Huawei and Alibaba. She especially appreciated the development of e-commerce in China. "Colombia also needs Jack Ma and WeChat."
从夏奇拉到莫雷诺 改革开放让中哥交往更频繁
Shakira and Moreno among the increasing intercourse between China and Colombia
"你知道Shakira吗?"总领事一边问,一边打开了手机里的音乐播放器。这正是哥伦比亚著名歌手夏奇拉,其最为国人熟悉的曲目或许就是2010年南非世界杯主题曲《Waka Waka》了。这位出生于