UAE Consul General in Shanghai: Reform and opening up offers chances for common development for UAE and China
阿联酋驻沪总领事:改革开放为中阿共同发展创造了契机
阿联酋与上海
The UAE and Shanghai
"上海是中国发展最快最好的大城市。正如这个城市的特色建筑石库门——历史悠久并且将中式建筑与欧洲设计风格相融合,上海是东西方的迷人结合体,吸引着来自世界各地的游客。2010年的世博会让世界再次关注到这个城市,它接纳了世博会有史以来最多的参观者。"阿联酋驻沪总领事拉世德•卡姆兹在采访中表示。
"Shanghai is the most developed metropolis and the fastest growing city in China. Shanghai is a fascinating mix of East and West, which has historic shikumen houses that blend the styles of Chinese houses with European design flair, becoming an attractive city for tourists from all over the world. The world once again had its eyes on the city when it hosted the 2010 World Expo, recording the greatest number of visitors in the event's history," Rashed Matar Alqemzi, UAE Consul General in Shanghai said.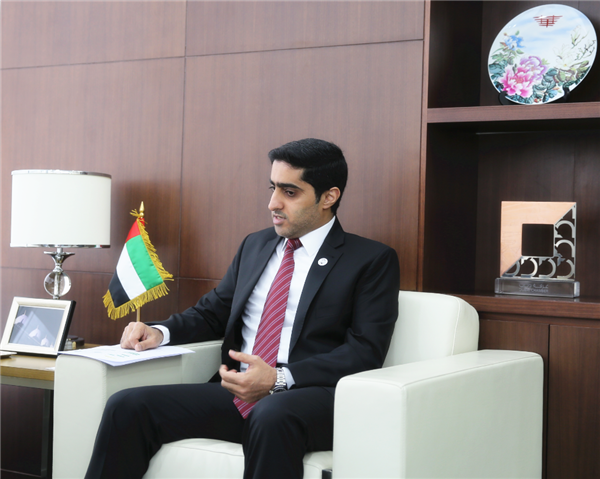 阿联酋驻沪总领事拉世德•卡姆兹(本图来源:东方网)
Rashed Matar Alqemzi, UAE Consul General in Shanghai (Photo by Eastday)
卡姆兹先生说,上海人友好、国际化、聪明,他很高兴能够在上海生活和担任阿联酋驻沪总领事,这座城市与他的家乡迪拜相似。迪拜与上海自2000年5月结为了友好城市,在经贸、科技等各个领域的合作取得了丰硕成果。
He added, Shanghainese is friendly, international and wise, and he's happy that he lives and works as the Consul General of UAE in Shanghai which is similar and also a sister city to his hometown Dubai since May 2000. The two cities have encouraged bilateral cooperation in economy, trade, science, technology and other sectors with remarkable fruitful results.
阿联酋航空(2004年)与阿提哈德航空(2006年)很早就有上海办事处;阿联酋的世界顶级化工公司博禄于2010年在上海建立了工厂和研发中心;阿布扎比第一银行上市股份公司于2012年5月设立了上海代表处;迪拜工商会于2016年10月在上海设立了代表处;2017年8月,阿联酋联合国民银行上海分行开业,阿联酋环球铝业集团在上海设立分公司,后者是阿联酋石油和天然气行业以外最大的工业公司,也是世界上最大的"优质铝"生产商之一。
For example, Emirates and Etihad, two UAE national airlines, both have offices in Shanghai since 2004 and 2006 respectively; UAE Company Borouge, one of the world's top petrochemical company, established the R&D center and factory in Shanghai in 2010; First Abu Dhabi Bank P.J.S.C. Shanghai Representative Office was founded in May 2012, which is the biggest bank in UAE; Dubai Chamber opened its representative office in Shanghai in October 2016; In August 2017, Union National Bank Shanghai and Emirates Global Aluminum set up their branches here, and the latter is the largest industrial company in the United Arab Emirates outside oil and gas and one of the world's largest "premium aluminum" producers.
说起迪拜就不得不提及酒店。2010年11月,卓美亚酒店管理服务(上海)有限公司成立,该酒店堪称具有创新意识的全球奢华酒店品牌,经营着一系列世界级的酒店和度假村。
Jumeirah Hotel Management Service (Shanghai) opened in November 2010, which is the global luxury hotel company and operates a world-class portfolio of hotels and resorts.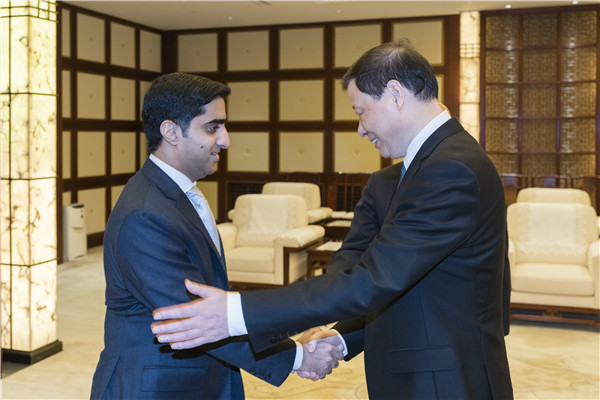 上海市市长应勇会见阿联酋驻沪总领事拉世德•卡姆兹(本图由阿联酋驻沪总领事馆提供)
Ying Yong, Mayor of Shanghai meets with Rashed Matar Alqemzi, UAE Consul General in Shanghai (Photo provided by the Consulate General of the UAE in Shanghai)
2018年2月2日,上海市市长应勇会见了来沪访问的阿联酋新任驻华大使阿里·扎希里博士,卡姆兹先生陪同大使出席,市长表示迪拜举办了2017年世界技能大赛,还将举办2020年世博会。总领事说道,"2021年世界技能大赛将在上海举办,而上海在2010年举办了世博会,这就像是我们两国进行了'专业技能的交流'。中阿两国,尤其是上海与迪拜之间可以进行很多交流。"
Ying Yong, Mayor of Shanghai said during the meeting with the UAE Ambassador to China accompanied by Mr. Alqemzi on February 2, 2018, that Dubai hosted World Skills Competition 2017 and will host World Expo 2020. The consul general mentioned, "And now Shanghai will host World Skills Competition 2021, which already hosted World Expo 2010, so this is like the exchange of expertise. We have a lot of to exchange between the two countries, especially the two cities."
改革开放为阿联酋与中国共同发展创造了契机
Reform and opening up creates opportunities for the common development of UAE and China
今年是中国改革开放40周年,而中阿早在1984年建交。改革开放以来,上海在基础设施方面投入了巨资,这里对于来华投资的阿联酋企业来说非常棒。而在阿联酋,目前已有超过30万中国人和4000多家中国公司。
It's the 40th year of the reform and opening up, and the two countries established the diplomatic ties in 1984. Shanghai has invested heavily in basic facilities since reform and opening up, which makes it a good place for the UAE enterprises. Now there are more than 300,000 Chinese living and over 4,000 Chinese companies operating in the UAE.
近期,引人注目的"一带一路"资金注入了阿联酋:中国远洋运输集团投资了阿布扎比的哈利法港的一个新码头,同时中阿工业能力合作示范园项目也于2017年在哈利法工业区启动。中国公司正在积极参与阿联酋的发展,并为该国的大型基础设施项目作出重大贡献。据估计,约70%的中国出口产品从阿联酋再出口到海湾阿拉伯国家合作委员会的其他成员国,以及印度和北非。
We have recently seen the high profile "Belt and Road" investments emerge in the UAE, such as COSCO shipping's investment in a new terminal at the Khalifa Port in Abu Dhabi, and the project of China-UAE Industrial Capacity Cooperation Demonstration Park in the Khalifa Industrial Zone initiating from 2017. Chinese companies are actively participating in the UAE's development and making major contributions to large infrastructure projects in the country. It is estimated that around 70 percent of Chinese exports are re-exported from the UAE to other markets in the GCC, India and North Africa.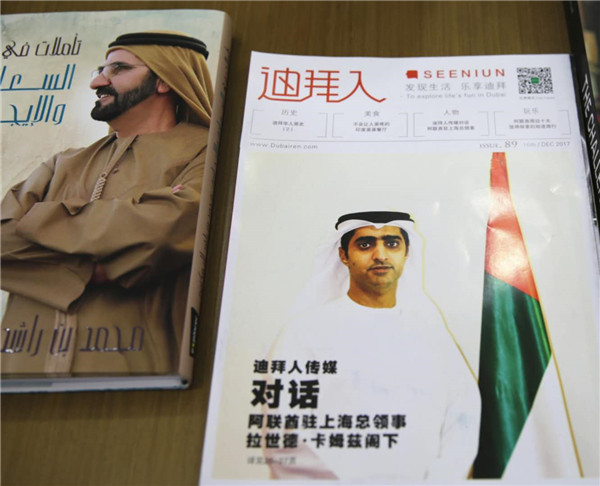 阿联酋驻沪总领事拉世德•卡姆兹成为杂志《迪拜人》的封面人物(本图来源:东方网)
Rashed Matar Alqemzi, UAE Consul General in Shanghai becomes a cover personage of the magazine 'Seeniun' (Photo by Eastday)
自2016年以来,中国取代印度成为阿联酋最大的贸易伙伴。中国一直是迪拜的首要贸易伙伴,2017年前三季度双边非石油贸易总额达350亿美元。"我们看到中国在贸易、旅游、零售、物流、可再生能源、高科技、房地产等领域提高投资流量的巨大潜力。"总领事表示。
Since 2016, China replaced India as the largest trading partner of the UAE. China remains Dubai's top trading partner with bilateral non-oil trade amounting to $35 billion in the first nine months of 2017. "We see huge potential to increase investment flows in key sectors such as trade, tourism, retail, logistics, renewable energy, high tech, and real estate," the consul general revealed.
"我们有近一百万的游客,在阿联酋的生活是不一样的,你可以拥有像上海一样的城市生活,还有另一种自然生活——沙漠等着你去冒险。"总领事高兴地介绍。2016年,阿联酋政府对中国公民实行免费落地签政策,自今年一月起,中国与阿联酋全面互免签证。这些举措作为双方迈出的重要一步,将引领中阿关系的新篇章,并进一步加强双方的经济合作。
"We have almost 1 million tourists. The life in the UAE is different, you can enjoy city life totally like in Shanghai and natural life because you have a chance to visit the desert there where you can do some adventure," the consul general said happily. The recent decision to exempt UAE nationals from obtaining pre-entry visas to China starting last month was a positive development. It followed a similar move by the UAE government in 2016 to grant visas on arrival for Chinese visitors to the country. These moves as major steps forward will usher in a new chapter of UAE-China relations and further strengthen economic cooperation.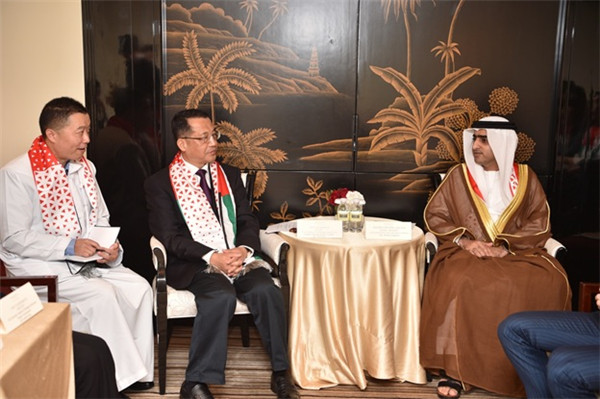 阿联酋46周年国庆招待会上,阿联酋驻沪总领事拉世德·卡姆兹和阿联酋驻沪企业代表与上海市人大常委会副主任薛潮会面(本图由阿联酋驻沪总领事馆提供)
Rashed Matar Alqemzi, UAE Consul General in Shanghai and the representative of the UAE companies in Shanghai meet with Xue Chao, deputy director of Shanghai Municipal People's Congress at the 46th National Day Reception of the UAE
教育方面,卡姆兹先生表示,阿联酋于2015年12月在北京与中国签署了学生、语言和教师交流协议,他说"在谈到阿联酋的一些事情时,我们会谈论中国,因为我们之间的关系非常紧密。"
The UAE signed an agreement with China in Beijing in December 2015 concerning the exchange of student, language and teacher. Mr. Alqemzi acknowledged, "Actually, we'll talk about China when speaking of something about the UAE because we have a very strengthening good relation."
最后,总领事表示,值此狗年新春,他代表阿联酋驻沪总领事馆祝大家新年快乐,并且希望新的一年给我们所有人带来财富,双方关系进一步加强。
On behalf of the Consulate General of the United Arab Emirates Shanghai, the consul general wished the Chinese people a happy Spring Festival and hoped this coming year will bring fortune to all of us and the two sides can strengthen the relationship.
By Pan Chenxiao