Switzerland expects more fruits of China's reform and opening up, especially in financial industry
瑞士总领事:期待中国改革开放的更多成果 尤其在金融业
1954年,中华人民共和国首次以五大国之一的身份亮相国际舞台,地点是瑞士日内瓦;1980年,中国实施改革开放后不久,全球领先的电梯供应商瑞士迅达进入中国,成立了中国第一家工业性合资企业;2013年,中国-瑞士自由贸易协定在北京签署,这是中国与欧洲大陆国家签署的第一个自贸协定……作为最早与中国建交的西方国家之一,瑞士见证或亲历了中国多个对外开放的重要时刻。
As one of the first Western countries to establish the diplomatic ties with China, Switzerland has witnessed or experienced many important moments of China's opening up to the outside world:
It was in Geneva, Switzerland where China made its first appearance as one of the Big Five on the international stage in 1954. It was a Swiss company Schindler, with which the first industrial joint venture in China was founded in 1980, soon after the launch of the reform and opening up policy. A bilateral free trade agreement between China and Switzerland was signed in Beijing in 2013 and this was China's first FTA with continental European countries.
2018年是中国改革开放40周年。农历新春之际,东方网记者采访了瑞士驻上海总领事霍力轩(Alexander Hoffet)。他讲述了改革开放以来的中瑞交往,尤其在上海的探索与创新。
2018 marks the 40th anniversary of China's reform and opening up. Eastday reporters interviewed the Consul General of Switzerland in Shanghai Alexander Hoffet on the occasion of the Chinese New Year. He talked about the Sino-Swiss relations after 1978, especially its exploration and innovation in Shanghai.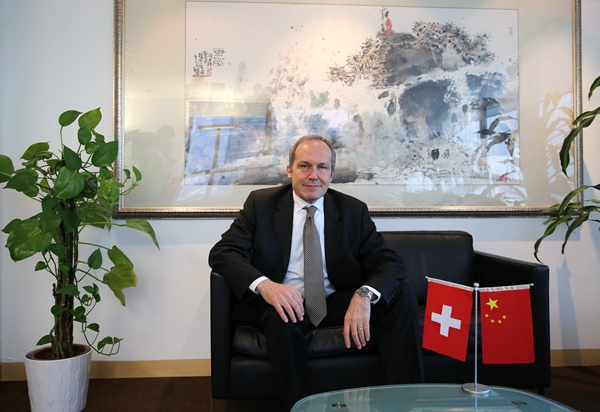 瑞士驻沪总领事霍力轩接受东方网新春专访(图片来源:东方网)
The Consul General of Switzerland in Shanghai Alexander Hoffet accepts a New Year interview with Eastday.com. (Photo by Eastday)
瑞士总领事:中国法律环境正在改善,期待金融业开放成果和签证政策优化
Switzerland expects opening up of China's financial sector and relaxation of visa rules
1950年,中国与瑞士建交,1995年,瑞士设立驻沪总领事馆。总领事介绍说,"那时,上海和长三角地区成为瑞士企业来华开展贸易和投资的热土,一大批瑞士公司在此落户,这一辖区的瑞士人数量在所有定居中国大陆的瑞士群体中是最多的。"
China and Switzerland established diplomatic ties in 1950. The Swiss Consulate General in Shanghai was opened in 1995. The consul general said that "at that time, Shanghai and the Yangtze River Delta area became very attractive for Swiss companies with trade and investment plans in China. Soon, a large number of Swiss enterprises settled in this region, and the Swiss citizens residing in this consular district quickly became the largest one in mainland China."
总领事表示,近年来,长三角地区的工业发展越发成熟与创新,这从众多本地和国外企业不断增加研发投入就可体现。"因此,这里的法律环境也在改善,特别是知识产权保护方面,尤其在上海。"
The consul general noted that the industries in this region are increasingly sophisticated and innovative, as demonstrated by the growing investment in research & development by many local and foreign companies. "As a result, the legal environment, especially with regard to IPR protection, is also improving, especially in Shanghai."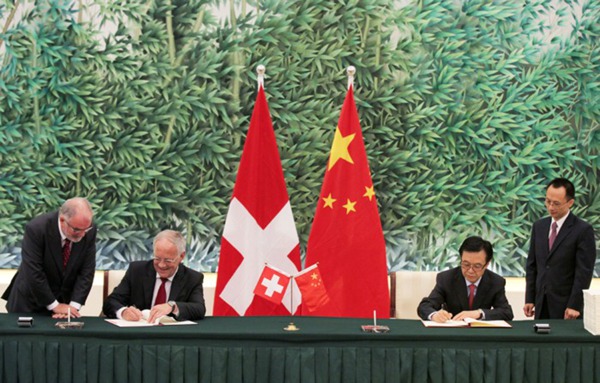 2013年7月6日,中瑞自贸协定在北京签署
The Sino-Switzerland bilateral free trade agreement was signed in Beijing on July 6th, 2013.
2010年起,中国成为瑞士在亚洲地区最重要的贸易伙伴,也是瑞士全球范围内继欧盟和美国之后的第三大贸易伙伴。2014年7月1日,中瑞自由贸易协定正式生效,双边贸易额稳步增长。2016年,瑞士成为中国首个创新战略伙伴关系国。
Since 2010 China has been Switzerland's most important trading partner in Asia and the third-largest globally after the EU and the United States. The free trade agreement between China and Switzerland came into effect on July 1st, 2014 and the volume of bilateral trade has been increasing steadily. In 2016, Switzerland became the first country to set up a strategic partnership with China featuring innovation.
谈及未来,总领事表示,瑞士期待中国改革开放的承诺得到兑现,特别是关于对外国投资者和贸易伙伴的互惠、进口商品的市场准入等方面的承诺。
When talking about the expectations for the future, the consul general said that Switzerland expects the promises of reform and opening up to be fulfilled, in particular with regard to reciprocity for foreign investors and trade partners, market access for imported goods etc.
"我们注意到近期中国进一步开放金融业的声明,并对执行情况非常感兴趣。这一领域的市场准入对瑞士这样一个金融和保险业具有高度竞争性和创新性的国家来说尤其重要。"
"We are following with particular interest the implementation of the recent declarations regarding the opening-up of the financial sector. Market access in this field is of particular relevance for Switzerland - a country with a highly competitive and innovative financial and insurance industry."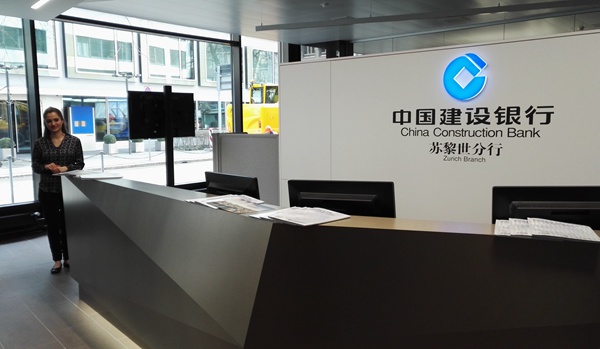 2015年年底,中国建设银行苏黎世分行成为首家落户瑞士的中资银行(图片来源:东方网)
China Construction Bank (CCB) started business in Zurich at the end of 2015. It was the first Chinese bank settled in Switzerland. (Photo by Eastday)
此外,对来华工作的瑞士年轻人放宽签证也是总领事所期待的。瑞士以高质量的职业教育和大量的高级技工著称,不少人获得的是职业教育文凭而非高等教育学历。"这些人才对企业发展十分有益也十分重要,但由于没有大学文凭,他们拿不到签证而无法来中国工作。这也是改革开放实施中一个期待优化的具体方面吧。"
Another expectation is related to the relaxation of visa regulations for Swiss young talents who want to work in China. Switzerland is well-known for its high-quality vocational education and a large number of advanced technicians. Many of them hold a vocational education diploma rather than a higher education one.
"These young people might not have a university degree but they have vocational training. They are very useful and important for the companies. But they have difficulties to come to work in China because they don't get visas. This is a concrete case we hope to be optimized in the reform and opening up."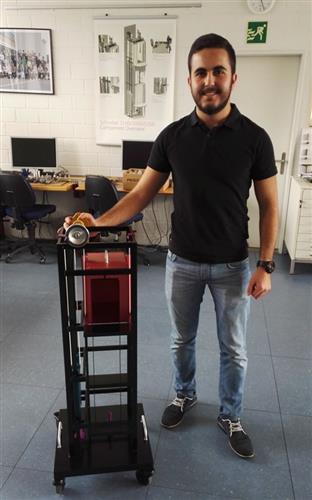 职业教育是瑞士的一大特色。图为2016年,位于琉森的瑞士迅达集团设计专业学生Ilker展示他的模型电梯(图片来源:东方网)
Vocational education is one of the major features in Switzerland. The photo was taken in 2016 at the Schindler Group in Lucerne, where a design student whose name is Ilker displayed his model elevator. (Photo by Eastday)
旅游、医疗、艺术……上海与瑞士合作成果丰硕
Fruitful collaboration in tourism, medical care, arts and so on
今年是中国农历狗年,而去年2017年是中瑞旅游年,两只可爱的瑞士国犬圣伯纳"哈罗"和"哈妮"作为友谊使者不远万里从瑞士来到了上海,还开通了名为"狗to瑞士"的微博账号。而这是近年来瑞士在沪众多合作项目中的一个。
It is the year of the Dog on the traditional Chinese calendar while the last year 2017 was the Sino-Swiss Year of Tourism, when two iconic St. Bernhard dogs "Hello" and "Honey" came all the way from Switzerland to China as ambassadors of friendship and spent two days in Shanghai.
They also have a Weibo (a popular social media site in China) account "狗to瑞士" which means "Go to Switzerland" as the Chinese character "狗" (Dog) shares a similar pronunciation with the word "Go".
And that was one of the activities in a lot of cooperation projects between Shanghai and Switzerland in recent years.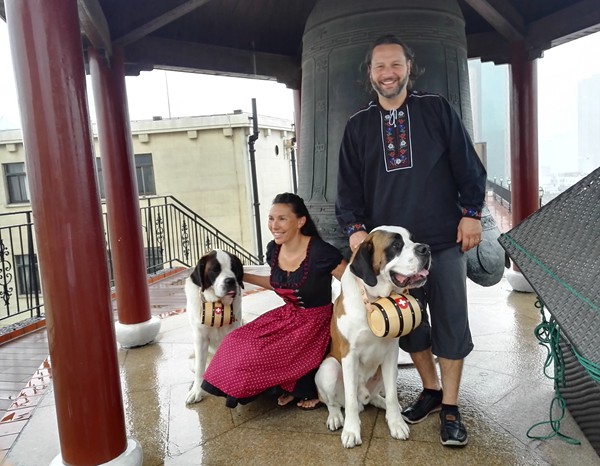 瑞士国犬圣伯纳"哈罗"和"哈妮"来到上海(图片来源:东方网)
Two iconic St. Bernhard dogs "Hello" and "Honey" came to Shanghai. (Photo by Eastday)
2007年,上海和巴塞尔结为姐妹城市。总领事表示,中瑞创新战略伙伴关系为上海和巴塞尔的交流和合作提供了更广阔的空间。"上海正加速建设具有全球影响力的科创中心,而巴塞尔是瑞士最具创新力的地区,双方可在这一领域加强合作、分享经验。如今,两座城市的医院之间,正以儿科医学为重点,开展紧密的合作。"
Shanghai and Basel became sister cities in 2007. The consul general stated that the innovation strategic partnership between China and Switzerland has provided greater space for the development of exchange and cooperation between Shanghai and Basel.
"At present, Shanghai is accelerating the pace of building a science & technology innovation center with a global reach. As Basel is Switzerland's most innovative region, the two sides can increase cooperation and share experience in this regard. Moreover, there is close cooperation between university hospitals in both cities, with a focus on pediatric medicine."
在教育领域,洛桑酒店管理学院(EHL)和中欧国际工商学院(CEIBS)合作推出了一项酒店业EMBA(高级管理人员工商管理硕士)项目,并将于今年5月启动。洛桑酒店管理学院被誉为全球历史最悠久、专业声誉最高的国际酒店管理人员培训院校。
In the field of education, École hôtelière de Lausanne (EHL) and China European International Business School (CEIBS) have jointly launched an EMBA program in hospitality, which will begin this coming month of May. EHL is regarded as the first and best hospitality management school in the world.
此外,总领事介绍说,瑞士文化科技中心接待了60余家来沪开拓中国市场的瑞士初创企业。
Besides, swissnex China welcomed over 60 Swiss startups to Shanghai as part of their China Market Entry program, said the consul general.
在文化艺术领域,2017年,复星基金会与上海香格纳画廊创始人、瑞士人劳伦斯·何浦林(Lorenz Helbling)推出了中国当代艺术回顾展。值得一提的是,2017年,何浦林先生获得了上海市白玉兰纪念奖。这是上海市政府设立的奖项,表彰为上海经济建设、社会发展和对外交往作出突出贡献的外籍友人。
In the field of culture and art, the Fosun Foundation opened in 2017 with a retrospective of Chinese contemporary art together with Shanghai-based Swiss gallerist Lorenz Helbling, founder of ShanghART.
It is worth mentioning that Mr. Helbling received the Magnolia Silver Award in 2017. The award was inaugurated by the city government to honor the expats for their outstanding contribution to the city's development.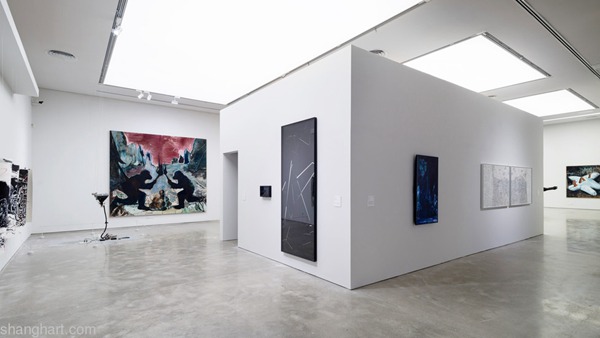 上海香格纳画廊展示空间(图片来源:画廊官网)
West Bund Space, ShanghART Gallery (Photo source: the official website of the gallery)
总领事:上海依然是中国大陆最具活力、最开放的城市之一
Swiss CG: Shanghai is still one of the most vibrant and open-minded cities in mainland China
霍力轩总领事2014年来沪任职,至今已有三年半,这些年来他见证了上海的许多变化,"城市变得更加井然有序,还引入了诸如共享单车等的环保创新举措。"
The consul general Alexander Hoffet have been stationed in Shanghai for almost 3.5 years since 2014. He has witnessed lots of changes in this period. "The city seems more and more organized, environment-friendly innovations like bicycle-sharing are introduced. "
2016年新春,东方网记者也曾采访过霍力轩总领事。如今,他说,依然对上海这座城市的活力,对上海人的远见和敢为精神印象深刻。"我想,这里依然是中国大陆最具活力、最开放的城市之一,拥有十分广阔的发展前景。"
Two years ago, Eastday reporter also interviewed the consul general as part of the New Year special. Now he is still impressed with the dynamism of the city as well as the forward-looking spirit and can-do mentality of the Shanghainese. "I think it is still one of the most vibrant and open-minded cities in mainland China with a vast potential for further development."
"这是我第四次过中国新年",今年,霍力轩总领事和家人在上海和香港度假。值此新春佳节之际,他用汉语向东方网网友们表达新年祝福:"身体健康、恭喜发财!"
"This is my forth Chinese New Year season here in China". This year the consul general spent a holiday in Shanghai and in Hong Kong with his family. During the interview, he expressed his New Year greetings in Chinese to Eastday friends, "Shēn Tĭ Jiàn Kāng, Gōng Xĭ Fā Cái!" (I wish you all a healthy, happy and prosperous year of the Dog!)
By Wang Jiaye