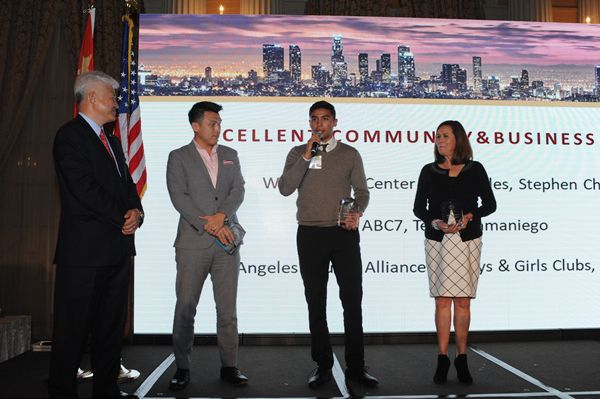 Chinese companies in Southern California are increasingly looking to build up their image, hoping to have a positive impact on local communities with their investments.
The US branches of several major Chinese companies, including Coolpad, Xiamen Airlines, BYD Motors, International Vitamin Corporation and COMAC America, were recently recognized by the China General Chamber of Commerce - Los Angeles (CGCC-LA) for their "outstanding community outreach efforts".
"With more Chinese companies coming to California with more investment, we expect to bring more benefit to the communities and contribute to China-US relations," said Sherman Zhang, chairman of CGCC-LA and president of AVIC International USA.
"CGCC-LA will continue to help bridge exchanges and collaboration between Chinese and US companies," he said.
The organization, formerly known as China Enterprise Council, initiated a Community Day drive in 2013 to provide its members with the opportunity to reach out and directly give back to the community. It serves hundreds of Chinese companies that are investing and doing business in the greater Los Angeles region.
Over the past years, member companies have partnered with food banks and youth clubs to help families and young people in underserved neighborhoods in the region.
Last summer, 22 students selected from more than 140,000 members of the Los Angeles County Alliance for Boys & Girls Clubs, visited China on a "discover trip" sponsored by Chinese companies.
The students visited Xiamen, Shenzhen and Shanghai, where they talked with executives and mingled with Chinese students.
"As youth of the year and the next generation of leaders in this country, the companies have gifted us the precious opportunity to build understanding and deeper perspectives on China's economy and the beauty of thousands of years of history," said Raven Wolfgang Leos, one of the students who went on the trip.
He said they were able to use the wisdom they gained from their experience in China on their way to becoming "mindful global citizens".
The organization also invited elected officials, including Los Angeles County Supervisor Kathryn Barger, Los Angeles City Councilman Joe Buscaino, and Los Angeles mayor's representative Felipe Cusnir, to present the awards at last week's gathering in Los Angles.
"Los Angeles County commends your efforts to connect our communities and promote collaboration between Chinese and US businesses," said Barger in a letter to CGCC-LA.
"The officials spoke highly of Chinese enterprises' contribution to local economic growth and jobs creation. For instance, BYD's plant expansion in Lancaster can create more than 1,200 new jobs," said Zhang.
China and the US account for one-third of the world's economy, one-fourth of the world's population and one-fifth of global trade, which makes the China-US relationship one of the most important bilateral relationships in the world, according to Chinese Consul General in Los Angeles Zhang Ping.
"As an advocacy group for China-US trade and investment, I hope CGCC-Los Angeles and its member companies will continue to reach out to the local business community as well as people of all walks of life to rally more support for closer economic and trade ties and do more on social responsibility for the local community," he said.