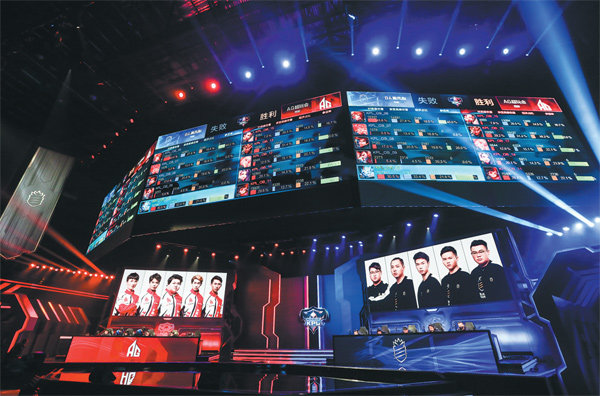 Tech company hopes Oxford academics will be involved
Chinese tech company Tencent is in talks with the University of Oxford about holding an electronic sports conference and tournament at the British university, as the booming industry begins to take root in higher education.
Centered around competitive, tournament-based gaming, the global electronic sports or e-sports industry is expected to be worth $1 billion by 2019, and Tencent's games division is already among the industry's biggest players.
The company owns Riot Games, the developer behind one of the most successful titles in e-sports, League of Legends. Tencent also has a majority stake in Epic Games, creators of the hugely popular Fortnite game.
The university confirmed on Tuesday that Tencent hopes to involve some of its academics at the proposed conference.
Sam Cooke, managing director of London-based trade publication Esports Insider, said that companies involved in e-sports are looking to link up with universities in order to develop talent.
"E-sports is going to increasingly enter universities and academic life," Cooke said. "And companies want first dibs and access to that talent."
Finnish games developers Supercell and Critical Force have both supported the establishment of a bachelor's degree in e-sports business at Kajaani University of Applied Sciences.
In April, the University of California Berkeley in the United States announced a partnership with California-based e-sports organization NRG Esports.
On Monday, Staffordshire University in the UK announced it was looking for a lecturer to oversee a new e-sports program.
And this month, York University announced it will partner with ESL, which organizes e-sports competitions worldwide, on a new course in e-sports content production.
"This module marks an important step towards the professionalization of the e-sports industry, providing a formal career path for much-needed talent," said Rob Black, chief operating officer of ESL UK.
Tencent recently signed a number of creative partnerships with the UK government, including deals within the gaming industry.
"The UK games development industry is well respected," Cooke said. "If Tencent can develop and access talent here, they can maintain their status as one of the biggest companies in e-sports."
Beyond e-sports, Chinese gaming companies have sought to link up with British entities in an effort to take their video games global and foster talent in the gaming industry at large.
On Tuesday, the UK's tourism authority VisitBritain confirmed it will work with Tencent to create a new version of its QQ Speed racing game that could include British characters and music.
"We are in early discussions with Tencent on destination content for this concept with plans under consideration for future collaboration," a VisitBritain spokeswoman told China Daily.
Last month, Abertay University in Scotland entered into a 10-year strategic partnership with Chinese gaming company Perfect World.
The partnership includes the university overseeing a new graduate level games development course for computer game professionals in China, at a digital arts school in Beijing run by Perfect World.