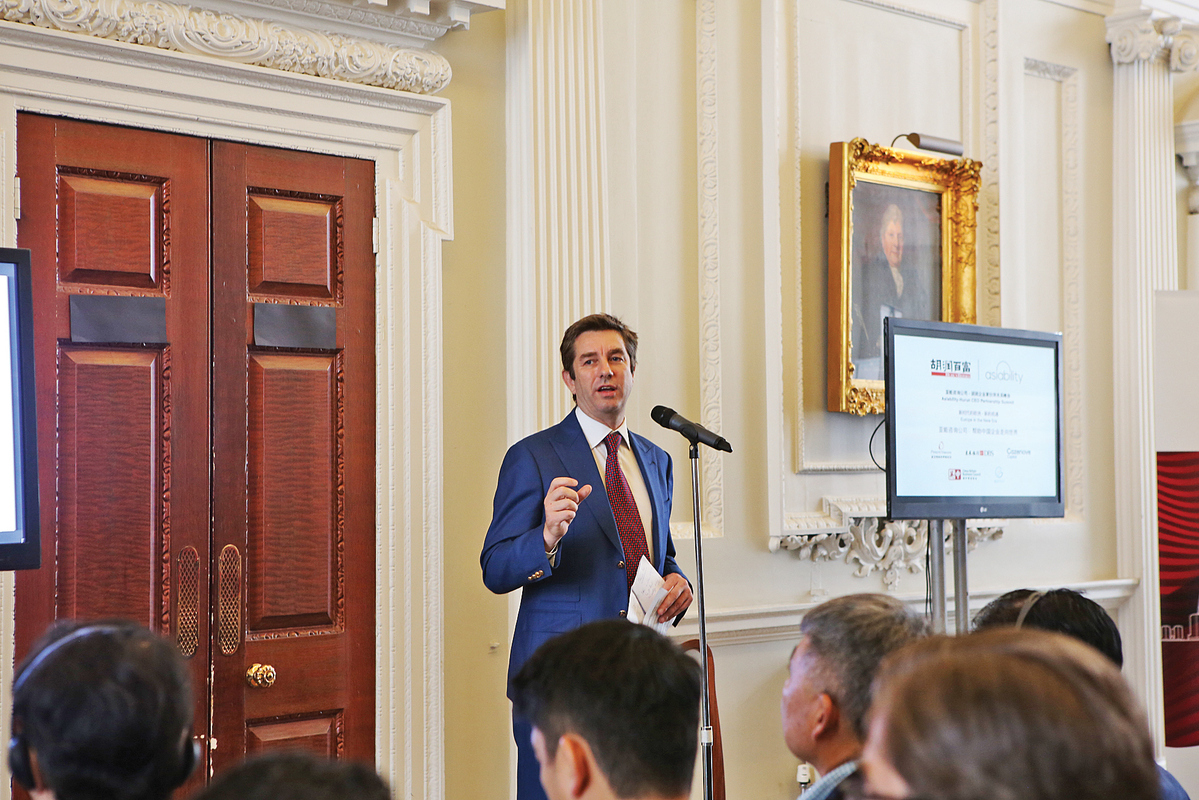 The owners of eight businesses from Britain and other parts of Europe got the chance to pitch their ideas to a group of superrich Chinese investors at London's Mansion House on Tuesday in a competition that was similar to the TV show Dragons' Den.
The small and medium-sized enterprises were selected to take part from among 700 hopefuls that expressed an interest in meeting investors and taking their products to China.
The Asiability-Hurun 'New Era - New Opportunity' event was organized by the publisher of the China Rich List – the Hurun Report – and London-based consultancy Asiability.
Ollie Shiell, founder of Asiability, said there had been plenty of interest in the competition.
"We had applications from companies across all sectors, but particularly dominant through bio-tech, life sciences, clean energy and education," Shiell said. "We chose these companies because we thought there was a clear applicability to China and, in some way, they will make the world a better place."
Shiell cited the example of a company with an environmentally friendly washing solution that says it can reduce the water and energy consumption of 300 million Chinese.
"That makes a major positive contribution to the environment in China while also being a fantastic business that you can make money from, so that was particularly valuable technology for me," he said.
Twelve Chinese investors attended the event as part of a weeklong tour of the United Kingdom in search of opportunities.
Ruper Hoogwerf, chairman of Hurun and organizer of the trip, said the fact that Britain is in the process of leaving the European Union does not trouble Chinese entrepreneurs at the individual level.
"Most of the interest today is either to send children to school here, or to buy real estate for long-term investments," he said. "Not one of these entrepreneurs this year and last year was particularly concerned, so it wasn't really relevant."
At this year's event, the companies making pitches were scale-ups, rather than start-ups. Hoogwerf said the event focused on start-ups last year but that "was actually a little bit too much for these people to swallow, so we think that the idea of scale-ups is potentially a much better way of doing it".
Hoogwerf said several investors had shown interest in some of the presentations.
Cui Genliang, chairman of Hengtong Group from the Southeast China city of Suzhou, said: "As an owner of a technology company, I am particularly interested in meeting high-tech firms. The ideas presented at today's summit are suitable for the new economy model in China, so, if China teams with Britain, taking advantage of its innovative technology to serve China's development, it will certainly be a win-win scenario."
Dai Evans, the managing director of Heythorp Healthcare, was among those making a pitch.
"We know we are experts in elderly care, but we're not experts in China, so working with partners in China is very important," he said. "We want to expand our systems and need partners to be able to do that, so, looking for partners and investments to help grow our business quicker, that would be very useful and that's why we are here."
Jeff Cao, former head of Asia Pacific at London & Partners, said having such an event in the British capital demonstrates that London is still attractive to investors.
"There are demands from the market as well as the IP developers, so it's always good to bring the two sides together with expertise, here in the UK, but also the other side in the East," Cao said.