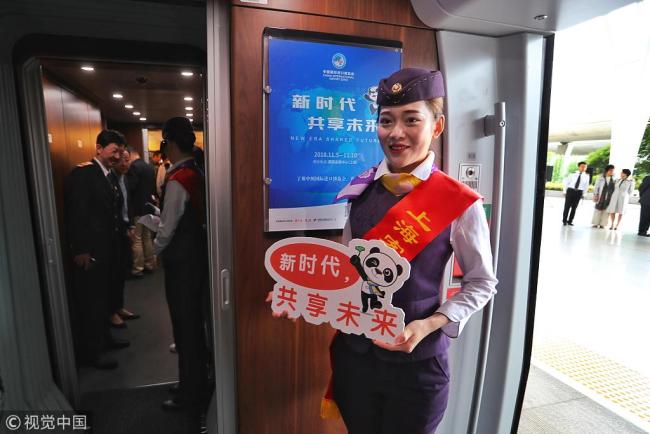 Two fast trains decorated with a China International Import Expo (CIIE) theme went into service on the Beijing-Shanghai high-speed railway on Wednesday morning, reports thepaper.cn.
An introduction to the expo is displayed throughout the carriages. The train information system and Wi-Fi service portal are also being used to share some of the highlights of the upcoming expo. And passengers can access news and information about the expo from its official WeChat account by scanning a QR code prominently displayed throughout the trains.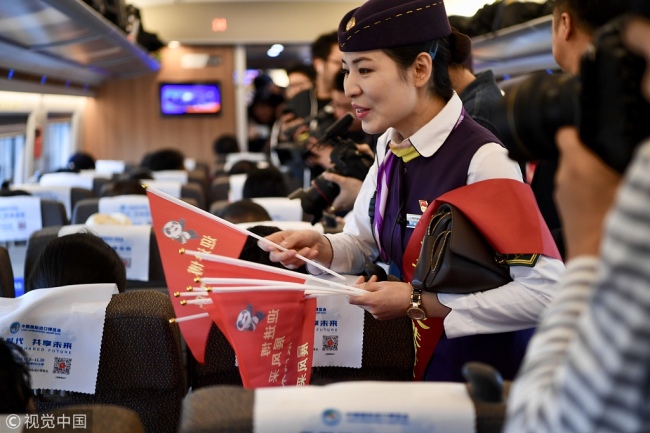 A train attendant hands out flags featuring the expo mascots, on a CIIE-themed train at Shanghai Hongqiao Railway Station on Wednesday, October 10, 2018. [Photo/VCG]
The China International Expo Bureau, along with China Railway Shanghai Group, designed the two CIIE-themed trains with the goal of raising public awareness about the event, which is the country's first import expo.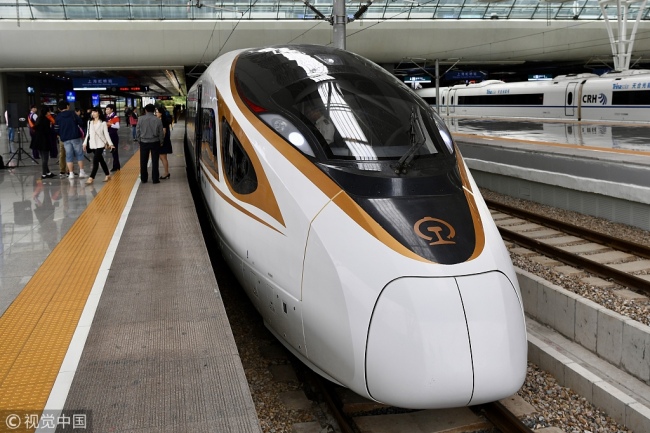 A CIIE-themed train stops at a platform of Shanghai Hongqiao Railway Station in Shanghai before its departure for Beijing on Wednesday morning, October 10, 2018. [Photo/VCG]
The first themed train departed from Shanghai Hongqiao Railway Station on Wednesday morning, the other departed from Beijing South Railway Station in the afternoon. The two trains will run on the Beijing-Shanghai line until the end of the event, which will run from November 5 to 10 in Shanghai.