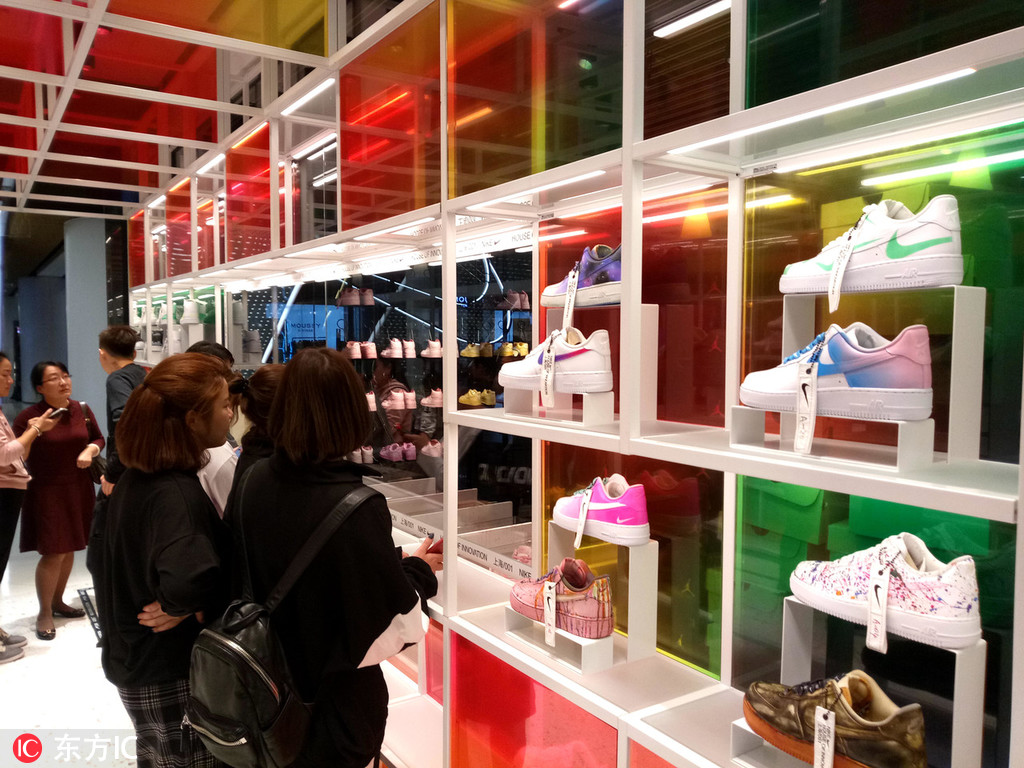 Nike has vowed to remove social barriers and promote women's sneaker culture, as the female sportswear market grows steadily.
"Girls in sneakers have no future," said Dai Yitian, a 27-year-old female fashion design student, on social media. Her mindset reflects the stereotype that girls should wear dresses and heels, and sportswear is mainly for male consumers, a mindset Nike is tackling head on.
One of the best-known global sportswear makers, Nike said it can only agree to disagree. Vanessa Garcia-Brito, Nike's vice-president of purpose communications, said the company is determined to help China to define women's sneaker culture.
"We know that female sneaker culture (in China) is growing very fast as well. And what's exciting for us at Nike is that we're helping to define what that culture is," she said. "I think it's an area that continues to grow really fast."
"At Nike, women have always been a major growth driver and female consumers are a major target audience. The Nike Women team is dedicated to that spirit," said Angela Dong, general manager of Nike China.
According to a report from online shopping portal Tmall, released in March after its Women's Day sales gala, there was a staggering 1,389 percent growth year-on-year in the number of women purchasing running wear. In the same period, 5.8 million female users bought workout outfits.
Women spent 75 percent more on boxing gloves in the same period, with solid sales growth also reported in sport leggings and headphones.
During this year's Singles Day shopping festival, Alibaba's Alisports branch announced 294 billion yuan ($43 million) in sales. Women represented up to 43 percent of those sales, up from 33 percent last year.
Dong said customers' emotional connection is the foundation for Nike's growing womenswear business. The brand actively seeks to empower women, and innovates to meet girls' ergonomic demands, which has been crucial to success, she added.
To better resonate with female consumers, Nike released the China-exclusive Li Na Collection last year to honor Li Na, a famous Chinese tennis player, to encourage more girls to follow in her footsteps.
Garcia-Brito said Nike is dedicated to helping female sports enthusiasts to find their voice. The company is increasing the number of female designers on its teams and is making products that meet women's demand for functional fashion.
She said kids nowadays are the least athletic generation, and the case is worse with girls, as globally girls are half as active as boys.
"Nike always works to remove the barriers girls face when doing sports," she said.
"She has a voice and she know what she wants, and we just have to listen to her and be responsive to that."
According to Nike, its global revenue from girls and womenswear exceeded $6.9 billion in the fiscal year of 2018.
"The business result is a pretty concrete reward to us, our women's business has been growing robustly in the past 40 years, outpacing menswear growth," Garcia-Brito said.
Meanwhile, Nike's China unit recorded $1.38 billion in revenue in the first quarter of the fiscal year of 2019, up 20 percent year-on-year.