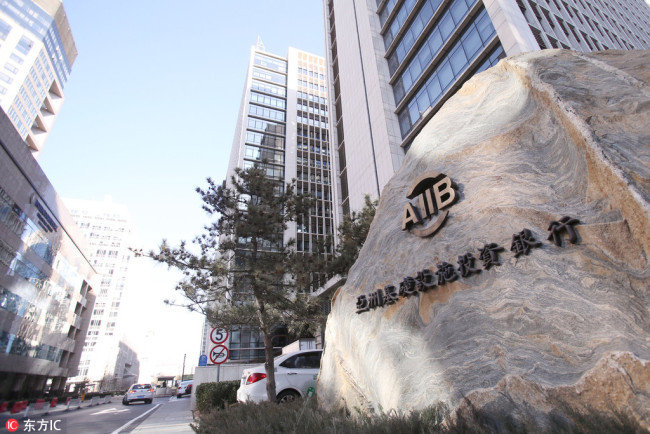 The Asian Infrastructure Investment Bank's board of directors has approved $500 million for a managed credit portfolio, which aims to develop infrastructure as an asset class, develop debt capital markets for infrastructure, and promote the integration of Environmental, Social and Governance (ESG) standards in Asian capital markets.
Focusing on infrastructure-related bonds as an asset class, the AIIB Asia ESG Enhanced Credit Managed Portfolio will comprise corporate bonds issued by infrastructure-related issuers, including quasi-sovereign bonds and green bonds, with proceeds directed to sustainable infrastructure and other productive sectors, said the Beijing-headquartered multinational development bank in a statement posted on its website on Wednesday.
At the initial phase of debt capital market development, project bonds and other infrastructure-related fixed income securities are not the focus of this credit portfolio, according to a project summary released by the bank.
Geographically, the credit portfolio will target bond issuers from major East Asian countries and some emerging markets in Asia, of which China will take up a considerable proportion. The coupon rate is expected to be several hundred basis points higher than the risk-free rate of return, such as the yield on the US 10-year Treasury notes, reported the Shanghai-based financial media conglomerate Yicai Media Group.
Aligned with the bank's "green" value, the credit portfolio will include a strong ESG component. Bonds purchased under this portfolio will be screened, assessed and managed based on ESG investing principles that have been framed by AIIB's Environmental and Social Framework, according to the bank.
"We can unlock the greatest potential to mobilize private capital for infrastructure from institutional investors by developing infrastructure as an asset class and deepening the sustainable debt capital market in Asia," said D J Pandian, vice-president and chief investment officer of AIIB.
If only a small fraction of the trillions of dollars currently under management by institutional investors were allocated to infrastructure projects, there would be a catalyzing impact on emerging Asia's growth potential, said Lee Dong-ik, director general for investment operations at AIIB.
"By setting up this portfolio, we hope to develop a proof of concept that over time we will mobilize other like-minded investors to join us in cultivating an ESG market in Asia," Lee said.
Furthermore, the bank will launch the ESG Markets Initiative in partnership with an appointed asset manager to catalyze ESG investing strategies and build capacity with market participants in emerging markets in Asia.
China is making progress on highlighting the importance of ESG factors while making government policies and corporate decisions, according to experts.
The country has achieved preliminary results on building a green financing system and became the world's second largest green bond issuer in 2017, said Zhou Xiaochuan, vice-chairman of the Boao Forum for Asia and former governor of the People's Bank of China, at the 2018 Annual Conference on Sustainability in Beijing on May 9.
He noted that the country's green finance development has entered a new phase that combines a top-down design with a bottom-up exploration.
China issued green bonds worth $21.5 billion in the first three quarters of 2018, surpassing the $20.9 billion issued in the same period of 2017. The amount of green bonds issued in the third quarter alone reached $8.5 billion, of which 49 percent is aligned with international green bond definitions, according to a newsletter released by China Central Depository & Clearing Co Ltd.