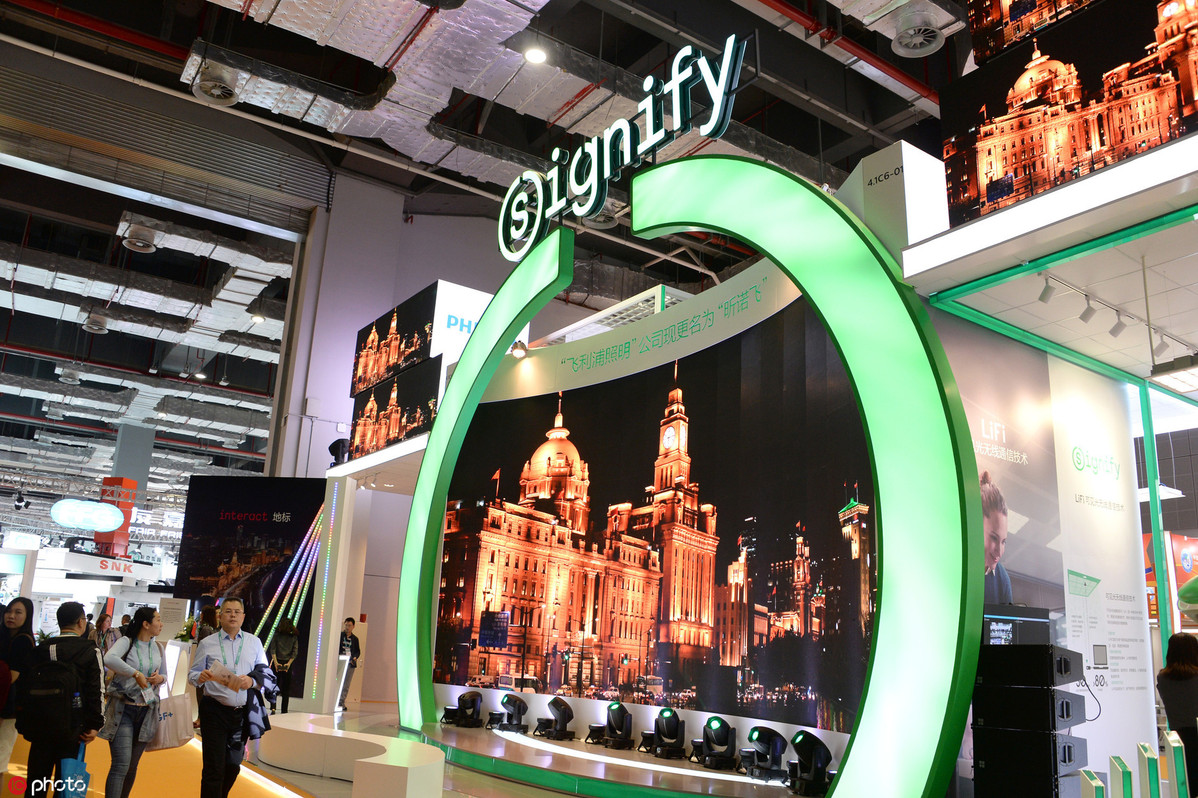 R&D to give Dutch giant edge in nation's energy-saving lighting products market
Signify NV, formerly Philips Lighting, the Netherlands-based lighting specialist, will increase its investments in China, which will mainly go toward acquisitions, research and development.
The move is aimed at exploiting China's digital technology boom and rising demand from the education sector, said Lim Sau Hong, Signify's global vice-president.
Lim, who is also the group's head of marketing in the country, said that as many Chinese companies have high-quality innovation and manufacturing abilities with considerable scale, investing on new plants is no longer the group's top priority in China.
"Because China is one of our top five markets across the world, Signify will seek robust growth by focusing on aspects such as acquiring capable domestic players, introducing connecting intelligent products, building an advanced supply chain and recruiting the right people."
In July, Signify announced it acquired a 51-percent stake in Zhejiang Klite Lighting Holdings Co, one of the leading providers of cost-efficient LED lamps and luminaires in China.
Klite manufactures a wide range of such products for a large, global customer base, which generated around 250 million euros ($273.4 million) in sales to third parties in 2018.
Signify's transaction will bring additional scale and innovation power to Klite, allowing it to generate further cost efficiencies and enhance its product development, including connected lighting offerings. The deal is expected to close before this year-end, after which Klite will continue to operate as a stand-alone entity.
In April, the Dutch company agreed to acquire Hong Kong-based WiZ Connected, an open IoT platform accessible to all lighting and electrical vendors. The deal is expected to enable Signify to enlarge its presence by stepping into the WiFi-based smart lighting market.
As China is Signify's second-largest overseas market after the United States, the company develops its products not only for a single country but for the global markets, Lim said. Many breakthroughs have been contributed by Signify's innovation facilities, including those in Shanghai and Shenzhen.
Since many parts of China have been focusing on 5G network construction and application of the cutting-edge technology for commercial use, Lim said Signify has already developed a relevant product - the smart pole, or an intelligent streetlight, which can be further integrated with 5G technologies in many fields. The product is currently being tested in China.
He said the pole is much more than a mere streetlight, and uses technologies like a strong identification system based on a camera that can recognize faces and vehicles. It requires low latency, high reliability and wide bandwidth, and 5G technology can enable these functions.
As the government plans to introduce a mandatory national standard for both home study and classroom lighting, Lim said more Chinese schools will equip themselves with next-generation lighting products over the next three years. Signify plans to generate more sales revenue from this fast-growing area.
"We found that parents in city-level markets have attached great importance to selecting desk lamps for their children," he said, adding many adults, on the contrary, often ignore proper protection for their own eyes. Public awareness needs to be further improved, given the strain caused to eyes by excessive use of smartphones and video games as well as workload-related stress.
Given China's rapid GDP growth in recent years, Signify has been busy introducing several new desk lamp products in the domestic market that has seen notable consumption upgrade. Chinese consumers have a growing need to prevent deterioration of eyesight and avoid eye discomfort, Lim said.
Consumption of lighting products was relatively low in third-and fourth-tier cities, but now a growing number of consumers prefer to buy such products using e-commerce platforms, he said.
Sun Fuquan, a researcher at the Chinese Academy of Science and Technology for Development in Beijing, said led by high-quality development, China is already the global leader in applying clean-energy and energy-efficient products as well as making big-ticket investments in this sector.
He said LED and smart lighting, electric vehicles, wind power and solar energy, which use less power but also illuminate China's green development, will become a key differentiating factor in determining a country's competitiveness.
With more than 44 million connected light points, over 29,000 employees and 6.4 billion euros in sales globally in 2018, Signify was rated by multiple market agencies, including the Dow Jones Sustainability Index, as the top player in conventional lighting, LED and connected lighting.
Lim said Signify is also keen to assist Chinese cities that are developing more eco-friendly business and tourist landmarks by using connected LED lighting. It can help them to lower energy use and reduce operating costs. The new lighting is expected to save a city between 50 percent and 70 percent of its annual lighting costs compared with conventional lighting.