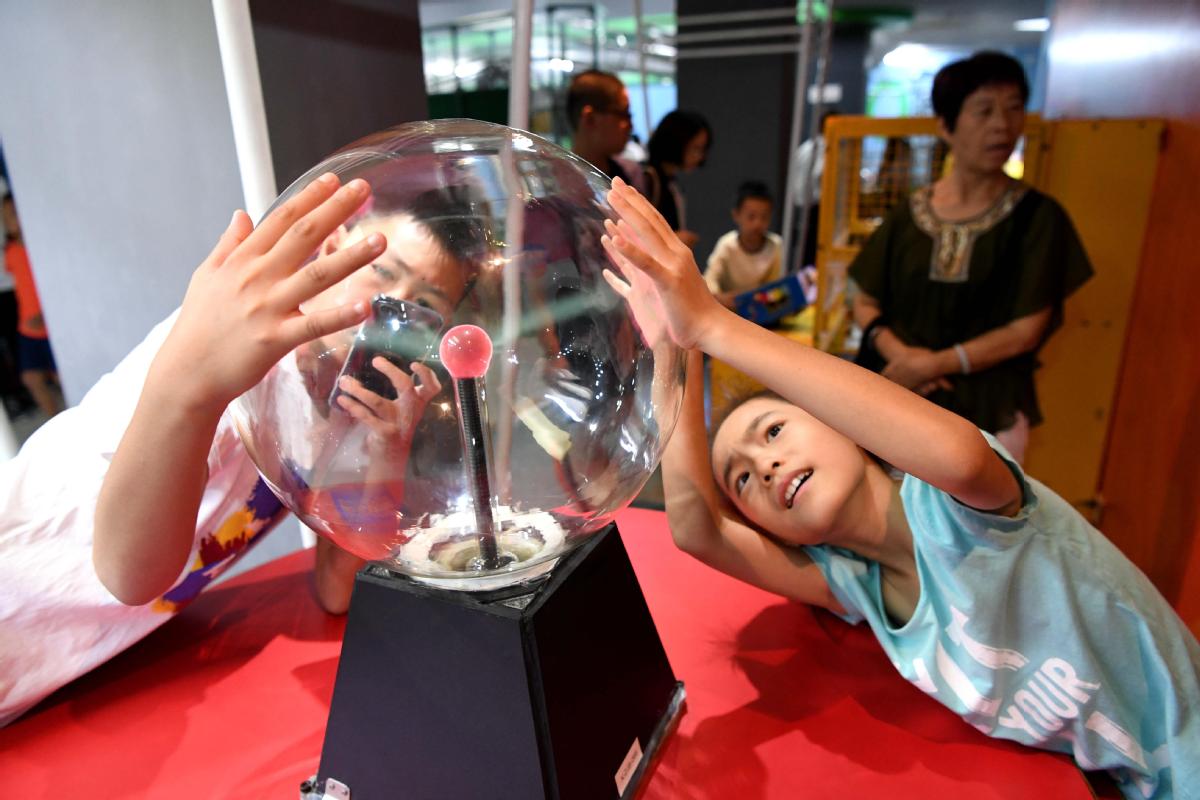 Information technology or IT companies from home and abroad are banking on China's STEAM education market where demand has been growing in recent years.
STEAM refers to science, technology, engineering, arts and mathematics. The STEAM education sector offers courses or programs for students so they could learn to think critically and develop an engineering or design approach toward real-world problems while building on their math and science bases.
According to a recent report by 1hjqr.com, a research institution in the robot industry, China's STEAM education market in 2018 achieved sales revenue of 27 billion yuan ($3.8 billion), and the future market growth will be mainly driven by the increase in market penetration rate.
A 1-percent increase in the penetration rate will result in a growth in market space of nearly 15 billion yuan.
"Huge market potential lies in China's STEAM education market, and the penetration rate in the sector is estimated to grow constantly. The government's favorable policies promote the transition from examination-oriented education to quality education, and customers' needs become rigid demand," said the report.
Enterprises in this niche are trying to exploit this opportunity. On Aug 26, Tokyo-headquartered Sony Corp launched a STEAM education solution in Beijing, marking the product's world debut.
"China is one of the world's most important education markets. That is why we launched the product first in China. With the country's demand for STEAM talent surging, we hope to establish a new educational ecosystem," said Masaaki Isozu, CEO of Sony Global Education, a unit of Sony Corp.
The education solution named KOOV aims at stimulating students' curiosity and improving their learning ability. Through an ecosystem that integrates school classes, community courses, robot classroom, contests, online-to-offline teaching system and other fields, KOOV greatly raises education efficiency and imparts programming knowledge to students in a short period of time, Sony Global Education said in a statement.
"China is taking a lead in STEAM education. Therefore, we are willing to introduce related products in China. Based on the market feedback, we will develop more courses and introduce more STEAM educational products in China in the coming years," said Isozu.
"Sony will pursue sustainable development in China. Currently, KOOV mainly targets first-tier cities including Beijing, Shanghai and Guangzhou. We are considering expanding our presence in second - and third-tier cities in the future. This is a long-term commitment," said Hiroshi Takahashi, president of Sony China Ltd, the local subsidiary of Sony Corp.
According to Sony Global Education, KOOV is designed for kids from kindergarten to ninth grade. For younger kids, the courses generally use stories to arouse their curiosity and offer them intuitive perception, while for older ones, the courses use artificial intelligence or AI-enabled guidance to teach them abstract knowledge.
Takahashi noted that to promote this new mode of education, apart from introducing KOOV in first-to third-tier cities, the company is also donating the solution to primary schools in China's poverty-stricken areas, enabling students there to have access to STEAM education.
Market insiders said consumers are showing increasingly high acceptance of STEAM educational products. The new generation of parents, mainly composed of the post-'80s and post-'90s groups, have a more open attitude toward education. As the middle-income group expands and grows its income and discretionary spending, parents in that group are willing to spend relatively more on modern education for their children.
The 2017 education consumption survey, jointly conducted by Reel Art, an educational institution, and jzb.com, an online community, showed that 60 percent of the surveyed families spent more than 10,000 yuan on children's quality education.
Up to 80 percent of the surveyed families were willing to afford related courses for their children, among which STEAM education courses were favored by 62 percent of parents.
As reported by online technology media platform 36 Kr, currently, the market's tremendous growth potential is attracting numerous enterprises. Major players include Sony, Lego, RoboRobo, Makeblock, and Xiaomi.