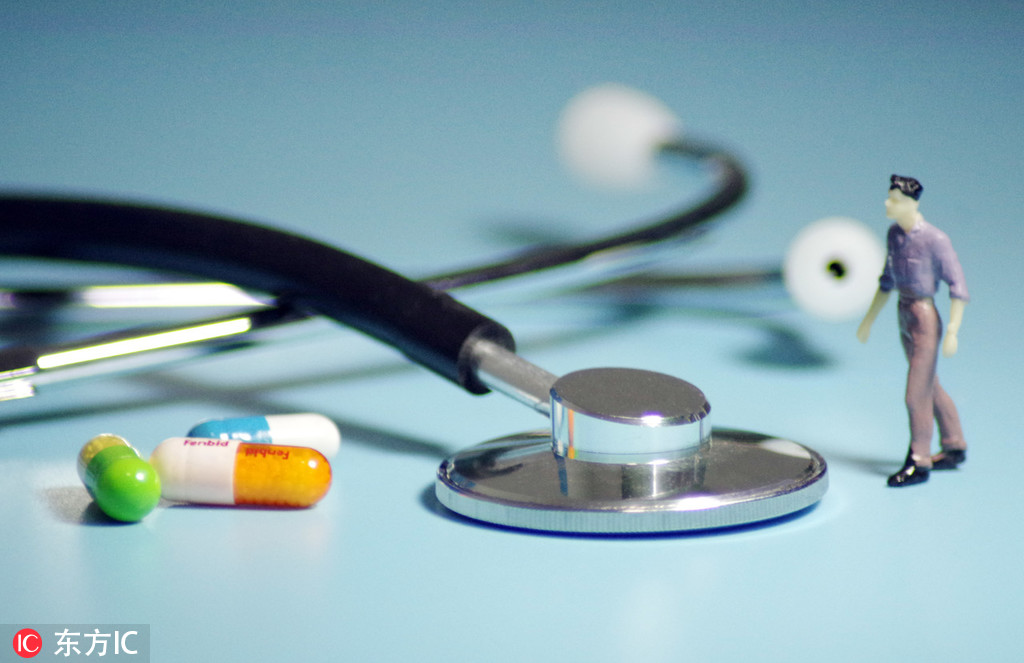 Companies foster partnerships with domestic startups, set up more R&D hubs
Global pharmaceutical, medical devices and consumer goods giant Johnson & Johnson will increase investment in China, as well as strengthen cooperation with local startups, to enhance innovation and deliver better medication to more patients in China, according to a senior official of the company.
Experts said such a move is in line with China's ascent toward the higher end of the medicine industry chain, especially in the biotech sector, and also reflects the country's improving regulatory and business environment.
Paul Stoffels, the company's vice-chairman of the executive committee and chief scientific officer, said during a recent trip to Beijing that China's fast-growing innovation capability, and ever-improving regulatory environment, reflected by the well-received much faster new drug approval process compared with a few years ago, has inspired the company to invest more in the country.
"At Johnson& Johnson, our innovative strategy is to enhance our own research and development capabilities, while seeking external innovation sources to cooperate," he said.
"I believe that China will become increasingly stronger in both the development of drugs and medical devices, and will have a leading position in the area of innovation in medicine and medical devices."
He also spoke highly of the clinical trial environment in China, saying it is very feasible for the company to carry out large-scale clinical trial projects due to the open-minded regulatory environment.
A recent effort from the company to further harness innovation capacity in China is the establishment of the J&J China Innovation Powerhouse in Beijing.
China has increasingly become a global innovation growth engine, and the launch reaffirms the company's commitment to partnering with China to further drive innovation and improve health for humanity in China and around the world, the company said in a news release.
In June, Johnson & Johnson unveiled Jlabs Shanghai, a 4,400-square-meter incubator, the largest of its kind and its first in the Asia-Pacific region.
China is undergoing a transformation from traditional manufacturing to smart manufacturing. Intelligent manufacturing will help improve production efficiency, increase added value, mitigate rising labor costs, and further enhance the market competitiveness of businesses, which has also created great potential for the development of the health care industry, the company said.
Jlabs Shanghai has introduced more than 20 local venture capital funds to provide financing to domestic companies, and so far more than 50 startups have settled down in Jlabs Shanghai, in a range of sectors including therapeutics, medical devices and medical technology.
Stoffels said the 50-odd startups are strong in expertise, research and development strengths, and have grown rapidly.
He also mentioned that the company has established strategic cooperation with Nanjing Legend Biotech Co, a Chinese biotech startup based in Nanjing, Jiangsu province, hoping to make more breakthroughs in CAR-T therapy, a form of immunotherapy that uses specially altered T cells to fight cancer.
Apart from Johnson & Johnson, other leading multinational pharmaceutical firms have also been stepping up utilization of Chinese innovation and R&D resources through cooperation with local innovation forces, and establishing innovation hubs.
Earlier this year, Danish pharmaceutical giant Novo Nordisk launched a platform called "Innovo" to further enhance its innovation capabilities in China through alliances with local universities and hospitals, pharmaceutical startups, and incubators.
German science and technology group Merck KGaA has launched an innovation hub in Shanghai, with another one in Guangzhou, Guangdong province, in the corner, and said it will build more innovation hubs in China during the next few years.
Shi Lichen, founder of medical consultancy Beijing Dingchen Consultancy, said Chinese companies are at the frontier of biomedicine research and development, despite lagging behind in chemical drugs. One of the main reasons why multinational pharmaceutical firms are increasing investment in China is to utilize local innovation resources, he said.
Other reasons include China's ever-improving business environment, due to policy optimization in clinical trials and drug registry regulation, Shi said.