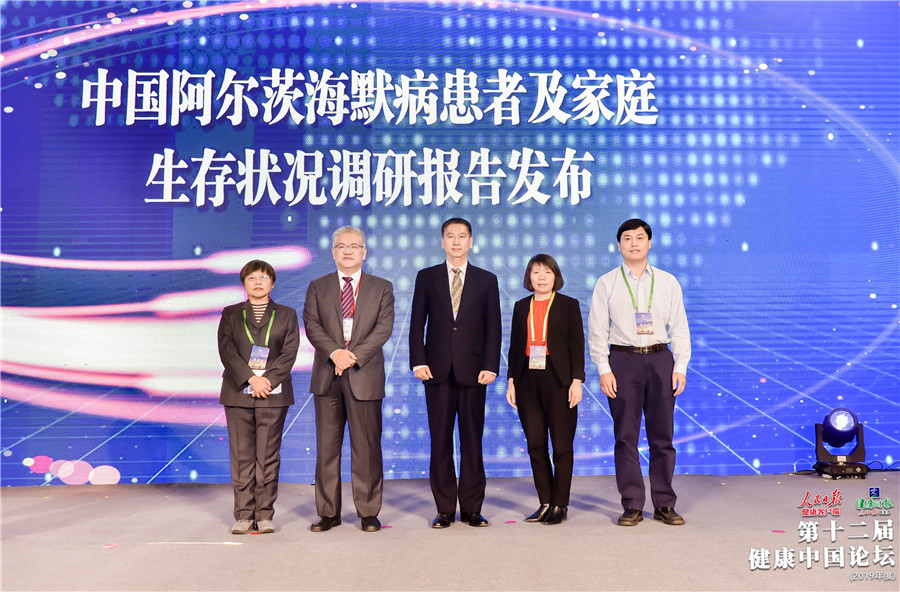 Chinese people's awareness of Alzheimer's disease needs to be raised, while patient families also need more social support to take better care of them, according to a survey report released on Thursday.
Initiated by Alzheimer's Disease Chinese and Health Times, the survey took place in 30 provinces and municipalities with 1,675 valid respondents, and Chinese biotech startup Shanghai Green Valley Pharmaceuticals sponsored the report release event.
It found that about 65.43 percent of the family caregivers said they were under huge stress because patients could not be healed, 68.69 percent said their health was impacted, and 78.39 percent said their social life was compromised.
About 91.52 percent of the families said they wished for more and better medicines, 61.43 percent of the families hoped there would be more professional caregiving facilities for the patients, and 50.87 percent of the families hoped for more convenient diagnosis and treatment channels.
About 60 percent of the families would not mention their situation to people around them, among whom 80 percent said this was because talking about their family members' disease wouldn't bring about any change, except hearing some comforting words.
Public awareness of the disease has been raised, although not enough, the report showed.
When symptoms of memory loss occurred, about 50 percent of the patients and their families would think of Alzheimer's disease, and 77.43 percent of the patients eventually went to hospital within a year, a huge increase from 32.47 percent in a similar survey in 2012.
However, 85 percent of patients had delayed treatment because their families thought memory loss was natural among seniors and weren't alerted, and 50 percent of patients didn't get timely treatment because their families were not able to afford the time, energy or money.
According to the World Alzheimer's Report 2018, there are about 50 million patients in the world suffering from dementia, and the figure is estimated to hit 152 million in 2050, while Alzheimer's disease patients account for 60 to 70 percent of the dementia population.
An article published on the Lancet Neurology last year concluded China has more than 6 million Alzheimer's disease patients, ranking first in the world, and its Alzheimer's disease patients will exceed 40 million in 2050.