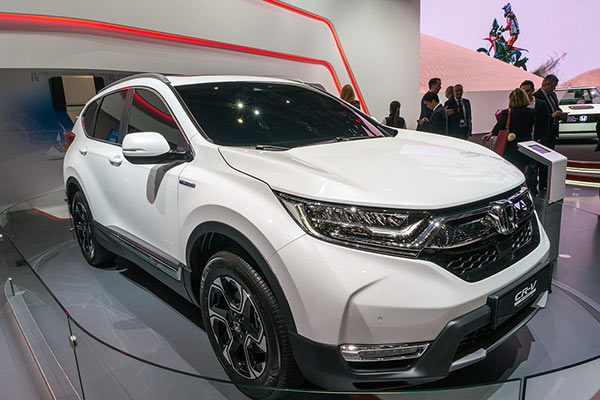 Japanese carmaker Honda has combined its advantages with Chinese resources to provide high-quality products and services, which generated fruitful results last year in the world's largest auto market.
"Honda has always strived to expand the joy of mobility and daily lives for our customers by realizing a fun and technological world with our innovative products and services," Mizuno Yasuhide, managing officer of Honda Motor and COO for regional operations of Honda China, said on Thursday.
"Especially in recent years, we've provided products and services of value to our customers with high quality and speed, by collaborating with outstanding resources in China, and leveraging the strengths of Honda."
Honda, with its two joint ventures in China-GAC Honda and Dongfeng Honda-sold a comapny-record 1.55 million cars in the country last year. The sales of its seven popular models exceeded 100,000 units in 2019, among which Accord, Civic and CR-V sold more than 200,000 units, respectively.
Sales of five sport hybrid models exceeded 100,000 units for the first time. Honda also introduced the X-NV as the second sport electric vehicle following VE-1, and enhanced its new lineup by introducing a sport hybrid system to MPV models, such as Odyssey and Elysion.
This year, Honda China will continue to strengthen its product lineup with the latest technological initiatives. The company said it has made good progress in the development of electric models VE-1 and X-NV, which will be displayed at the Beijing auto show in April. The company has also expanded application of its original Sport Hybrid system to sedans, SUVs and MPVs, which will be equipped with Honda's most efficient 2-motor hybrid system, i-MMD.
The carmaker also plans to launch a plug-in hybrid system named Sport Hybrid e+ in China this year. To provide better intelligent services for Chinese customers, Honda is accelerating the development of the next-generation Honda Connect, its core connectivity system, and has cooperated with domestic IT companies, such as Neusoft, Alibaba Al Labs and iFlytek.
Honda launched the second-generation Connect system with the allnew SUV Breeze last year and plans to introduce the third-generation Connect system soon. GAC Honda will double the production capacity of its third factory in Guangzhou to 240,000 units, expanding its total annual capacity to 720,000 units. The expansion will help to lay a foundation to Honda's production and sales in China, whose annual production will rise to 1.37 million.
To better expand the joy of mobility and daily lives for customers, Honda also launched electric scooter and motorcycles in China.
Last year, motorcycle manufacturer Wuyang-Honda began the production of the electric scooter, "Benly e:". The scooter is scheduled to be introduced first in Japan and then to other parts of the world.
The company also launched the CB650R Neo Sports Cafe Series and Sport Style CBR650R models with unique characteristics.