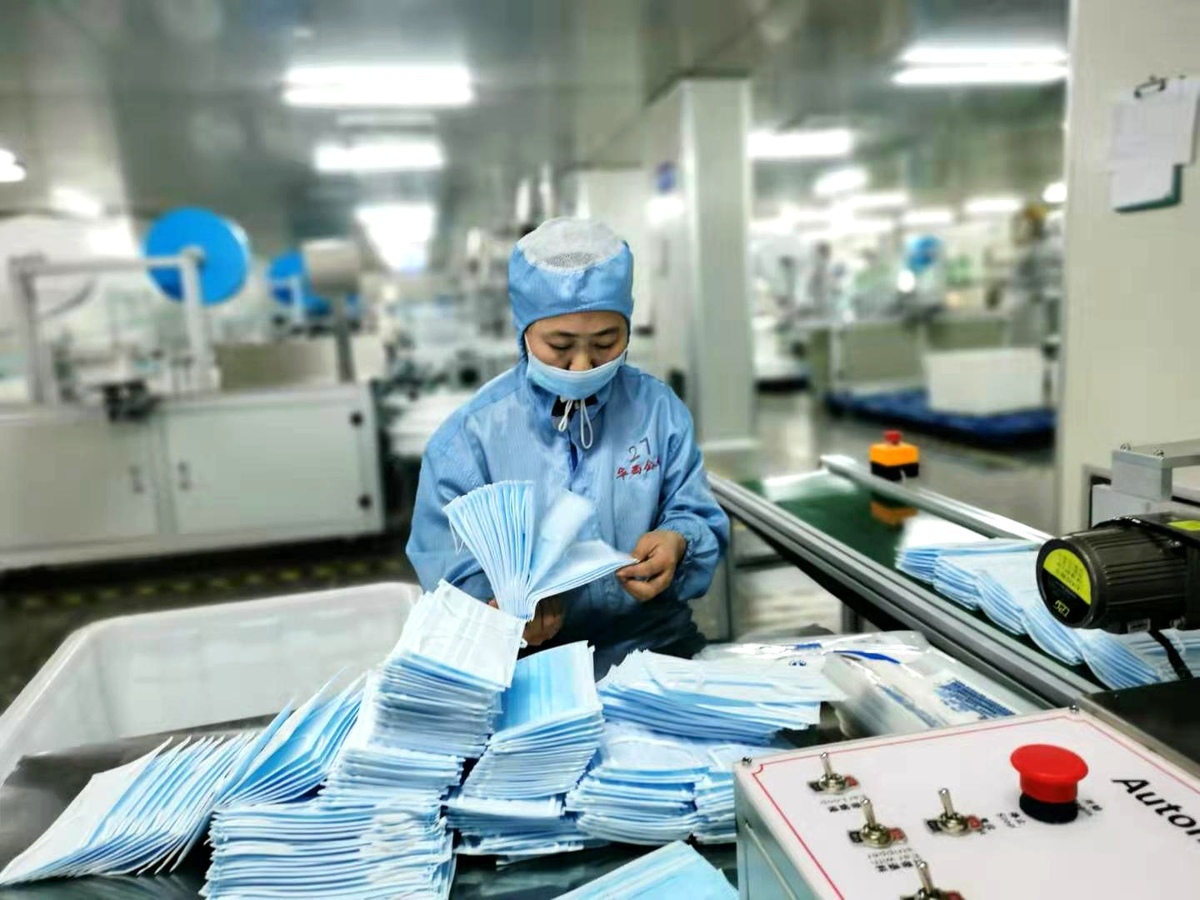 China is boosting efforts to increase medical supplies to areas hit by the novel coronavirus outbreak, according to the country's top economic regulator.
Ou Xiaoli, director of the Department of Social Development at the National Development and Reform Commission, said as many enterprises have gradually resumed production and people have returned to work, the demand for protective equipment is surging dramatically. "China is experiencing a shortage of masks used to contain the spread of coronavirus."
He made the remarks on Tuesday at a State Council Information Office news conference in Beijing.
According to the NDRC, except for Hubei province, epicenter of the outbreak, the rest of the Chinese mainland is gradually resuming production, especially in key areas such as medical supplies.
As of Monday, production capability of masks in China has been restored to 76 percent of normal level, and that of protective suits had reached 77 percent.
Ou said the NDRC will make a big push to solve the problem of mask supply and demand in the country, including boosting production, expanding mask imports and ensuring the development of key areas.
"We will help solve practical difficulties, such as providing funding and ensuring the supply of raw materials and accessories to speed up production," Ou noted. "For those not running at full capacity, we encourage them to adopt plans such as 16-hour double shifts or three eight-hour shifts to produce as much as possible. In addition, we will also offer funds to support those with a need to expand capacity."
More efforts are also needed to encourage companies to buy more masks abroad, use charter freight planes to ship to China and offer more support for key sectors, including railways, highways, civil aviation, shopping malls, supermarkets and life services fields.
Ou noted the huge demand for masks and other protective equipment is caused by the sudden spread of the coronavirus epidemic.
"To be honest, no country can support such a sudden demand," Ou added. "Considering the total production capacity in the globe, there does exist a gap between mask supply and demand. In addition to speeding up production and increasing market supply, we also need to improve efficiency of the use of masks and reduce waste."