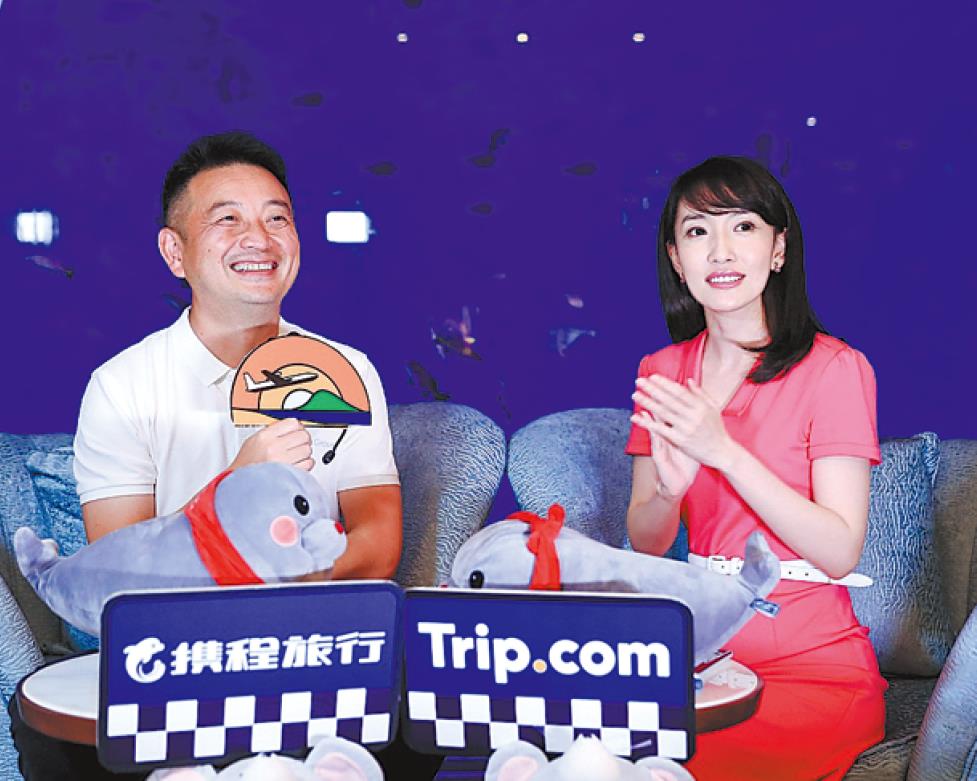 After stepping down as CEO of Trip.com in November 2016, James Liang has been less seen at public events.
But ever since the novel coronavirus outbreak in China late last year, Liang-now chairman of Trip.com-is back in the public eye. In less than two months, he has published eight articles, analyzing the impact of the epidemic and discussing recovery solutions for the tourism industry. He made two public appearances in 19 days-one at an online tourism industry revival conference on March 5 and another during a livestreaming show on video-sharing platform TikTok on March 23.
Liang's live show was among the top 20 most watched, attracting more than 510,000 viewers.
But even more noticeable was his sales performance. He managed to sell 10.25 million yuan ($1.45 million) worth of hotel and restaurant packages in Sanya, Hainan province, in just one hour, which was made possible by the 6,710 orders booked by his audience.
The remarkable sales number is undoubtedly good news for Sanya, where tourism is a pillar industry. According to Sanya's Party Secretary Tong Daochi, the city-which is home to more than 200 hotels-accounted for over half of Hainan's annual tourism income last year. During the seven-day Spring Festival in 2019, Sanya received about 990,000 tourists. That large number of visitors contributed about 10.39 billion yuan of income during the holiday, which was 10 percent of the annual total.
The COVID-19 epidemic has severely impacted China's tourism industry for more than two months. Tong admitted that Sanya's losses may be higher than other cities.
Therefore, the local government of Sanya started in mid-February to discuss a revival plan for the local tourism sector.
By mid-March, more than 80 percent of the over 200 hotels in Sanya had resumed normal operations.
The livestreaming event, as well as the promising sales results, are important for Trip.com. Despite the fact that it is the largest online travel agency in China, Trip.com said in its 2019 fiscal report that its income for the first quarter this year will fall by 45-50 percent due to the epidemic. More than 10 million orders have been canceled on its platform, which is equal to a total refund of over 31 billion yuan.
Wei Xiaoan, a leading expert at the World Tourism Cities Federation, said that the total income of China's tourism industry reached 6.5 trillion yuan last year. In this sense, a single day of inactivity could lead to losses estimated at 17.8 billion yuan.
But Liang said during the livestreaming event that losses have been gradually contracting as suppliers and business partners have made joint efforts to revive the industry.
Given the strong fundamentals of the Chinese economy, the company is still confident it can further explore business opportunities all over the world, he said.
Trip.com is not the first travel agency to step into livestreaming at a difficult time.
E-commerce giant Alibaba's travel business arm Fliggy has rolled out more than 7,500 livestreaming shows since February, attracting more than 30 million viewers. By showing exhibitions and cherry blossoms via livestreaming, the platform has also paved the way for tourist destinations to attract more visitors once the epidemic ends.
On March 21, the Shanghai-based online travel agency organized 100 county heads across the country to introduce lesser-known tourist attractions.
During a State Council news conference on March 18, Gao Zheng, head of the industrial development department of the Ministry of Culture and Tourism, applauded the livestreaming events staged by the travel agencies and tourist attractions, which have sprung up during the epidemic and grown into a new marketing strategy within the industry.