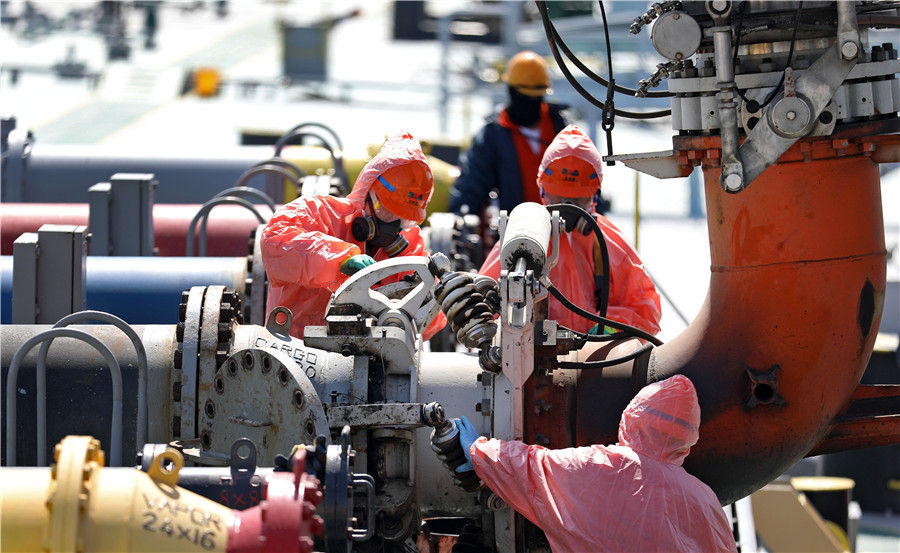 China's crude oil imports soared to an all-time high in May, a reflection of a recovery in energy with demand getting back on track in the world's second-largest economy as business activity resumes following effective measures to contain the COVID-19 pandemic, industry insiders said.
Crude imports surged in May to 47.97 million metric tons, or 11.34 million barrels a day, a 15 percent jump from April and 160,000 barrels a day more than the previous record set in November, data released by the General Administration of Customs showed.
China's oil product exports, on the other hand, fell in May to a 15-month low of 3.89 million tons, down by more than 50 percent from April's exports of 8 million tons, the data showed.
The previous low was 3.81 million tons in February 2019, it said.
"The strong increase in China's imports will have supported the tightening of the seaborne oil market, and hence oil prices," Morgan Stanley analysts, including Martijn Rats, said in a report.
Wu Kang, head of Global Demand, Risk & Asia Analytics, S&P Global Platts, said with China's crude imports hitting a new high and product exports dropping, the country is clearly on the path to recovery.
Wu said China's oil demand in May came out much stronger than expected, much of which comes on the back of pent-up demand and fiscal stimulus from the government.
"The independent refineries drove almost all of China's crude import growth over the past five months. Because of purchases of the past few months, we think imports will initially remain high until July, but that will moderate by August," he said.
Li Li, research director at energy consulting company ICIS China, agreed and said the May crude imports jump also reflects the vitality and resilience of the Chinese refinery sector, which seized the opportunity of low global crude prices to book orders.
Platts survey data showed China's independent refining sector ratcheted up crude imports in May by 71.1 percent on the year to a record high of 4.42 million barrels a day. That sent a bullish signal to the global oil market that the recovery in Chinese energy demand is again on track.
State-run and independent refiners alike ramped up crude purchases in previous trading cycles to take full advantage of ultra-low crude prices in the March-May period, it said.
On the other hand, China Petrochemical Corp, or Sinopec, the country's top oil export giant, and China National Petroleum Corp, one of the nation's top three oil conglomerates, both slashed their exports in the previous months.
Many refiners preferred to sell their products in domestic markets as product prices in international markets were lower due to lockdowns and freight rates remained high.
"Structurally, China has extra products that need to be exported, and they will continue doing so," Wu said. "Specifically, we believe that with tanker rates moderating, conditions may just be about right for exports to rebound notably from July and beyond."
As Chinese buyers had purchased cheap crude cargoes for May delivery, Li said there is still opportunistic buying to be had to capitalize on low crude costs. It is an opportune time to stockpile for China, whose crude storage at present is below target, she said. ICIS said crude imports in the country are projected to grow in 2020 at a slower rate of 7.6 percent from the 9.5 percent pace recorded last year.