Tokyo stocks close lower on concerns over U.S. virus surge
Video PlayerClose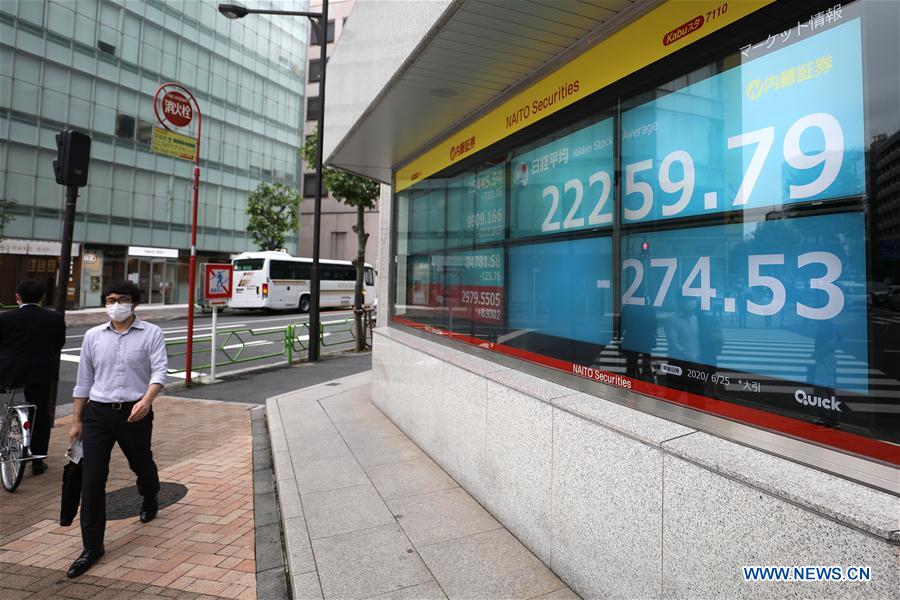 An electronic board showing the closing numbers of Nikkei Stock Average is seen in Tokyo, Japan, on June 25, 2020. Tokyo stocks closed lower Thursday as a record daily increase in coronavirus infections in multiple states in the United States and a resurgence of cases in other major economies sparked concerns over the prospects for a global economic recovery from the pandemic. (Xinhua/Du Xiaoyi)
TOKYO, June 25 (Xinhua) -- Tokyo stocks closed lower Thursday as a record daily increase in coronavirus infections in multiple states in the United States and a resurgence of cases in other major economies sparked concerns over the prospects for a global economic recovery from the pandemic.
The 225-issue Nikkei Stock Average dropped 274.53 points, or 1.22 percent, from Wednesday to close the day at 22,259.79.
The broader Topix index of all First Section issues on the Tokyo Stock Exchange, meanwhile, lost 18.65 points, or 1.18 percent, to finish at 1,561.85.
Trading here inherited a downbeat lead from all three of Wall Street's major indexes dropping overnight amid concerns over a surge in coronavirus cases, with some U.S. states imposing quarantine rules on those traveling from states hard-hit by a resurgence of virus infections, local brokers said.
They added that the severe spike in COVID-19 cases in the U.S. stoked fears about another round of business closures and lockdown orders further hampering the global economic recovery from the pandemic.
"The surge of virus infections intensified fears over the negative effects on business activities, dragging down air and land transportation issues as well as food and beverage service shares," Maki Sawada, vice president of the investment research and investor services department at Nomura Securities Co., was quoted as saying.
Tokyo stocks and global markets have also been rattled by potential plans by the U.S. to impose hefty, dispute-fueled tariffs on European imports, with sentiment also dented by the International Monetary Fund forecasting the global economy would contract 4.9 percent this year stating the predicament is a "crisis like no other."
A comparatively weaker yen versus the U.S. dollar, however, helped trim some losses, with investors buying back issues deemed oversold also lessening the fall, investment strategists here highlighted.
Transportation issues lost ground, owing to renewed coronavirus fears, including a recent spike in cases in Tokyo, with ANA Holdings diving 3.8 percent, while Japan Airlines dropped 4.1 percent.
East Japan Railway closed the day 2.5 percent lower.
Among blue-chips retreating Thursday, Panasonic Corp. lost 3.8 percent, while Nikon Corp. dropped 3.1 percent. Toyota Motor Corp., meanwhile, skidded down 2.6 percent by the close.
NEC marked a bright spot, however, climbing 2.4 percent, after reports of a capital tie-up with Nippon Telegraph and Telephone Corp. to develop 5G wireless network technology.
NTT, for its part, shed 0.7 percent.
By the close of play, air transportation, real estate, and nonferrous metal-linked issues comprised those that declined the most, and issues that fell outpaced those that rose by 1,661 to 442 on the First Section, while 64 ended the day unchanged.
On the main section on Thursday, 1.305 billion shares changed hands, rising from Wednesday's volume of 1.169 billion shares.
The turnover on the penultimate trading day of the week came to 2.260 trillion yen (21.085 billion U.S. dollars).
1 2 3 Next 1 2 3 Next