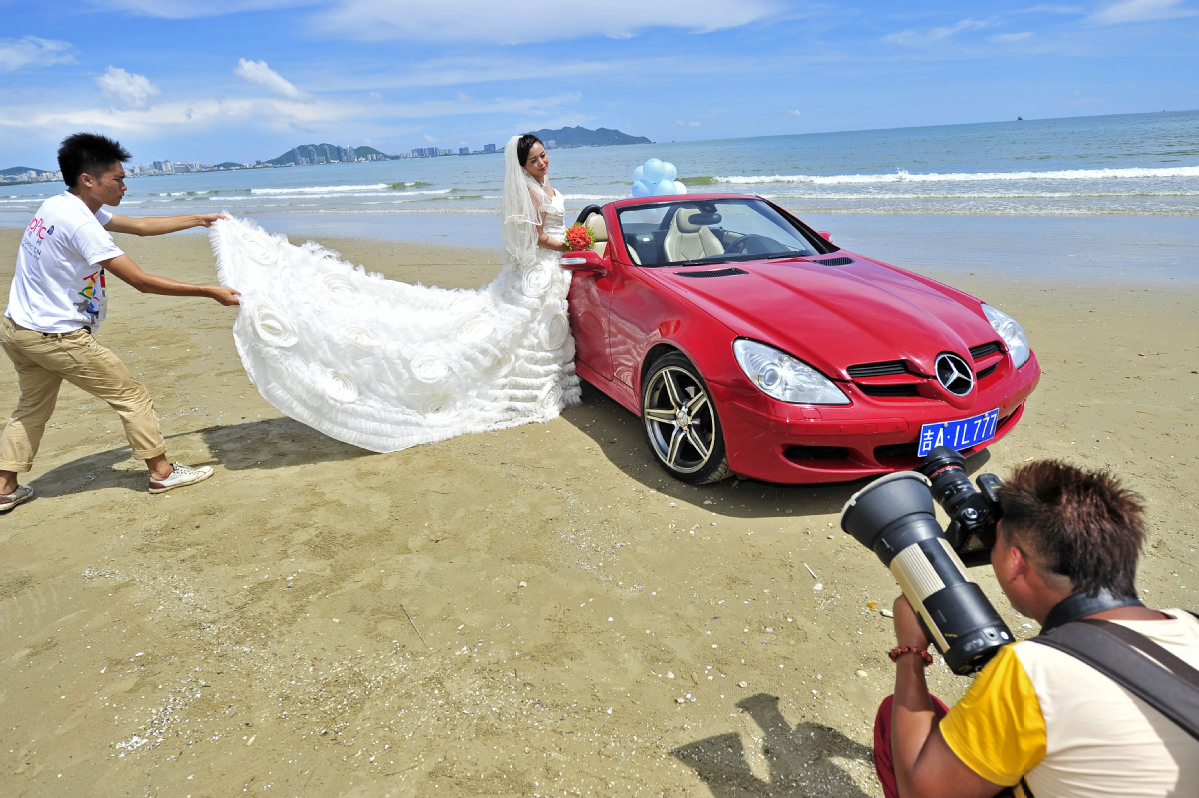 Orders for high-end rides booming as more travelers prefer self-driving trips
A niche for the convertible car rental business has developed in China as more travelers prefer to take self-driving trips since the outbreak of the COVID-19 pandemic, given the vehicles' relative privacy and cleanliness, with renters also seeking more high-end and unique experiences.
Convertibles allow an open-air driving experience. They have seen the fastest growth among car rental categories and the island province of Hainan has become the most popular place for the vehicles.
The number of rental orders of convertibles in Hainan accounts for 70 percent of the total nationwide, said Trip.com Group, China's largest online travel agency.
In June, the number of convertible rental orders in Hainan surged 230 percent on a yearly basis. In Hainan, Sanya netted the highest number of such orders.
In that area, most people spent about 1,500 yuan ($212) on average in total in rentals for convertibles. The rental periods typically last from one to three days.
The popularity of renting convertibles in Hainan is followed by Yunnan, Sichuan, Guangdong and Shaanxi provinces, said Trip.com, which cooperates with more than 2,000 car rental companies in the nation.
The online travel agency said it aims to collaborate with more car rental firms and expand its options in Sanya as part of the company's efforts to upgrade local travel services and help in the building of the Hainan Free Trade Zone.
"As the epidemic is basically under control in China, taking self-driving trips by renting cars has seen the fastest recovery. Convertible rentals have become the most popular category," said Peng Ting, director of the car rental business at Trip.com.
"Besides, limited by overseas travel restrictions, those who used to travel abroad frequently have shifted to domestic trips. They would like to seek for more luxury and distinguished experiences," Peng added.
Some travelers said if they want to have an extraordinary experience for domestic trips, it would be necessary to drive a different car.
The cost of renting convertibles range from 200 yuan to 8,000 yuan per day. For example, it costs about 8,800 yuan to rent a Ferrari California convertible for three days in Sanya.
Some of the hottest types of convertibles that travelers like to rent include the BMW 2 Series, BMW Z4, Mercedes-Benz SLK-Class, and the Porsche Boxster. A few car rental companies offer complimentary services by delivering cars to the airports or hotels, Trip.com found.
A few years ago, it cost about 700 yuan to 800 yuan per day to rent a BMW 2 Series convertible in Sanya. Now, the service has become more cost-effective and the price tag is about 300 yuan per day.
In May, the number of convertible rental orders nationwide surged 153.4 percent year-on-year, followed by luxury cars and SUV rentals, which jumped by 20.7 percent and 20.2 percent, respectively, said Trip.com.
A survey by the China Tourism Academy showed that given concerns over COVID-19, some 41 percent of respondents said they prefer to take self-driving trips when they are traveling. The rest said they would like to take high-speed trains, buses and planes.
Separately, with travel restrictions imposed by most countries, overseas tours have been stagnant. Chinese car rental companies that used to focus on overseas business have entered a growth bottleneck.
Eyeing the bullish prospect of the car rental business in China, more companies have shifted their operations domestically in the past few months. They have sped up cooperation with domestic car suppliers and enriched the lineup of their available products.
Zuzuche.com, a major Chinese online car rental reservation platform, which had mainly provided car rentals outside the country, has shifted its focus to domestic operations.
"We hope to expand our business in the nation, leveraging our global car rental experiences in the past decade, and seize the business growth opportunities that quickly emerged in the domestic market," said Li Bin, co-founder of Zuzuche.com.