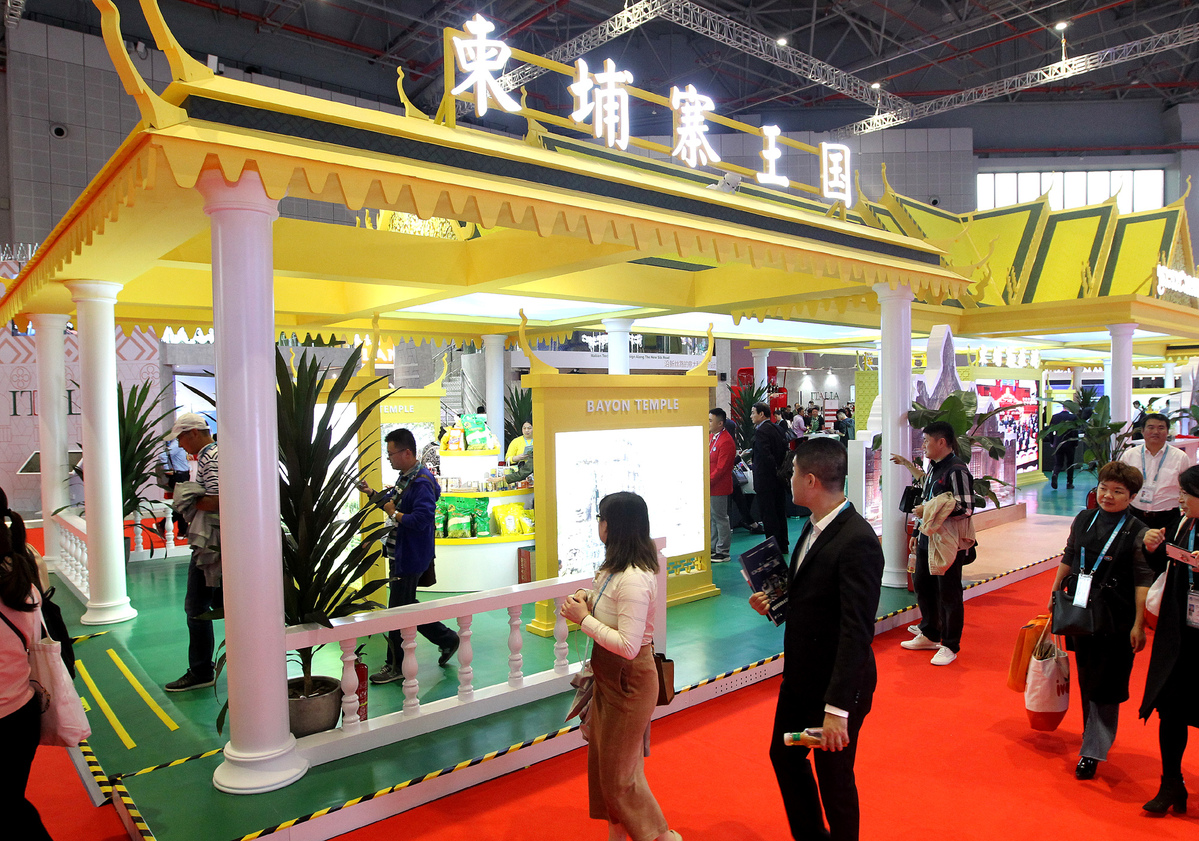 It's more than 100 days away, but Rouen Sovannarith has been eagerly awaiting the third China International Import Expo as he thinks the event will provide a powerful boost for trade and investment between China and Cambodia.
Sovannarith is the president of the Cambodian Rural Development Agency. It was established in 2006 with a mission to organize agriculture cooperatives, provide training on leadership and farming skills to farmers, and cooperate with domestic and international partners to support Cambodian agriculture through exports.
Sovannarith was in Shanghai for the second CIIE last November, where Cambodia was one of the 15 guest-of-honor countries including France, India and Russia.
"I gained a lot of experiences at the previous editions of CIIE. It helped us to build relationships between CRDA and international agencies, companies, and government agents to promote and support economic activities between countries," said Sovannarith.
A range of agricultural products were displayed at the palace-like pavilion of Cambodia at the expo last year, including featured goods such as rice, corn and pepper.
"We strongly believe that trade can promote and strengthen the relationship between Chinese and Cambodian cultures and traditions. So the CRDA is here to promote and support government policies for trade and investment between the two countries, especially to move the procurement link to trading, business, and investment for both countries, too," he said.
The CIIE is a good platform to promote bilateral trade between China and Cambodia, he added.
Sovannarith has been worried about the impact of the outbreak of the novel coronavirus pandemic on Cambodia's exports in the past three months.
Despite this, Sovannarith said their communication and relationship with Cambodian firms are good. "We have developed many plans to work together as partners."
"My personal suggestion is that we should form or establish special permissions or permits for procurements, with which both countries can start business exchanges, promote investment and encourage development, so that we can come back from the slowdown of economic activities. This would also promote the participation of businessmen, traders and investors in development and growth," Sovannarith said.
Sovannarith was gratified to learn that the third CIIE will be held as scheduled in the National Exhibition and Convention Center in Shanghai in November given that the novel coronavirus has been largely contained in China.
"CIIE is a messenger who can bring China and Cambodia governments together to jointly develop policies, bylaws and procurement plans, which encourage businessmen, traders and investors to get involved in creating more benefits and economic growth for both countries," he said.