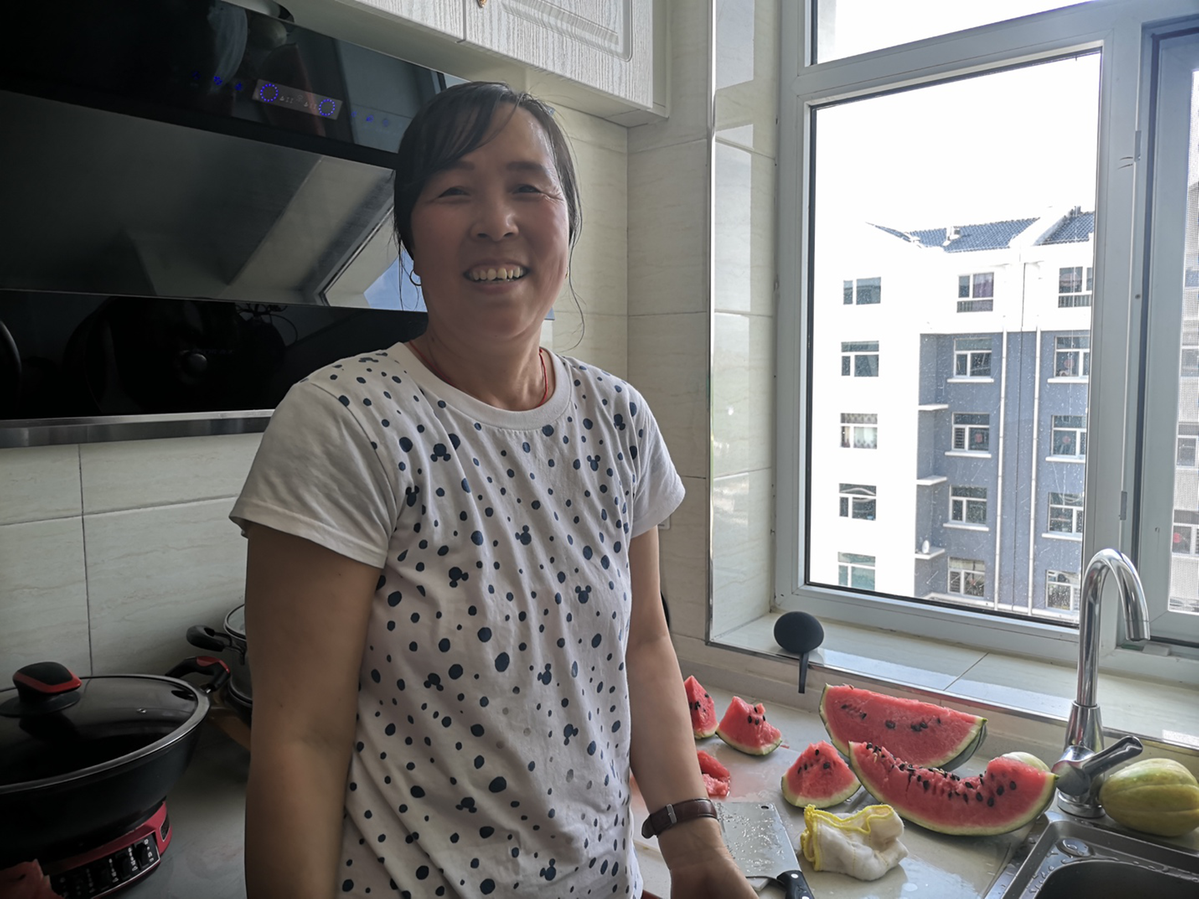 When it comes to making big changes in life, at some point the thoughts need to be turned into action, especially if one wants tangible, lasting results, judging by Cao Guohua's experience.
Cao, a 54-year old housewife, was no different from the rest of her peers in Wangjiayan village of Tianzhen county, a poverty-stricken area in Shanxi province. But Cao took the momentous decision to free herself and her family from the shackles of poverty by becoming a home-care service provider in Beijing.
"When I first embarked on the journey, little did I realize that doing housework and taking care of elderly people, simple tasks that I used to do for my family for free, would be extremely rewarding and earn me in excess of 50,000 yuan ($7,141) every year in Beijing," Cao said.
"Most of the tasks were those that I did normally in my village apart from doing the farm work and other family chores. By doing farm work, our family could earn about 10,000 yuan every year with my sons' income combined, which was just enough for food and shelter," she said. Since her husband was physically challenged and not capable of hard labor, it was left to Cao to keep the kitchen and home fires running.
Cao made her life-changing choice in 2017, when she heard that Tianzhen Sunshine Vocational Training School offered home-care training and related job opportunities for free. "I registered without any hesitation. Some of my peers were reluctant because they were afraid of seeking their fortunes in a new place after the age of 50. I did not think of it in that manner. I thought it was a great opportunity that enabled people at my age to go outside, earn more and learn more," she said.
In 2017, Cao studied housekeeping and elderly care at the school, and a month later boarded the train to Beijing.
"My first client was a grandmother who was diagnosed with lung cancer. I took care of her for over three months, and then I switched to another family. I earn about 50,000 yuan to 60,000 yuan every year and in the last three years I have been able to pay off our family debts and decorate our new apartment," Cao said.
Cao is not the only one who benefited from the home-care service training and got out of the poverty chain. To date, about 30,000 women from Tianzhen were trained in home-care services and have found jobs outside of their home county.
Almost all of them were trained in Tianzhen Sunshine Vocational Training School."We offer students training for free for entry-and middle-level classes, and we do not charge clients for introduction fees. We received a lot of financial support from the government," said Li Chun, headmaster of Tianzhen Sunshine Vocational Training School.
Founded in 2011 with an investment of 50 million yuan, the job training school now has 45 teaching staff. The school said most of their students are now working in Beijing, Tianjin, Shanghai, and other places. Twelve students who were trained in home-care services are now working in the United States and Japan, with monthly salaries ranging from 11,000 yuan to 20,000 yuan.
Today, Tianzhen's home-care services have grown into a national brand and are proving to be an important source of revenue. But eight years ago, Tianzhen was one of the worst poverty-stricken counties in China.
Located in the northeastern part of Shanxi province, Tianzhen is situated at a high altitude and has a relatively shorter frost-free period compared to southern areas, which means farmers in Tianzhen only have four to five months a year to do field work and make money. Although many farmers chose to find a side job in their spare time, very few of them would succeed due to the lack of skills and formal educational.
In 2012, the local government decided to promote home-care services as a poverty-alleviation measure in Tianzhen county, largely due to the support from the Dewdrop Project, a government-led charity project offering training to people in poverty-stricken areas. The project was also buoyed by the huge market for home-care services in Beijing, about 280 kilometers from Tianzhen.
Since then, government officials and training school teachers have spared no efforts to encourage local women to come outside of their homes and develop skills to find jobs in other cities.
"It was harder than you would imagine. Most of the women were living in Tianzhen since they were born and had never stepped out of the county. A majority of them feared going to other cities alone, especially after turning 40. Many were quite old-fashioned and considered offering home-care services and taking care of other people as shameful and so did their families," said Fu Xiaoyan, deputy head of Tianzhen Sunshine Vocational Training School.
"But with more people going outside, making money and learning new skills, many people changed their views. Now some would think rather than just making money, going to Beijing and interacting with people from different backgrounds is an eye-opening experience," Fu said.