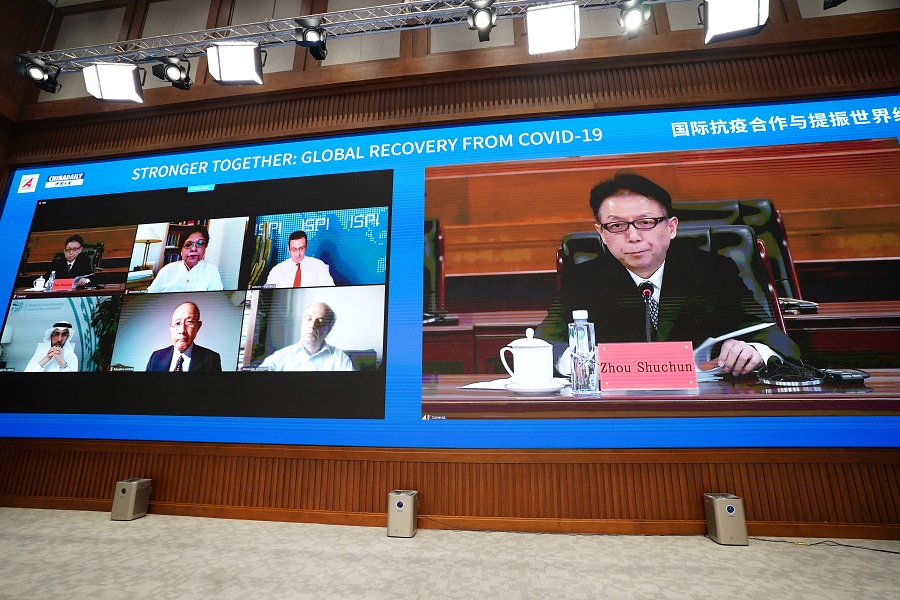 "We should reject suspicion and doubt to build an open world economy," Zhou Shuchun, publisher and editor-in-chief of China Daily, said at the Global Think Tank Webinar.
"China is working to give full play to its domestic market, the largest in the world, and building a new model of development in which domestic economic networks play the primary role, and domestic and international economic networks complement each other. China will stay committed to further reform and opening up and will make new contributions to stabilize the world economy and advance globalization," he said.
Zhou also called for enhanced cooperation to make sure that peace and development remain the focus of the world.
"International relations in the post-war era teach us that interests of countries are closely inter-connected and that the future of mankind is increasingly linked together," he said.
"In spite of the new changes in the international arena, we should always uphold multilateralism and reject Cold War mentality and unilateralism; pursue solidarity and coordination and oppose self-centrism and bullying; stay committed to win-win cooperation and refuse a zero-sum game and egoism.
"We should seek development in peace and pursue progress in development, plan for post-pandemic development with an open, cooperative and win-win mindset, and work toward the goal of building a community with a shared future for mankind," Zhou added.
The webinar was held on Wednesday night under the theme "Stronger Together: Global Recovery from COVID-19", and looked at the challenges brought by the COVID-19 outbreak and ways of reviving the world economy amid the crisis.