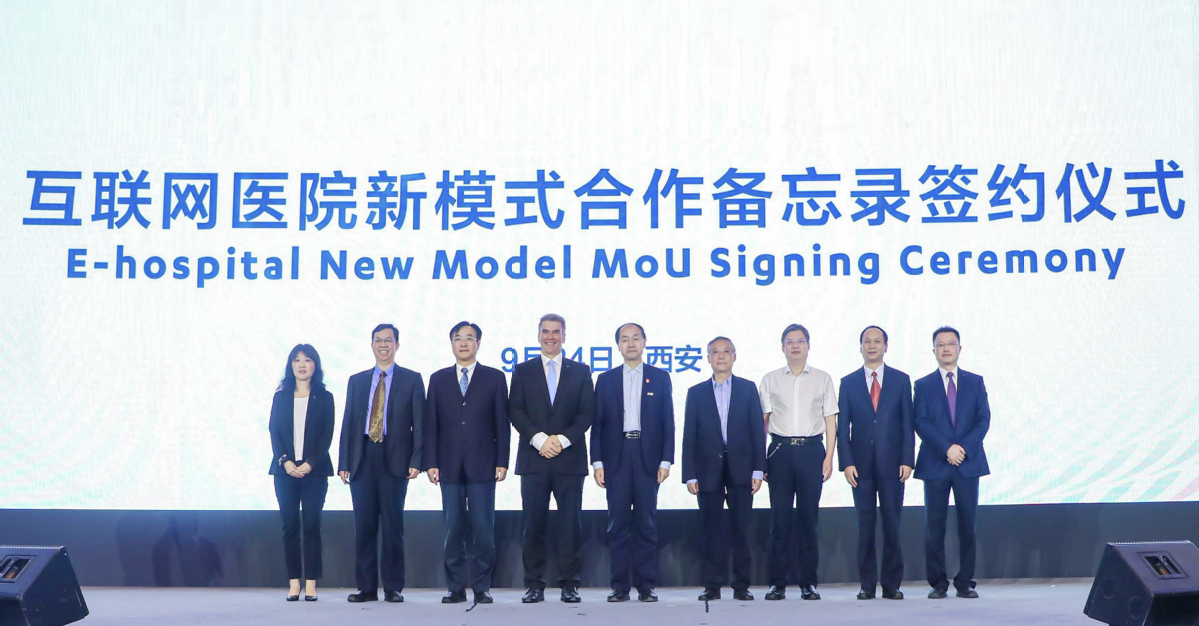 Xian Janssen, a pharmaceutical subsidiary of healthcare group Johnson & Johnson, signed a memorandum of understanding with the First Affiliated Hospital of Xi'an Jiaotong University in Shaanxi province on Thursday to establish a novel model of internet-based, patient-centric healthcare services in China.
The partnership will create an e-hospital, the first of its kind collaboration between a multinational pharmaceutical company and a general, tertiary hospital in the country, according to the two partners.
This e-hospital will provide convenient virtual health services for patients aiming to reduce doctor-patient communication cost and improving access to innovative medicines and health solutions. The services will first start with patients suffering from blood cancers, solid cancers, immunology, and pulmonary arterial hypertension.
With this e-hospital, after patients return home from the hospital, they can continue to obtain sustained disease management support and get in touch with their doctors in charge.
"For our company, China is the first destination that we decided to make the attempt of such a digitalized solution. The country has an obvious advantage in digital healthcare," said Asgar Rangoonwala, president of Xian Janssen.
Shi Bingyin, president of the First Affiliated Hospital of Xi'an Jiaotong University, said that the strategic partnership will allow both sides to establish an e-hospital that combines the hospital's medical expertise with innovative digital solutions from businesses.
"That'll enable us to expand patient services so we can provide the highest quality medical care to more patients," he said.
The partnership will also contribute to improving the health of residents in Central and Western China, enabling them to build digital infrastructure and capacity, providing training and collaboration opportunities for doctors and nurses, support academic activities in key disciplinary areas, and making services offered by the Xi'an hospital accessible to more patients.
Rangoonwala said the company is committed to accelerating the use of digital technologies to help improve the lives of more patients in the country and realize its aspiration of innovating for a healthy China, just as what it has done for the past 35 years.
As of 2019, Xian Janssen had secured listing of 51 out of its 62 innovative medicines onto the National Reimbursement Drug List. Between January 2018 and September 2020, the company secured 25 medicine approvals in China in some disease areas with great patient need, including immunology, mental health, oncology, diabetes, infectious diseases, and rare diseases.