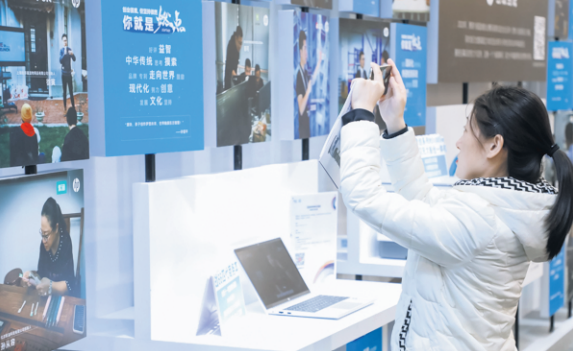 Demand for personal computers is expected to remain robust this year, thanks to its growing demand as a productivity tool for remote working, according to a senior executive from HP Inc, the US-based information technology products maker.
Tony Chou, vice-president of HP China, said the COVID-19 pandemic has accelerated digital transformation among enterprises and demand from remote working has driven the sales of PCs around the world.
During the third quarter of 2020, shipments of PCs in China grew by 10.1 percent on a yearly basis to 14.45 million units, according to the latest data from market research agency International Data Corp. Specifically, sales in the commercial PC segment, meaning PCs for enterprises and government institutions, grew by 6.5 percent on a yearly basis.
"Customers realize that it is important to have PCs capable of dealing with different scenarios in life and work. Such a trend will continue in the post-pandemic era as people are now becoming increasingly accustomed to remote work," Chou said.
Tang Jiong, general manager of China retail consumer division at Intel's sales and marketing group, agreed, predicting that 2021 will be a good year for PC sales, as the products are expected to play an increasingly important role in work and lives on the back of continuous innovation.
According to Chou, HP had mooted the concept of "future of work" in 2016, with being mobile, collaborative and secure as its three key features. This has enabled the company to adjust their products to the trend of working from home at a very early stage.
More than ever, today's workforce needs the right technology and tools to stay productive as the epidemic blurs reality between life and work, Chou said.
HP has made tons of efforts to optimize their products and solutions to meet the trend, such as PCs that can reduce the background noises including slamming doors and barking dogs allowing people's voice to come through loud and clear.
Amid the pandemic, Chinese enterprises have accelerated their efforts to embrace digital transformation to remain resilient in their businesses. Small and medium-sized enterprises were under heavy pressure and HP has offered them products that are cost-effective and feature latest technologies at the same time.
HP has also built an entrepreneurial ecosystem for Chinese startups, which not only offers professional curricula such as finance and management, but also provides industrial insights, Chou said.
With the pandemic posing challenges to offline retail stores, HP has encouraged its retail partners to embrace the digital shift to build a diversified channel system. That does not mean closing brick-and-mortar stores, but to leverage e-commerce and livestreaming and other online means as a new window to showcase products.
As the commercial PC market booms in China, new players such as Huawei Technologies Co have also entered the sector. In December, Huawei unveiled its first commercial desktop computer for clients from governments and enterprises.
Chou said: "The entry of new players showcases the big potential of the commercial PC segment. We respect new players. Meanwhile, we will focus on what customers need and accumulate industry experience, so that we have broader and in-depth insights. Customer demand is the source of meaningful innovation."
Data from IDC show that HP accounted for 12.2 percent of China's commercial PC market as of September 2020, the new high in a decade. As of September 2020, HP accounted for 45 percent of the commercial notebook segment of large enterprise clients with more than 1,000 employees. It was ranked first in the segment.
"In the future, PC purchases will be similar to that of smartphones, namely, one PC per person, instead of one PC per household. Such an evolution is on the way," Chou said.