阿玛瑞初涉中国市场 首家酒店预计2017年中在阳朔开业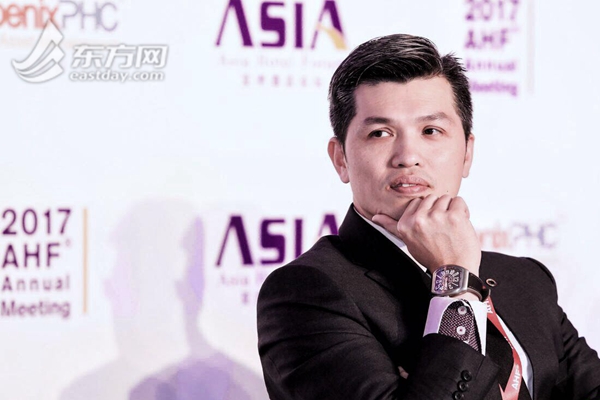 图片说明:ONYX酒店集团北亚区副总裁黎志才在第十二届亚洲酒店论坛年会上。
东方网4月21日消息:作为中国成长最快的旅游目的地之一,桂林因甲天下的山水吸引游客们纷至沓来,建基于泰国的ONYX酒店集团也敏锐地嗅到了商机。
Shanghai, April 17- As one of the fastest growing tourist destinations in China, Guilin, with its beautiful landscapes, attracts numerous visitors from all over the world, including Tommy Lai, the North Asia Vice President of the ONYX Hospitality Group, who has acutely smelt business opportunities there.
日前,记者从在沪开启的第十二届亚洲酒店论坛年会上获悉,该集团旗下阿玛瑞品牌在中国的首家酒店就落址阳朔,并预计于今年年中正式开业。
At the recent Asia Hotel Forum Annual Meeting, ONYX Hospitality Group shared with us that one of its brands, Amari, will open its first hotel in China mid this year, with Yangshuo in Guilin being its home.
酒店设有73间房间,包括高级客房、豪华客房、豪华套房、复式亲子套房以及三卧家庭套房,适合单人、情侣、朋友甚至家庭出游入住。值得一提的是,大部分的房间设有阳台,可欣赏益田西街、河畔塘景或群山的壮丽景色。
The hotel features 73 guestrooms, comprising Superior and Deluxe Rooms, Junior, Two Bedroom Duplex, and Three Bedroom Suites – ideal for individual travellers, couples, friends, and even families. Moreover, most of the guestrooms also feature balconies with splendid views of the Yitian West Street, waterfront or mountains.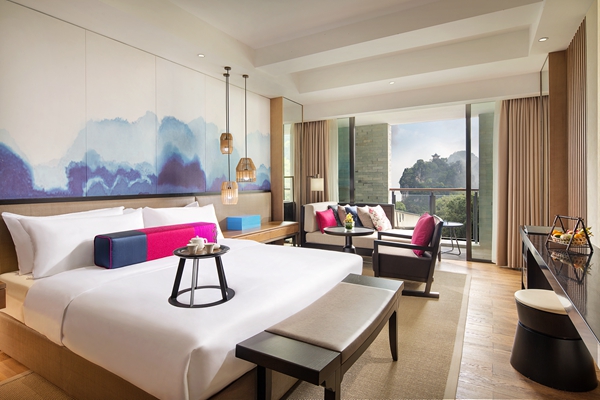 图片说明:阳朔益田阿玛瑞酒店客房效果图。
秉承一贯的国际化服务标准,阳朔益田阿玛瑞酒店也兼顾着本地化。据ONYX酒店集团北亚区副总裁黎志才介绍,坐落于广西桂林最古老的街道之一——阳朔西街旁,这座四层楼高的酒店充分融合了阳朔当地的东方特色和当代亚洲风情的住宿体验。
Adhering to international service standards, the hotel also takes the physical location into account. According to Tommy, the four-story hotel, which is situated next to the West Street, one of Guilin's oldest streets, mixes the oriental features of Yangshuo with a modern Asian hospitality experience.
此外,作为阳朔益田阿玛瑞酒店的主餐厅,阿玛雅美食荟届时也将在中国首次亮相。该餐厅设计灵感源自备受喜爱的亚洲街边小吃市场,采用丰富饱满的色彩、充满活力的纹理和互动开放式的厨房设置,与客人展开一段美食之旅。
Notably, the Amaya Food Gallery, the main restaurant of Amari Yangshuo, will also be unveiled in China for the first time. Inspired by the beloved Asian street food market, the restaurant boldly uses rich colors and dynamic textures in design and has especially designed an open kitchen for interactions with guests.
据悉,阿玛瑞作为ONYX酒店集团的核心品牌,一直致力于展现当代亚洲的动感活力和好客之道。目前,阿玛瑞共经营管理15家物业,分布在亚太地区各大热门旅游目的地,另有更多新的酒店物业正在斯里兰卡加勒以及马来西亚新山等地建设和开发之中。
Amari, being the group's centerpiece, has been reflecting the warmth and energy of an evolving modern Asia. Currently, Amari operates 15 properties in popular tourist destinations across the Asia-Pacific region, with new hotels currently under development in locations such as Galle in Sri Lanka and Johor Bahru in Malaysia.