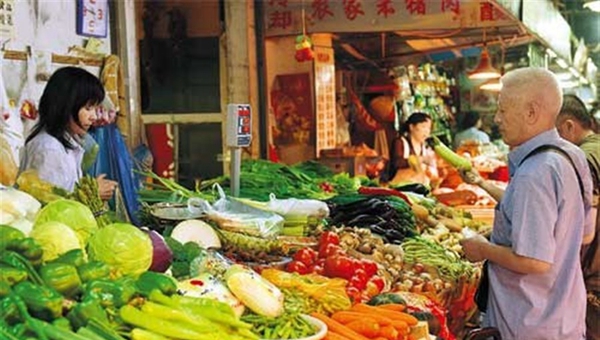 CHINA'S consumer and producer prices logged steady growth in June, as stable prices reinforced the view that the world's second-largest economy is firming up.

The Consumer Price Index rose 1.5 percent year on year in June, data from the National Bureau of Statistics showed yesterday.
That was the same as May and the fifth consecutive month it remained below 2 percent, the bureau said.
Sheng Guoqing, the bureau's senior statistician, said consumer inflation was fueled by price increases in the non-food sector.
Non-food prices rose 2.2 percent year on year, led by prices of medical and health care services, education, housing and transport.
Food prices, the biggest CPI component, fell at a slower 1.2 percent from the previous year, after sliding 1.6 percent in May and 3.5 percent in April.
"Falling food prices can be attributed to a high build-up of food reserves and seasonal factors," Financial News, a newspaper affiliated with the People's Bank of China, quoted Zhu Baoliang, chief economist at the State Information Center, as saying.
The Producer Price Index, which measures costs for goods at the factory gate, rose 5.5 percent year on year, the same as in May and was the lowest since December.
Prices of raw materials are making a modest recovery, helped by stronger futures prices in China over the past few weeks, after an earlier hit taken from a broader cooling in economic activity since March.
Tepid inflation comes despite signs of a pickup in factory activity. China's manufacturing sector expanded at its quickest pace in three months in June, buoyed by strong production and new orders.
Meanwhile, spot iron ore and construction steel prices have risen as investors continued to focus on China's capacity cutbacks and industrial upgrade in the steel sector.
"High margins after the government's effort to eliminate low-grade steel are enticing mills to produce more steel, which increases the need for iron ore," said Zou Mingdong, Shanghai-based steel manager at Zhongcai Merchants Investment Group.
"But the rising price doesn't change the fundamental situation of oversupply and weak demand."
China's leading steelmaker Baoshan Iron & Steel cut its main steel prices for May and June after a long series of increases.
Economists said the PPI would continue to moderate while the CPI — excluding food and energy — will likely improve.
"The CPI and the PPI were unchanged in June, as resilient non-commodity PPI and an uptick in core CPI offset sluggish food and energy prices," Morgan Stanley said.
"We expect the PPI to moderate into low-flationary territory in the second half and next year on base effects, and core CPI will likely improve given the resilient job market," it said in a note.