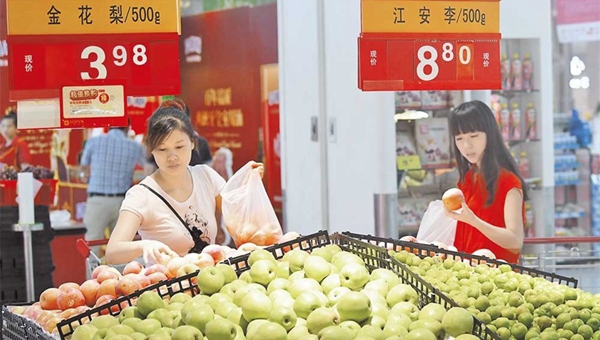 Women shopping for fruits yesterday in a supermarket in Chongqing. China's consumer price index rose 1.4 percent year on year in July, the National Bureau of Statistics said yesterday. — Xinhua

CHINA'S consumer inflation cooled slightly in July while prices at factory gate rose steadily to indicate potentially decent growth in corporate profits.
The Consumer Price Index, a main gauge of inflation, rose 1.4 percent year on year in July, down 0.1 percentage points from June's and has remained below 2 percent for six consecutive months, the National Bureau of Statistics said yesterday.
The reading was slightly lower than market consensus forecast for 1.5 percent.
Meanwhile, the Producer Price Index, which measures costs for goods at the factory gate, rose 5.5 percent year on year for the third consecutive month, and was the lowest since last December.
Sheng Guoqing, a bureau analyst, said the cooler consumer inflation was due to lower food prices, while the factory gate inflation rose due to metal industries.
Food prices fell 1.1 percent while non-food prices rose 2 percent, the bureau data showed.
China's PPI has remained in positive territory since September, when it ended a four-year streak of declines, partly due to the government's successful campaign to cut industrial overcapacity.
Pork prices shed 15.5 percent year on year, and helped cut the CPI reading by 0.46 percentage points.
Sheng said the price increase in the PPI accelerated in the steel and mineral industries while the price rise in the coal, non-ferrous, and oil sectors slowed.
Economists, however, said the data indicated stable economic conditions that could provide room for regulatory tightening.
"The lower CPI in July does not indicate deflation risk, as non-food inflation has risen," Australia and New Zealand Banking Group said in a note today. "We expect the PPI year on year to remain strong in the coming months, as capacity reduction proceeds."
ANZ said the strong PPI indicates decent growth in corporate profits, especially for SOEs, offering room for the authorities to deleverage.
Morgan Stanley said policymakers will maintain stable interbank liquidity as CPI will likely remain close to the lower boundary of the People's Bank of China's comfort zone.
The inflation data came a day after the release of figures showing the rate of growth in China's exports and imports also slowed sharply in July.