中英双语 Deputy Governor: the New Development Bank starts well with renewable infrastructure projects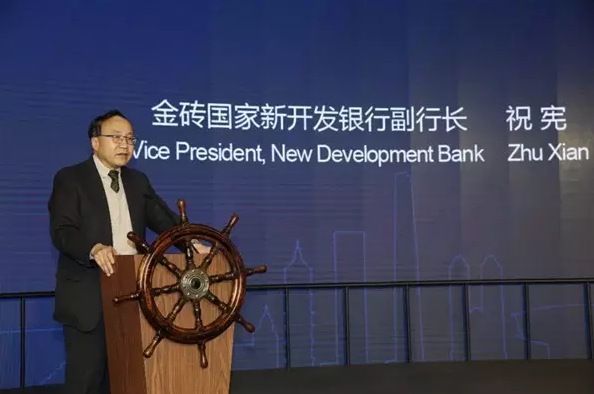 作为第一个在上海设立总部的国际多边金融机构,金砖国家新开发银行(以下简称"新开发银行")自2015年7月开业后,其运作一直受到外界关注。
  As the first international multilateral financial institution with headquarters in Shanghai, the New Development Bank BRICS has been attracting attention since its establishment in July 2015.
  新开发银行副行长祝宪在活动期间接受东方网记者独家专访,分享了银行成立以来的项目运作情况。
  Zhu Xian, Deputy Governor of the New Development Bank BRICS, shared the project operation status of the bank during an exclusive interview with a reporter from Eastday.com.
  2015年成立至今,新开发银行已参与7个项目,总贷款额达到15亿美元。祝宪介绍,首批贷款项目包括我国的智慧新能源示范项目、巴西的可再生能源转贷项目、印度的可再生能源电力装机转贷项目及南非的输电网络和可再生能源发电转型项目。
  The bank has joined in seven projects since its establishment, with total loansof 1.5 billion dollars. Zhu stated that the first batch of loan projects include China's intelligent new-energy demonstration project, Brazil's renewable-energy enlending project, India's renewable-energy electricity enlending project as well as South Africa's transmission network and renewable-energy project.
  值得一提的是,"上海智慧新能源推广应用示范项目"是本市首个十万千瓦规模的分布式光伏项目,位于上海临港现代服务业和工业的核心区域,通过建设100MW屋顶分布式光伏发电、并探索建设基于能源大数据平台的能源管理与公共服务中心。
  Notably, the Shanghai Intelligent New-energy Promotion and Application Demonstration Project is the city's first 100,000-kilowatt PV project. Located in Shanghai Lingang, the project aims to explore energy management practices and a public service center based on energy big data.
  据祝宪介绍,该项目于去年11月签约,目前正处于紧锣密鼓的准备阶段,预计今年会很快实行和支付。据悉,该项目旨在提升能源的综合利用效率和区域优化能力。其动态总投资7.5亿元人民币,投产后预计每年减排二氧化碳88360吨。
  The project agreement was signed last November and is now in the preparation stage. According to Zhu, it will be implemented and financedsoon. With a total investment of 750 million Yuan, the project is expected to contribute to a yearly emission reduction of 88,360 tons of carbon dioxide.
  "这些项目都是绿色、可持续和新能源的,这也说明我们从一开始就把重点放在可持续发展的基础设施上,"祝宪还指出,上海正在加快实施创新驱动发展战略,建设具有全球影响力的科技创新中心,新开发银行未来将更多地参与到上海的智慧、创新项目中。
  From the very beginning all these projects are green, sustainable and new-energy, suggesting that the bank is focusing on infrastructure construction for future sustainable development. Zhu also noted that the city is accelerating its innovation-driven development and the bank will in the future be more involved in Shanghai's intelligent and innovative projects.
  祝宪表示,上海作为中国最发达的沿海城市之一,在创新创业方面有很多独到的经验。"未来和上海这边的合作不仅仅局限于传统的基础设施项目,更多的在创新方面,一方面是上海的创新实践走出去,在成员国之间进行经验分享,另一方面还可以探索一些海外投资。"
  Shanghai, one of the most developed coastal cities in China, has a lot of unique experience in innovative undertakings, Zhu said, and added that the cooperation between the bank and the city won't be limited to traditional infrastructure projects but more innovative ones. "The city's innovation practicescan be shared among the five member countries; and overseas investment can also be explored at the same time. "
  祝宪还透露,预计新开发银行今年的总贷款规模达25亿美元,将涵盖来自五个金砖国家的15个项目。具体项目还在论证中。
  Zhu also revealed that the bank's total loansthis year is expected to reach USD 2.5 billion, covering 15 projects from the five BRICS countries.