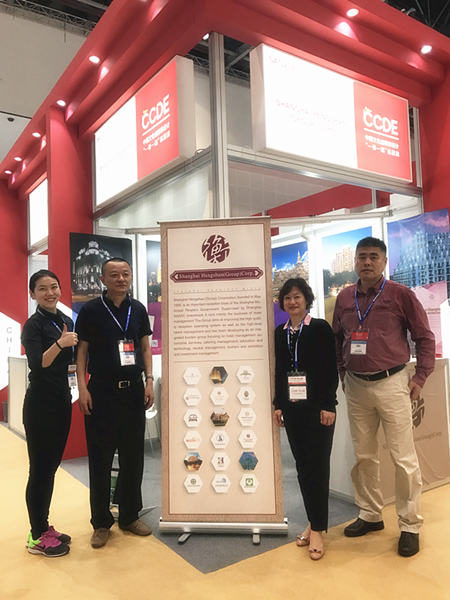 Hengshan makes its debut at the China Homelife Dubai 2017. [Photo/Eastday.com]
As an outstanding representative of Shanghai brands, Shanghai Hengshan (Group) Corporation (hereinafter referred to as "Hengshan") made a debut at the China Homelife Dubai 2017 which is ongoing at the Dubai International Exhibition Center on December 10 and 12. Together with its six hotels, Hengshan has become a shining "name card" of Shanghai at the exhibition.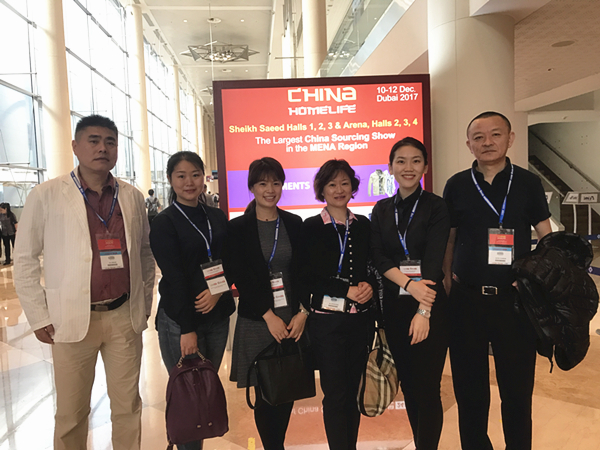 Staff of Hengshan in a photo with Eastday.com reporter at the exhibition center [Photo/Eastday.com]
It is the first time for Hengshan to participate in an exhibition in the Middle East. Founded in 1988, Hengshan boasts a profound culture and an international vision. Among its six hotels, five was built more than 75 years ago, while the other one, Hotel Equatorial Shanghai, was built with a global ambition and positioning that aims at attracting businesses and investment to Shanghai. As a cultural embodiment of Shanghai, Hengshan assembles the essence of the city's culture and civilization, laying a foundation for cultural exchanges between the East and the West. Meanwhile, it has realized that to gain competitive edges over Shanghai's premium and star-rated hotels, old hotels must make full use of their cultural advantages. In response to China's Belt and Road Initiative, Hengshan has taken the opportunity provided by the China Homelife Dubai 2017 to expand its brand influence in the international market as a way to enter overseas markets.

As for the reason for choosing Dubai as the first stop in its tour exhibition in the Middle East, Du Songyang, Deputy Director of the CPC Committee of Hengshan, told Eastday.com that the hotel industry in Dubai is world-leading and equivalent to advanced international levels. Dubai is the origin of the newest concepts in terms of service, design, decoration, facilities and layout. It is imperative that Hengshan benchmark itself against advanced international standards and keep seeking innovation.

Over the past years, Hengshan has adhered to the development concept of combining culture and function. While upholding the culture of Shanghai, it has speeded up its efforts in innovation and enhancing the competitiveness of its main business.

Hengshan joined the China Homelife Dubai 2017 with the help and support of Eastday.com. By integrating resources of different parties, Eastday.com has created an offline service and trade platform for Chinese brands to go overseas, playing an active role in bridging Chinese and foreign enterprises and facilitating their cooperation and development.