On June 22, the China PMO Symposium was held by Project Management Institute (PMI) for the first time at the Shanghai Puxi InterContinental. Sponsored by The State Administration of Foreign Experts Affairs (SAFEA) and titled "Mastering Value Delivery", the symposium began with the signing of a five-year renewed agreement of cooperation between PMI, headed by its President and CEO, Mark Langley, and the director of The Training Center of SAFEA (TCSAFEA), Jingfa Wan. Afterwards, a series of speeches were given, followed by heated discussion among experts in project management and business leaders.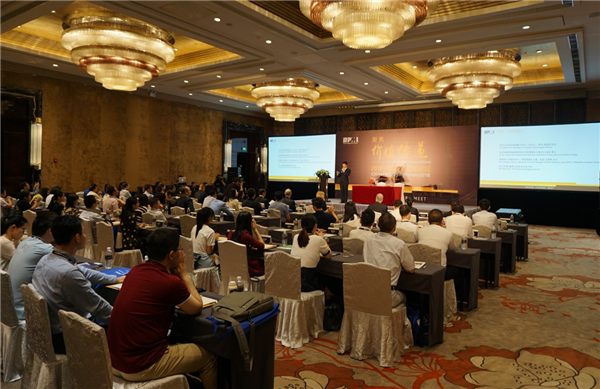 (The 1st China PMO Symposium is held on June 22 in Shanghai.)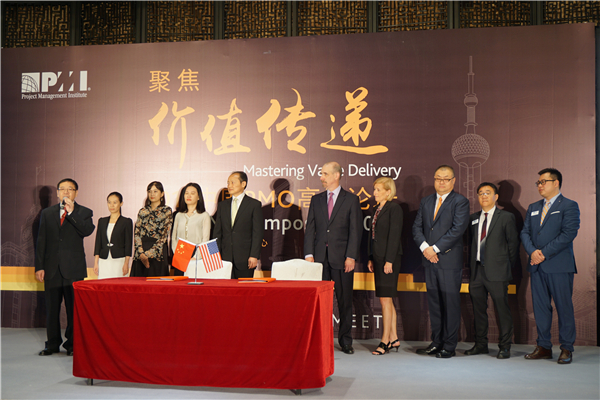 (A renewed agreement of cooperation is signed at the symposium.)
PMI entered China in 1999 and the partnership between PMI and SAFEA has been growing increasingly strong as over one million professionals have taken part in PMI's training programs and over 180 thousand have become PMI certificate holders. Chinese enterprises that collaborate with PMI are both state-owned and private-sector, covering a large number of industries. Companies such as Sinopec, Huawei and ZTE all have project management offices equipped with project managers certified by PMI.
During the speaker's sessions, the director of TCSAFEA, Jingfa Wan, spoke highly of the twenty-year partnership with PMI and gave credit to PMI for its role in the joint venture of cultivating a group of talented project management professionals in China. The introduction of PMI into China was part of the ongoing state objective to boost its talent pool to meet the challenges posed by rapid economic growth, globalization, the digital revolution and many other global trends that demand flexible reaction on the part of companies as well as the state. PMI's decades of experience in the field of project management and its wide acceptance across nations and industries is greatly valued by China and is backed by a series of supporting measures facilitated by SAFEA.
Mark Langley, President and CEO of PMI, presented results of the institute's annual research called PMI Pulse of Profession®. According to its statistics, companies with an efficient project management office are able to save up to 30% of costs compared to those with underperforming project management. Saving the capital wasted through a less-than-perfect company structure and mode of operation means a lot both for the company and the state, whose economy is constructed upon these units. Mark Langley also pointed to the disruption posed by the digital revolution, saying that companies may reap benefits from a wave of AI technologies allowing them to boost their competitiveness and streamline operations.
In the interview with Mark Langley and Bob Chen, the managing director of PMI (China), more insights were offered regarding PMI's role in China's economic development, especially under the recent circumstances where China is actively seeking to reach out to the world with initiatives such as the Belt and Road and multiple mergers of Chinese state-owned enterprises.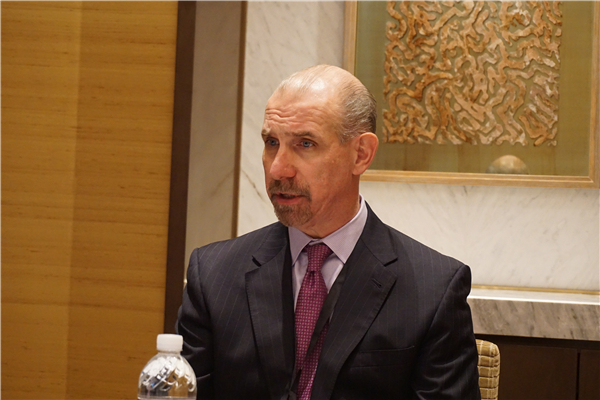 (Mark Langley has an interview with esastday.com.)
Firstly, there were certain culture differences when PMI first landed in China as failing transitions and upset project managers existed at the beginning. Fortunately, thanks to the full support of the government, as represented by SAFEA, which provides a comprehensive range of auxiliary services ranging from offering documentation support to building an especially large network of training centers that are certified and standardized by PMI. The all-out cooperation manifests the willingness and determination of China to flexibly position itself in the face of economic challenges. Bob Chen stated that China is the only country where the government has employed a particular agency to support PMI and no doubt the feedback has been fruitful.
Foreseeing the future of China's enormous opportunity and potential, Langley posits that since China is still upgrading its industrial structure, more project management positions will be opened in the domestic market demanding qualified talents and PMI's standards and certificates fill that need perfectly. Meanwhile, China has sought to reach out to the world with its growing economic prowess and PMI's global outlook can also prove helpful in that objective. The global language and framework created by PMI, according to Mark Langley, will enable Chinese enterprises to provide services or set up offices outside China, which is exactly what the state-owned enterprises are doing currently.
The partnership between China and PMI is certain to be a long-lasting one as PMI delivers important values that are aligned with China's particular needs as the country continues to prosper internally and reach out globally as a major economic player.