Video PlayerClose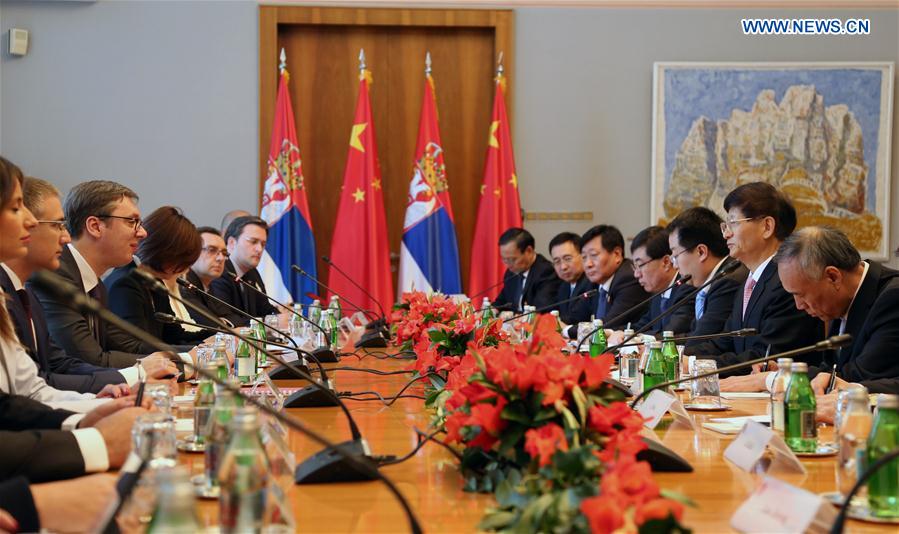 Serbian President Aleksandar Vucic (3rd L) meets with Chinese President Xi Jinping's special envoy Meng Jianzhu (2nd R), who is also member of the Political Bureau of the Communist Party of China (CPC) Central Committee and head of the Commission for Political and Legal Affairs of the CPC Central Committee, in Belgrade, Serbia, Sept. 12, 2017. (Xinhua/Wang Huijuan)
BELGRADE, Sept. 12 (Xinhua) -- China and Serbia agreed here on Tuesday to deepen pragmatic cooperation in all fields during a meeting between Serbian President Aleksandar Vucic and Meng Jianzhu, special envoy of Chinese President Xi Jinping.
Meng, member of the Political Bureau of the Communist Party of China (CPC) Central Committee and head of the Commission for Political and Legal Affairs of the CPC Central Committee, recalled the decision made by the two presidents to establish comprehensive strategic partnership and the agreement reached by the two leaders on promotion of mutually beneficial cooperation, which charted the course for bilateral relations.
Meng said that China, who always regards bilateral relations from a strategic and long-term view, is willing to keep high-level communication and personnel exchanges with Serbia, to promote the connection between China-proposed Belt and Road Initiative and Reindustrialization strategy of Serbia, to support and encourage Chinese enterprises to invest in Serbia, so as to deepen pragmatic cooperation in all fields and foster a community of shared future with Serbia.
Meng also stressed that cooperation on law enforcement security is an important part of comprehensive strategic partnership between the two countries. To make it a new highlight in bilateral relations, China is willing to, based on mutual beneficial and win-win principles, strengthen cooperation on such key areas as counter-terrorism, cyber security and combating transnational crimes.
Vucic thanked China for long-term help and support. He said that Serbia, as China's reliable friend and partner, stands ready to keep high-level communication, to promote construction of big projects. He also expressed hopes that Chinese enterprises could come to invest in automobile manufacture, food processing, and tourism industry in Serbia, thus achieve new development on pragmatic cooperation.
Meng arrived in Serbia on Sunday evening, during the visit he also met with Serbian former president Tomislav Nikolic and Interior Minister Nebojsa Stefanovic.