Video PlayerClose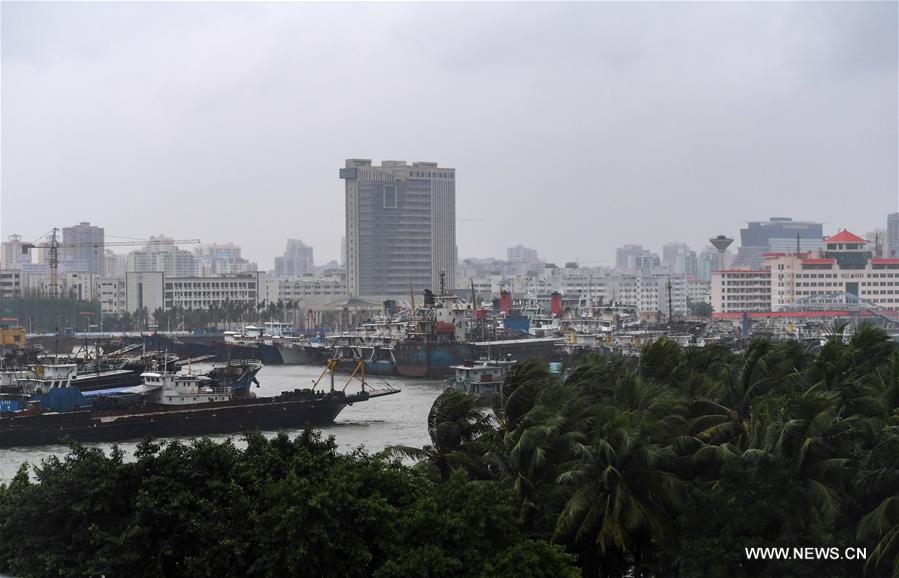 Fishing boats dock at a port of Haikou, south China's Hainan Province, Oct. 15, 2017. This year's 20th typhoon, Khanun, is expected to make landfall between Zhanjiang of Guangdong province and Wenchang of Hainan province, bringing rough gales and heavy storms. (Xinhua/Yang Guanyu)聽
GUANGZHOU, Oct. 15 (Xinhua) -- Residents were evacuated and flights canceled in southern China Sunday, as Typhoon Khanun approaches China's coast.
Meteorological authorities in Guangdong Province believe that Khanun, this year's 20th typhoon, will make landfall somewhere between Guangdong and Hainan provinces in the early hours of Monday.
According to the Guangdong Flood Control and Drought Relief headquarters, the typhoon will unleash gales and rainstorms, which will pose threat to dikes in the area.
Shipping services on the Qiongzhou Strait, between the island province of Hainan and Guangdong on the mainland, have been suspended. A total of 18,477 fishing boats have returned to port, and 6,971 people have gone ashore. Tourist attractions near the coast have been closed.
In neighboring Fujian Province, 17,152 ships with 28,691 crew members have returned to port, while 4,041 coastal residents have been evacuated. Local authorities also closed 51 tourist attractions and 547 construction sites.
In Hainan, schools and kindergartens were asked to remain close Monday.
Some 24,278 fishing boats are taking shelter in port, with 507,764 crew members.
By 1 p.m. Sunday, 267 flights to and from the Meilan International Airport in Haikou, Hainan's capital, were canceled, while 2