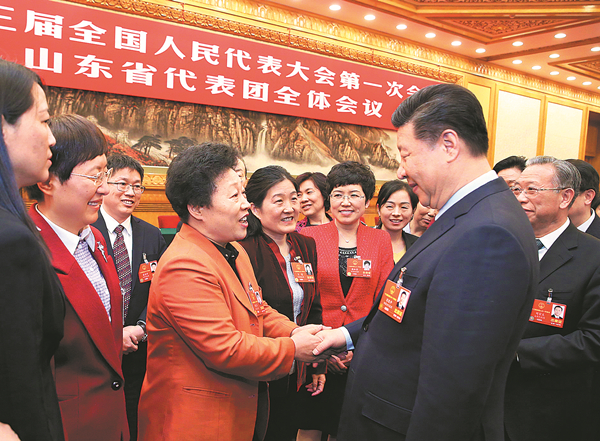 Food security must be ensured, president says
President Xi Jinping highlighted the importance of revitalizing the country's rural areas during the top legislature's ongoing annual session in Beijing on Thursday.
Xi, also general secretary of the Communist Party of China Central Committee, attended a panel discussion with deputies to the National People's Congress from Shandong province at the Great Hall of the People.
The strategy of revitalizing rural areas is a significant decision made at the CPC's 19th National Congress and a great historical task to secure the decisive victory of building a moderately prosperous society in all respects, Xi said.
The quality of a moderately welloff society and socialist modernization is decided by whether rural areas are strong, beautiful and rich, Xi said, adding that the importance of rural revitalization strategy must be highlighted.
On behalf of the CPC Central Committee and the State Council, Xi extended International Women's Day congratulations and wishes to the female NPC deputies and CPPCC members as well as women from all walks of life in the country.
During the discussion, eight deputies to the NPC gave their suggestions on issues including transferring the nation's economic driving force, scientific innovation, employment and education.
Xi encouraged the people of Shandong to make continuous efforts and play an active role in building a moderately prosperous society in all respects.
The rural revitalization strategy needs to be carried forward in a scientific manner, Xi said, adding that efforts should be made to build industrial systems in rural areas, thereby increasing farmers' incomes and eliminating poverty.
Xi stressed that national food security must be guaranteed, and the country's agricultural competitiveness should be improved.
More measures should be taken to attract more talent and boost their confidence to build up rural areas and engage in the rural revitalization strategy, Xi said.
Xi urged pushing forward the revitalization of culture in rural areas under the guidance of socialist core values, publicizing excellent traditional ethical norms and cultivating good family virtues.
The president highlighted the importance of protecting rural ecology, saying the three-year action plan on improving the rural environment should be implemented firmly and the "toilet revolution" should be carried forward in rural areas.
The building of Party organizations must be enhanced in rural areas, and the modern rural governance system should be improved under the leadership of the Party committee so that rural society will be vigorous and stable, Xi said.
The farmers' will must be respected in the process of rural revitalization, and their fundamental interests must be protected, he said.
Xi also stressed the importance of speeding up the building of world-class seaports, improving the modern oceanic industrial system and building a sustainable oceanic ecology.