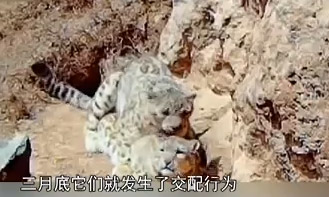 LANZHOU -- An infrared camera has captured rare images of two snow leopards mating in Northwest China's Gansu province.
The camera, which recorded the process in late March, was one of more than 200 cameras set up in Gansu Qilianshan National Nature Reserve in January, said Ma Duifang, head of a research team at the reserve.
The footage was retrieved on Thursday. Several other cameras captured images of the male cat stalking the female in February and March.
Male snow leopards stalk females that are in heat, which usually occurs from January to March, Ma said. "The images are very valuable for researching snow leopards' behavior."
The snow leopard is a Class-A protected animal in China and the International Union for Conservation of Nature classifies it as endangered-to-vulnerable. They live in the mountain ranges of central and south Asia at altitudes of 2,500 to 4,500 meters, with 60 percent of their habitat in China. Specifically, these animals are found in Qilianshan, origin of the Yellow River.
The species has been increasingly sighted in the region, Ma said. "It proves that the environment here has remarkably improved."